Impossible Mike
Comics in Cambodia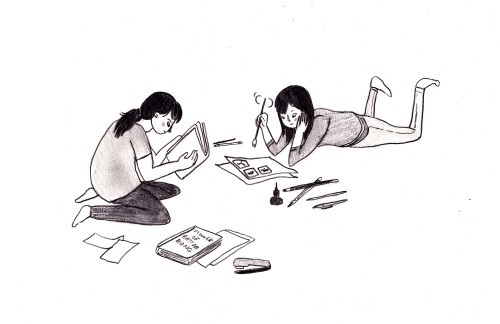 With only seven days left to get the donations, Sara Drake has almost reached her kickstarter goal which will enable her to "In collaboration with Arts Network Asia (ANA) and Anne Elizabeth Moore," to travel "to Phnom Phen, Cambodia to teach an introductory comics and self-publishing class to young women."
Here's what Sara has to say about her project:
I was recently selected by Anne Elizabeth Moore's initiative Independent Youth-Driven Cultural Production in Cambodia (IYDCPC) to teach and promote media production to young ladies in Cambodia. IYDCPC is an international institute based in Phnom Penh that encourages multidisciplinary creative responses to issues related to popular culture, with a particular focus on media, advertising, marketing, youth, gender, democracy, human rights, and globalization in Southeast Asia. Primary partners work in institutions and organizations in Phnom Penh, and affiliate organizations are brought in on a project-by-project basis. Programming hinges around an international residency program with a cultural producer who comes to the region to work with groups of young people on projects that allow them to creatively reinvision public space, global media, and their society. Projects are collaborative and emerge from Phnom Penh and thus primarily address the needs of Cambodian youth, but also respond to the needs of youth and adults throughout Southeast Asia.
The class itself, will help equip young women with the skills needed to cultivate their own personal narratives and encourage them to share their stories.
To do this, I will be teaching daily over the course of two months, beginning this November.
Your contributions will help me with traveling expenses, classroom supplies, and publishing costs.
I met Sara while I was living in Chicago at one of the Ear Eater readings which she has co-curated with Cassandra Troyan for a little over a year. He comics are absolutely fantastic and so is she.
In August, Sara did an interview with the Chicago art blog Bad At Sports with deals both with her praxis and the Cambodia project itself: click here to read it.
Also, here is a link to Anne Elizabeth Moore's (whose project Sarah hopes to continue) book, which was just released: voila.
So if the project is exciting to you, donate if you can!
Tags: cambodia, comix, Sara Drake