Sam Pink
BRANDON SCOTT GORRELL WROTE A NOVELLA AND I EMAILED HIM ASKING FOR IT AND HE EMAILED IT TO ME PRETTY QUICKLY AND THEN I READ IT AND HERE'S AN INTERVIEW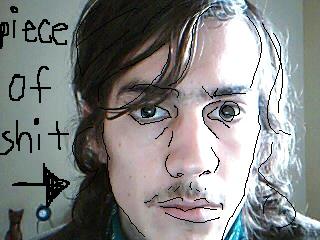 Brandon Scott Gorell has a blog.  He wrote a book of poems.  He also wrote a novella, called MY HAIR WILL DEFEAT YOU.  I explained the rest with the title of this post.  Here is an interview I conducted with Brandon Scott Gorrell, who, as will be disclosed shortly, is a piece of shit.
HTMLGIANT:  [spoiler alert] In your novella, there is a scene in which the main character is overcome by the sound of two people eating apples in the same room with him.  This has happened to me but with my own chewing.  What is the best way to immediately remove yourself from a room?  If you walk, someone could ask where you are going, but if you run you could fall.  Brandon Scott Gorrell, your thoughts.
BSG:  Sometimes I just stand in the corner, facing the corner. See my facebook group for more information.
HTMLGIANT:  [follow up]  If you are the one chewing the apple, should you swallow it no matter how painful the clump will be, or should you covertly spit it beneath your collar?
BSG:  I would need to stand in the corner.
HTMLGIANT:  [spoiler]  In your novella the main character contemplates whether he is a piece of shit a number of times.  At one point he wants to go up to a microphone and ask everyone in a bar if s/he thinks he is a piece of shit.  What are a few definite signs that you are a piece of shit and are there degrees?
BSG:  If your behavior is dictated entirely by the concept 'maximizing immediate pleasure and minimizing immediate pain', rather than concepts such as  'maximizing immediate pleasure and minimizing immediate pain', 'empathy,' 'goals', and some other shit, then you are probably a piece of shit. there are degrees.
HTMLGIANT:  Fascinating.  Simply fascinating.  [spoiler alert] In your novella, there is a lot of conflict between the main character and his roommate.  I have conflict with my roommate but I don't want to say anything because then he might keep his cat from me and then it's "bye bye only thing that ever talks to me."  How tall are you?
BSG:  Five feet and seven inches, I think.
HTMLGIANT:  While typing these questions the toast I put in the oven burned and my apartment filled with smoke and I detached the smoke alarm to keep the landlord from checking on me.  So I have to ask, the ladies have to know, how big of a piece of shit are you?
BSG:  I am like a supernova explosion of shit at point blank range repeatedly for billions of years.
HTMLGIANT:  Hell yeah!  Lastly, one of the characters in your book is the lead singer from The Presidents of the United Stated of America.  I figured he was lying in bed somewhere quietly singing "Peaches" to himself, but you hired him.  What was it like working with him?
BSG:  He kept calling me 'faggot'. He got nervous when i stood in the corner.
Thank you Brandon Scott Gorrell and remember everyone, keep reading and keep dreaming and keep believing!
Tags: Brandon Scott Gorrell, my hair will defeat you, novella