Nathaniel Otting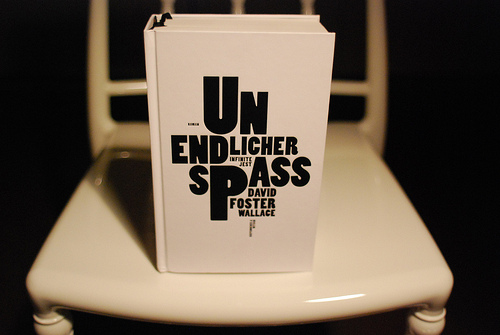 A post re:– neither repost nor riposte–Blake's wichtige Liste and (only at first) about Infinite Jest in German. Maybe a chair is a good metaphor for who gets translated. Have you been translated? Have the Important Writers on Blake's list? And not 25 because Saramago, Ouredník, and Zizek are already others, Ben Lerner's a poet, Aase Berg's both, and I'll write about poets in translation and translation in poets at an other time.
Not sure if anyone went there during all the well DFW grammar talk (thanks, Amy), but imagine translating, say, Oblivion. Good that one of Wallace's German translators, Ulrich Blumenbach, did just that, presumably (it first appeared in 2006), while whittling away at Infinite Jest, which took him six years and has had, as Unendlicher Spass (literally, the less Shakespearean Unending Fun), endless success: ten times the expected five grand copies have been sold since it appeared at the end of August, on the heels of Infinite Summer, which the publisher, KiWi, has translated too, as 100 Days of Infinite Jest (in German–it ended on 12-1).
In an interview with Der Spiegel, Blumenbach (pictured–in German) regrets that the author never answered his many questions, "a list always growing longer": it seems Wallace had grown weary of taking translator's queries, and, according to The Complete Review's useful paraphrase of a slippery summary (still looking for the original source), considered the Spanish La broma infinita (tr. Calvo and Covian | Mondadori, 2002) and the Italian Infinite Jest (Nesi w/ Villoresi and Giua | Einaudi, 2006) and apparently other attempts (anyone know more?) to have "all failed, more or less."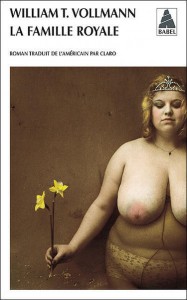 In a warm war, France is responding with (900 pp. of) Vollmann's Rising (not translated by the great Claro, see below, who did six previous tomes, but by one Jean-Paul Mourlon, translator, it seems, of Jimmy Carter and Hilary Clinton). There's also German Vollmann (3 titles), Spanish Vollmann (3 more), Japanese Vollmann (2), Greek Vollmann (2), and Czech Vollmann, all (not counting the French) with only one title (Butterfly Stories) repeated.
American Genius is only a Great American Novel for now (does it even have a British publisher?), despite Tillman's first book of stories, Tagebuch einer Masochisten, having appeared in Germany in 1986, four years before her first collection in English, READ MORE >