Impossible Mike
Everything might still be "fucked" but I had simply forgotten why we bother
So a little over a month ago I posted a short polemic entitled "Everything is fucked and why do we bother." Two days later the internet service at my apartment went out and I was sans computer-internet for almost a month. Within this month of being internetless, I read this book and remembered why we bother.
Both Rachel Hyman & Roxane Gay wrote what I took to be either direct or oblique responses to my post. Because I wrote my post while I was angry and broke and frustrated I failed to actually articulate what it was that I was actually driving at, which is often the case with blog writing & my incapacity to see beyond the short-sighted desire to bring up a point.
One thing that's important, I think, is that at this point, specifically within the micro-realms of "Alt-Lit" (which is even more enclosed than the containing category of "Indie Lit" (and yeah, this sort of insistence upon naming this shit while we're in the midst of it is both historicizing and annoying, really, but at this point it's an easy short-cut to meaning)), starting a lit journal or publishing in a lit journal is not inherently 'exposing your work to more people.' It might be, I mean I suppose there's truth to the, but the inclusive nature of this sort of environment almost presupposes that–and this is perhaps more specific to Alt Lit than Indie Lit–you couldn't just put the work up on your own blog or tumblr & link it on facebook and have any more or fewer readers than having it published on a small tumblr or blogspot based lit journal. Functionally, this is the same. And if the rallying cry behind all of this is "we're tired of gatekeepers!" then why deal with gatekeepers in any capacity?
I think the idea of the potentiality offered by our current technology should go beyond that. This quote from the aforementioned book really blew my mind: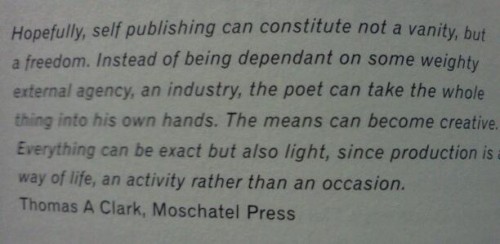 This is beautiful. The idea of self-publishing not as a vanity, but as a freedom, is really, I think, the key to understanding what's been happening, and I think, potentially, an awareness of this can lead us forward. But then again, one might ask, if you're putting your own work out into a void, what's the utility in that?
Sometimes it's hard for me to remember what's important because I'm constantly racked by poverty, constantly struggling to figure out a way to pay my rent, buy my bus pass, pay for food–because I spend an excessive amount of time working on writing, design, photography, art shit. I like to read. I don't want to pour my life into a job I hate so I can stop worrying about money. I've more or less come to terms with the fact that I will most likely remain poor for my entire life, but this doesn't stop me from really wondering if it would ever be possible to make money writing and making the things I write and make.
But, that's a detour: I think the important thing that comes from lit journals, group blogs, commenting on one another's work–when it works out like it should and could–is the development of community. We're so far past the point of viewing the internet as an imagined community (at least, most people are, thank god), that the community one builds virtually can be just as helpful and reassuring and comforting and enlivening as a community built in the flesh. I, personally, like to maintain both, and find myself most satisfied with my life when I can commune in and out of both, but I know–because I used to live in the middle of nowhere–that sometimes the virtual communities are the only communities we have.
The idea of the lit journal as a community builder is, I think, a far more utilitarian one than anything else. We are writers and artists and readers and lovers and we want to share what we have to offer and take in what others have to offer. Instead of offering advice to writers to only submit to magazines that they're familiar with and think their work would fit, perhaps it'd be better to offer the advice in a re-contextualized manner: find a writing community that you'd like to be a part of and see if you can make it work.
The community I've found myself in both via the internet and the flesh-world over the last few years has repeatedly astounding me with how warm it is.
I'm still concerned with art meaning something, with my own art meaning something, because art, as I've said before, means more to me than anything else does. Life without art is fucking nihilistic. So do we need to ascribe meaning to art? Yes. I think we do. Art doesn't have to mean the same thing to everyone, but it should mean something. If we refuse to admit that art has meaning, we risk reducing it to something unnecessary, which is what's leading to the abolishment of arts funding in public schools at an elementary & secondary level. The way literature is taught, often, is that a work of writing has a specific meaning, and this is how we read this meaning, and this is specifically what this allegory or metaphor means, etc. This is a closed system of reading. It establishes art as a code that needs to be deciphered. It leads to a passive mode of critique when it comes to all forms of art throughout all popular culture.
In a brilliantly expansive article on the documentary film Room 237, Jonathan Rosenbaum says the following:
"One way of removing the threat and challenge of art is reducing it to a form of problem-solving that believes in single, Eureka-style solutions. If works of art are perceived as safes to be cracked or as locks that open only to skeleton keys, their expressive powers are virtually limited to banal pronouncements of overt or covert meanings -– the notion that art is supposed to say something as opposed to do something."
The idea that art is supposed to say something as opposed to do something is sort of the cornerstone of my approach to art, though I often address this using terms like "affect" and "experiential". There are many words that can aim toward the same ideas. This is what's often great about language, and how after years and years of communication, we haven't run out of things to say. Building a community is something that art can do, and it verifies a noble cause. It belies anti-meaning. Art is and can be and should be everything. Communication is a cornerstone of art.
If you are not actively working to make the world a more beautiful place in some capacity, then you have no room in my reality.