HTMLGIANT / Word Spaces
Ryan Call
Jason Ockert is the author of Rabbit Punches, a collection of stories from Low Fidelity Press. Jason Ockert also edits the fiction at Waccamaw. I met him this past summer at Sewanee and he was awesome enough to share with us his word space.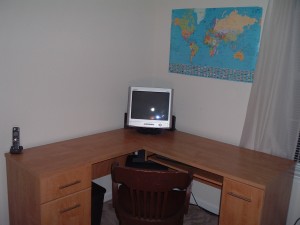 And here's what he had to say about it:
Just a map of the world. Outside, trees. That phone never rings.  I got that chair at a garage sale in Syracuse and am under the impression it is worth something because after I bought it for twenty bucks the lady reconsidered and then tried to buy it back from me.

(A word about the new desk: The old desk, which had no nails and you put together like Lincoln Logs, collapsed.  My knees often got caught up in the bastard. So, Staples.)

The computer is all stripped down. No internet. Not even solitare.  If I can be I will be, distracted. I stare at the wall. Trees. I can find countries, man.
Thanks Jason, for the pic and paragraphs.
Word Spaces
/
10 Comments
December 24th, 2008 / 2:27 pm
Ryan Call
Kevin Wilson writes about things like dead sisters and screaming babies and sexual relationships between cousins. He also has published a few entries from his series 'Tommy Explained,' one of which you can see at the new Lamination Colony. I don't want you to think that's all he writes about, though, so visit his website or his blog. Also, you should know this: Kevin Wilson has a book coming out. It's called Tunneling to the Center of the Earth. I bet it's going to be funny.
Kevin was kind enough to send us a pic and a few words for today.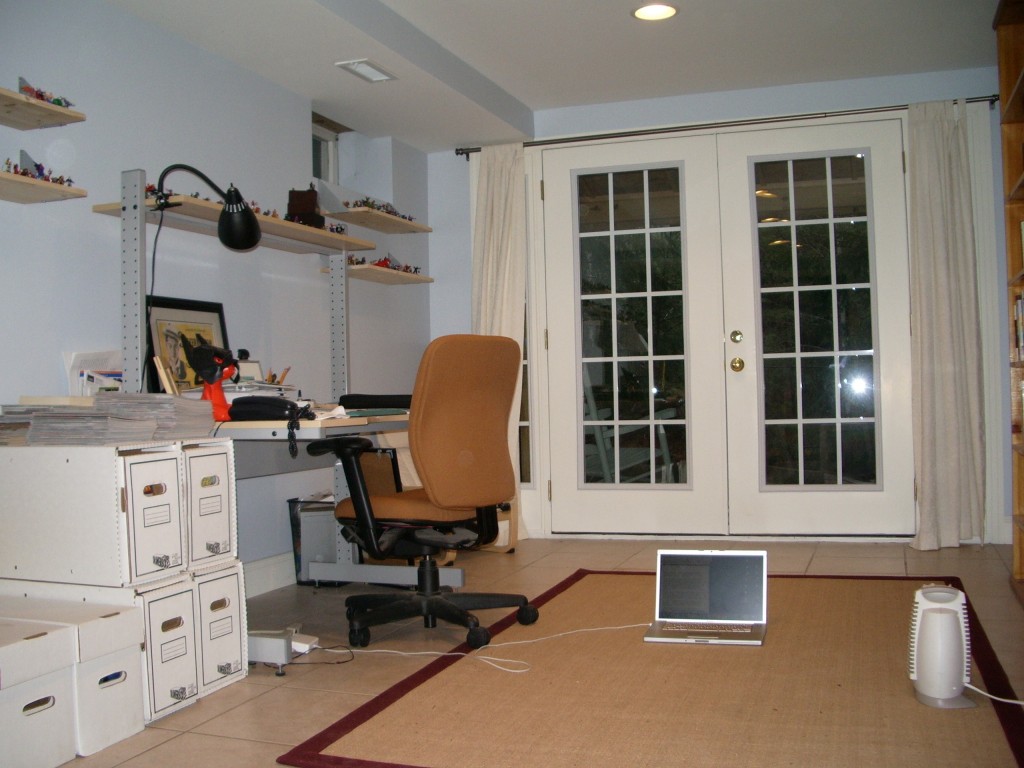 Okay, above is a picture of Kevin Wilson's word space. Here's what he had to say about it:
When our son, Griffith Fodder-wing Wilson, was born in January, he took my study. There was little debate about the matter. The baby needed a room. I had not considered the situation, our tiny cabin and where we would store our kid, before we decided to have a baby. I should have thought about it a little more.

So my dad (who is the most capable person I know and loves, Jesus Christ, loves to use his wet saw and nail gun and his esoteric knowledge of wiring) and I turned the unfinished basement into a study where I could hide for a few hours and get some work done. It's also where I keep my comic books and figurines. Oh, and I keep my regular books down here as well. I have a desk, but sitting at the desk feels like I'm still at my 9 to 5 job, so I sit on the floor and write with the computer in my lap. I keep the space heater running no matter the season because I have terrible circulation and get cold easily. There's a view of the pond, and stray cats like to lounge on the porch. There was a bat but I sprayed enough tea tree oil in the rafters that I either killed him or he got the message and left.

I felt very disconnected from the space for a few months. I could hear my wife and baby overhead, which made me feel like I'd died and they were learning to live without me. I kept finding cave crickets in the corners of the room. The baby kept us up most nights and so I found myself falling asleep on the floor, an hour having passed, no writing accomplished. The near-constant presence of the bat was, frankly, unsettling. The baby had kicked me out of my house. I was in the basement. What the fuck had happened?
Word Spaces
/
11 Comments
December 17th, 2008 / 1:05 pm
Blake Butler
Today we're kicking off a new feature at the Giant, WORD SPACES, which will consist of authors talking about where they work when they are writing and how the space affects their work, etc.
To kick it off we have David Gianatasio, the author of MIND GAMES, just out from Word Riot Press. (also the author of SWIFT KICKS from So New Media). He is a longtime fixture in online and independent lit and a really good guy.
Here is a piece from the book at Alice Blue Review.
And here is where David writes:
My workspace is a small hallway — the entryway, really — of my apartment. It's a very nice apartment — you can't really see how nice it is from the picture/s. The hallway is the most cluttered & cramped area by far.

Why write in a hallway? Well, that's where I keep the computer. It's a laptop with a WiFi card so I could write anyplace in the apartment. But then I wouldn't be in the hallway. You see what I mean.

The computer's on an old bar filled with old VHS tapes I never watch. I'll stick my hand in and pull one out at random. Godzilla vs. The Thing. Classic.

Maybe it's symbolic. The entryway to my home holding the doors of perception, the gateway to other times & places, unlocking the secrets of soul & mind.

I was really reaching there. Sorry. Next film … Columbo: Prescription Murder. In Columbo, they showed you whodunnit in the opening scene. I always found that reassuring.

The smoke and carbon detectors are right above my head when I work. More than once, they've gone off in a shrill and nerve-shredding fashion, causing me to squeal like a girl and stand up suddenly, knocking my computer to the floor. Also when my wife comes home, she opens the door and knocks me off my chair.

There's a photo of me as a 7 year old to the right of the computer, above the printer. Sometimes, when I've written something really good (like my new book, MIND GAMES from Word Riot Press!) or remembered my login for PayPal, I turn to that picture and say: "Way to go, little guy!"

I should probably stop doing that.

I'm going to reach in for one last tape …

I was hoping it was a Barney the Dinosaur (I know there's one in there), or something racy so I could say: "Whoa, that's a naughty one!" But in fact I pulled out a blank unused cassette. Empty … waiting for content. Will it ever reach its potential?

Given the theme of this piece, I think that says it all.

And really, how do you even know for sure there are tapes in these? Maybe I use it to store cheese. And if I do … well … I should probably stop doing that.
Look out for more of this feature with some really awesome people coming up, hopefully weekly for Wednesdays…
Word Spaces
/
20 Comments
December 10th, 2008 / 11:10 am