September 26th, 2013 / 6:27 pm
Film
Impossible Mike
Konrad Steiner & Leslie Scalapino's way at the YBCA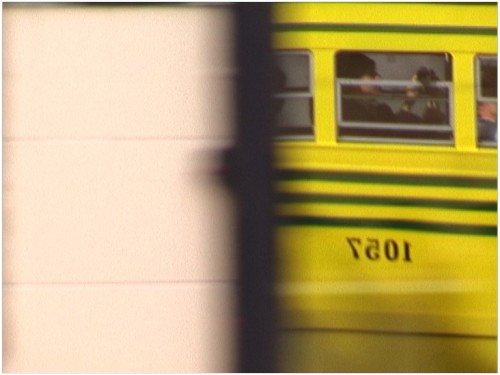 If you live in or around the Bay Area, tonight is your chance to see Konrad Steiner's brilliant film, way, a visual response to Leslie Scalapino reading her long-form poem on the soundtrack. Here's the copy from the website:
Leslie Scalapino was an Oakland-based poet and experimental prose writer, often associated with the Language poets whose passing left a huge imprint on the international poetry scene. Konrad Steiner's film is a visual response to Scalapino's reading of her epic poem, way. The intention of the project is to create a musical space in cinema for the interplay of language and image. Through counterpoint, phrasing, tempo, and rhythm, the visual and the verbal are joined in time to form a duet, or a conversation.
The film is showing tonight (9/26/13) at the YBCA, both at 6:30 & 8:00. Konrad Steiner will be present for both screenings, which I imagine will mean there will be some discussion after both. It's a brilliant film (spoiler: I've seen it, & it's almost overwhelming) that really challenges the viewing experience, as it forces one to drift through their senses, focuses on image, shifting focus to hear Leslie's audio, trying to mete both, it's an appropriately challenging film for a challenging poem–both the film & the poem are also, as I've said, brilliant.
For more information, or to buy tickets, visit the YBCA's website.
Tags: bay area poetry, Film, konrad steiner, leslie scalapino, ybca