August 30th, 2012 / 1:49 pm
Presses
Nathaniel Otting
WONDER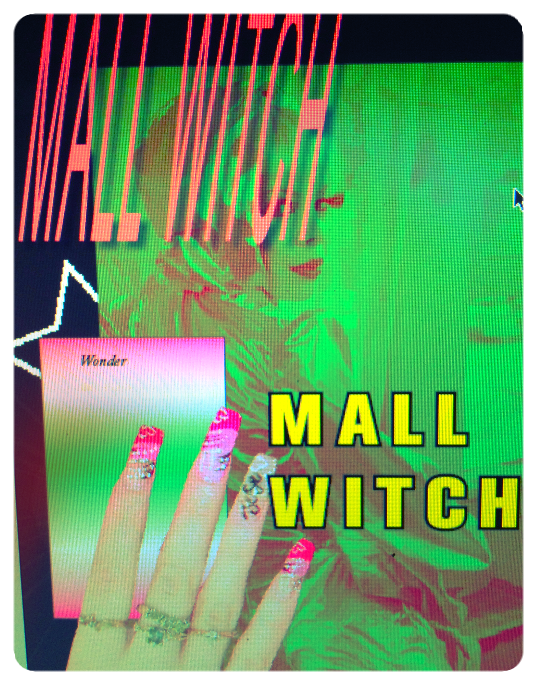 [publisher of art books, ephemera, pamphlets, and glossies]
presents
From Monday, October 29 to Sunday, November 4, Wonder and Snowy Wilderness will bring Ben Fama's next book, Mall Witch, to life as a gallery show at Culturefix Gallery on the Lower East Side of New York City.

As both a book and gallery show (featuring work by New York City-based visual artists as well as local rap starz), Mall Witch will foray past your wireless connection and the Death of Print Media into glossy paradise as a poetry book, art catalog, and one-issue magazine devoted to the exotic, lush, and infinite space of online life. Poet Ben Fama's poems, which form the <3 of the project,  convert the ubiquitous but anonymous images of Tumblr and Facebook into text, only to find the source code corrupted, slow load time, and the occasional FTP error. The poems of Mall Witch are trace elements of abjection and love, desire forfeited for conceptual disillusion and bought back with an IPO valued at absolute zero. Mall Witch will absorb every trend and live forever in a deathless Second Life and every life after: plastic, synced, and Photoshopped.

As a visual object designed by poet Paul Legault and designer Joseph Kaplan, the book will bring Tumblr feeds, screen captures, and memes to the page in order to contextualize Fama's poems in their source code. It will be an elegy to print and a monument to statis, in thrall of an immovable .gif surface and the pretty ugly. Mall Witch will be obsessed with its own frozen fall from grace, which it would bottle as a fragrance were it not already a book.

This book and gallery show will only exist
if we can raise the funds to make it happen. 


Wonder editors Andrew Durbin and Ben Fama, curator Johnny Sagan (=Snowy Wilderness), Paul Legault, and Joseph Kaplan all request that you please donate to our project. 
Tags: from:brooklyn to:manhattan supermachine wonder