January 30th, 2011 / 10:06 pm
Random
Nathaniel Otting
Phillips, Presses (plus PSesses)
[Pre-S: Start Stop the presses. Factory Hollow Press and minutes BOOKS are offering a free chapbook with every order of a full length book from FHP's new website (designed by Meghan Dewar of Pilot--chap--Books!), now through the end of AWP (a week from today). Orders will ship first thing next week. Offer includes titles by Eric Baus, Heather Christle, Lewis Freedman, Rachel B. Glaser, Seth Landman, Mark Leidner, Katie Perry, Guy Pettit, Michael Thomas Taren, Arisa White, Lesley Yalen. Just mention this post when you order; feel free to say which chapbooks you want or have: 100% chance of free chapbook / exact chapbook subject to post-AWP availability.]
Presses start because books wouldn't exist otherwise. We all have our versions of this story, often our own. What's yours? I'm not the first person to start a press just to publish Lewis Freedman. What To Us (Press) even took its name from the poem it printed, The Third Word: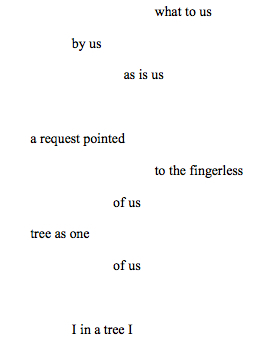 Who hasn't started a press because they loved a manuscript too much not to?  I've heard that Verse Press (now Wave Books) began because Joe Wenderoth's LETTER'S TO WENDYS needed a vehicle (a vessel). Now they're neither stoppable (second printing for THE BOOK OF FRANK!) nor containable (subscribe!) (Verse, too.) Around the time they moved from Amherst to Seattle and became Wave, three of my favorite people (Dara Wier, Emily Pettit, and Guy Pettit) formed Factory Hollow Press, named after the neighborhood in North Amherst where Wier lives, in order to publish a single chapbook, Alex Phillips' Under a Paper Trellis, in an edition of 100 copies. In 2010, FHP published their twentieth(!)* chapbook, Christian Hawkey's ULF, and their first full length, Alex Phillips' CRASH DOME, which has gotten some love from contributors (Brian Foley and Mike Young both put it on their Best Poetry Books of 2010 lists), Mary Ruefle (see secret telegram above, transcribed below) and other venues (great reviews in BOMB, NOÖ Journal, and Peacock Review Online**, and a nice mention–and shelf space–at Pilot Books) but nothing here yet. So here goes.
These are auspicious times for new (or previously chapbook only) presses (recent purchases alone: Dorothy, Letter Machine, Canarium, Rescue Press, Truck Books, Horse Less Press, Patrick Lovelace Editions, Lunar Chandelier, Lowbrow, Tiny Hardcore, countless others, with more all the time: see Adam's recent post on Birds, LLC and Augury Books) publishing first books of poetry. This time last year, I was not alone in breathlessly awaiting John Coletti's MUM HALO, the first full length from Rust Buckle Books. Well, MUM HALO was everything we expected, and more.
CRASH DOME. MUM HALO. A handful of others. These were the books from 2010 that never ended. Coletti's poems and Phillips' poem (CRASH DOME is a single, 60p. stream) are at opposite–but not opposing–ends of Poemland. All of Coletti's fit in your palm (indeed, inside your hand); Phillips' tells your fortune, it quells all pre-. The antepenultimate poem in Phillips' Under a Paper Trellis is called "Crash Dome II" (it is in fact a sequel, as CRASH DOME predates Paper, everything). It's a page long (Phillips' can kill with the short poem, too). From the middle: "beginnings of which there are either very few / or an infinite number even in the end or / even after the end for moments to feel real"
And now, for you to feel real, the beginning of CRASH DOME, the first page:
The machines, they get warmer,

you start glowing, they keep humming,

just humming, whatever happens

to your soul up there happens,

the soul, the little adventurer in us,

our contents, expiration date,

no robotic arms or levers,

they hum and warm you into existence,

out of existence, like a remarkable caffeine

buzz, like the sound of lawn mowers,

but they don't drive you crazy,

they make you happy. I wish water

were still just that lovely, clean liquid

and weren't so smart; how creepy.

Houses are just ridiculously intelligent.

The future is coming, I know that,

the future looks good; I hear that every day.
I want to keep going. To keep typing. But I think I will keep reading instead. Endless. But wait. For reading, read: Thinking. For Thinking, read: CRASH DOME. See you on the next page:
Thinking is like that. Lying dormant.

Ready to take us completely unawares.
CRASH DOME is like that. Read CRASH DOME.
+ PS
So CRASH DOME and MUM HALO, Walser & Co-Best Poetry Debuts of 2010.
But don't take my word for it. Here's (Walser reader) Clay Banes of SPD: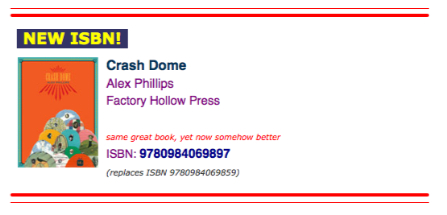 Or take another word from another Walser reader, Mary Ruefle, with whiteout (at top), and without:
Poor Hamlet, who didn't know he had a son. Nor did I, until I read CRASH DOME wherein it is apparent the prince's sweet head has been passed down through the ages, it has read Samuel Beckett it has bought a computer, it has ordered cable television TV and joined an ashram, only to land circularly on the shoulders of Alex Phillips, who has taken the soliloquy into the twenty-first century: the result is one of startling essence.
To sum up. Factory Hollow Press. Same old Committee of Vigilance. Same old Meeteeze Institute. Same old Sleepy Lemur Quality Enterprises. New website. New Flying Object. New table at AWP.
And, this month alone, four new titles:
Francis McCue's THE BLED, R.H.W. Dillard's WHAT IS OWED THE DEAD , James Haug's Why I Like Chapbooks and Luke Bloomfield's The Duffel Bag, with Lauren Ireland's Sorry It's So Small about to drop as well.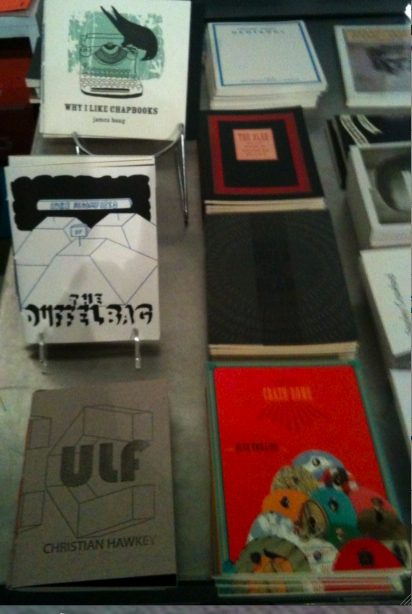 Looks like 2011 is the new 2010.
+PPS
*20 chapbooks: a figure that contains the first by Mark Leidner, Shannon Burns, Ben Estes (with drawings by Zachary Schomburg; and another vice versa), Christopher DeWeese, is not even counting anthologies, reprintings, revivals (Christopher Smart's JUBILATE AGNO), ephemera (e.g. a deck of poems) and the Anthology, the Disco Prairie Social Aid and Pleasure Club. Not to mention January 2011 which has seen two more full lengths & two more chapbooks with a third (of each, and more) on the way. The books are coming. Stay vigilant.
**The Peacock Review Online (a new quarterly, which, alongside ten years of Shampoo, makes 2011 a promising year for poetry online) changed its format sometime since it launched earlier this month. Whereas before the poems (and reviews) were beautifully formatted in a way that preserved pages better than anything I've seen on screen, they are now pdfs. I assume this is temporary. Pdfs or not, you won't want to miss poems by Alice Notley, Anselm Berrigan, Elaine Kahn, Brandon Brown (links are to three new chapbooks that are where what), Joshua Marie Wilkinson ("Poem for Dana Ward": aren't they all), Thom Donovan, Sara Veglahn, Del Ray Cross, Elizabeth Robinson, Adam Marston, John Sakkis. That's as far as I got pre-pdf, but I look forward to reading the rest. Compliments to the editor, Sophie Sills, whose review of Sakkis's Rude Girl, like Schwartz' "Dome Piece" (which places CRASH DOME in a world with Molloy and Motorman, and makes a strong case for teaching it: both sentiments I wish to echo), is a model to follow. Some time I will try. In the meantime, they are taking submissions. And, Sophie Sills, if you see this: are the pdfs permanent?
I should be thinking about how to get
Tags: Alex Phillips, AWP DC, Factory Hollow Press, John Coletti, Mary Ruefle