February 2nd, 2011 / 3:18 pm
Random
Nathaniel Otting
Phlarf4President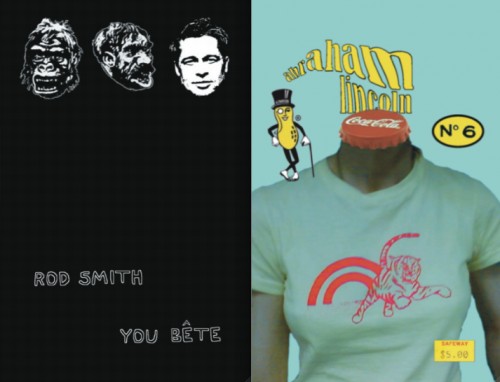 Rod Smith lives in Washington for President. Anne Boyer for First…President. K. Silem Mohammad for 16th President. Snow got you not going to D.C? Visit
http://abrahamlincolnmagazine.blogspot.com/
where Smith's You Bête is just out from Mohammad'sº Abraham Lincoln–
[Update: Just got You Bête in the mail. Presidential material. It's snowed in, but look for excerpts later. In the meantime, Smith can run far with his Futurepoem campaign of pro-stupid / Your Country Is Great.]
–which, Issue 6 is also just out. Both, like Mohammad's CRUSH ("My Money": if you want to view any of these things let me know/PayPal will keep my money) are $5(!) Issues 1-5 (see below) of Abraham Lincoln are as SOLD OUT as Smith's just out SOLD OUT Song Cave What's the Deal.
[Update: Just got the new Song Cave, Peter Gizzi's Pinnochio's Gnosis, in the mail. Perfect. Get it--and You Bête--at the Song Cave reading in D.C. at the capital's best bookstore, Bridge Street Books. So you are snowing going to D.C then? See Bridge Street's other AWP events here.]
"You Bête: twenty-six pages of mind-wrenching, gut-expanding poems from the man many consider the Rod Smith of contemporary poetry." or/and "Later, awkwarder, stickier, and number-sixier than ever before, the new issue of Abraham Lincoln wants desperately to be held tight to your heaving thoraxes (thoraces?) as you get so excited by the poems it contains that you gnaw the staples out WITH YOUR TEETH and commence slobbering at the moon. Can you afford NOT to throw away your hard-earned shekels on this splendid rag?"
Sandra Simonds for President (Re-elect). Catherine Wagner for President. Marie Buck for President. Ish Klein for President. Lacey Hunter for President. Estee Schwartz for President. David Brazil for President. Sam or Samantha Yams for President. Ton Van 't Hof for President. Uyen Hua for President. Lindsey Boldt for President. Brian Ang for President. Micah Freeman for President. Anna Vitale for President. Thomas Lovell Beddoes for President. Adam Katz for President. Nicole Taylor for President.
Mike Young was/has asked What is the best single issue of any literary magazine?
One answer would be/one would answer Abraham Lincoln #1. Issue the first. Spring/Summer 2007. Edited by K. Silem Mohammad and Anne Boyer. A taste of each poem: (Answers/Authors appended.)
1. [collaged text, inside front cover]
alive to a
Devil, then
Brandon,
divide them before nightfall
2. [collaged text, frontispiece]
attenuate the import of the big
silence
with the elf in it, and the silver
stained legend!
3. TO THE PEOPLE WHO "HAD" AND "ATE" THEIR OWN CAKE
I'm writing to express my frustration and disgust with certain events that took place during the county fair this past weekend (Aug 26-27).
As many of you know, as part of the fair, there's a big table set up (2 days in advance) in the "Cake Tent," with all of the cakes people have baked laid out on it, each cake recipe legibly hand-written or, in my case, typed, on a 3×5 card. And no one is supposed to eat the cake–certainly not the cake's maker–but those who judge each cake and who subsequently give one cake the blue ribbon, one cake the red ribbon, and one cake the yellow ribbon.
4. FOAMFEATHEREDNESS
No one can read it all there need to be indicia of what's best / one can't exactly cart around thousands of index cards everywhere
5. from FRANK
when Mother first grew
tentacles from her
shoulders Frank found a
path of ink across his
breakfast and went
to school sick
no one believed him
[...]
"yeah" Frank says
"they seem to be
finishing up"
but no
they're just
switching
places
6. DETERMINATION OF THE CLOSING CONDITIONS
Many are dead One is at the party
[...]
Many are dead and not even / some are dead too
7. HOW EVIDENCE IS TO BE PRESENTED
We ate fish
and then we ate chickpeas
To this end means and conditions arose
The galloping nail did grasp
tongues and other (pl.)
necessities for speech
which we have amputated
8. PRIOR REDUCTION SELDOM OCCURS
The only chocolate you find is the chocolate / you cook with
9. THE CLOSING CONDITIONS
I stuck my tongue in
and then I stuck
my finger forearm and mouth
in One didn't call fish
or foul and they loved us for it
[...]
Turkeys line the foyer
and lovebirds
they do split lickety
Raking leaves feels privately owned
10. REALIGNMENT OF AN IMPERSONAL ACCORDINGLY
a chow hall sequence
we present facts
boisterous conduct
a perimeter fence
his calendar must have a plastic or stapled binding
he may only lie on top of his assigned and properly–
11. SUPERINTENDED DEVIATIONS
orthopsychiatric aftermath of burglaries
12. NOT SURPRISINGLY HARDLY VOLUNTARY
with our community-based taser
13. ETRURIA
The Kingdom of Etruria was Napoleon's contrivance;
it existed at his pleasure, baroque, ephemeral.
To get girls who don't normally drink whiskey to drink
requires some contrivance.
14. POEM FOR MESMER
Sharon get up
be cinema again
[...]
light isn't syntax
it just holds everything
15. FASCIST GIRLFRIEND
When fascism comes to America it will be wrapped in the flag,
And you will soon discover that your fascist girlfriend
Is some fascist's ex-girlfriend.
16. RISE UP
Hark! A hippopotamus
among the poppies–
rolling, rolling.
17. FOUNTAIN
All's well
in the end times!–
chimneys spewing tubersex,
and bright kimonos yelling
in the undone air.
Me I'm a kind of boring folksinger
unable to rhyme LYRIC
with PANEGYRIC.
Cassandra-ass crap…
as minefield-y
as it is unwieldy.
Look! Sex slaves–
moving upon the waters again
in parallel lines
in opposite directions…
sex slaves
spelling water
in a palm
of a bad lamb's hand…
18. RANSOM NOTE ATTACHED TO THE WOLF'S EAR BY A CRUSHED VELVET RIBBON
I lived alone.
Poured silver confetti through a sieve,
ate lint from an empty tin can of chickpeas.
19. TONY DANZA
A word about refusals: they're so wrong
about who says what when and in what alien slang
Everybody gets a guidebook. It's called
the internets. It's the second alley on the left,
20. IS IT JUST ME OR IS LEBANON STARTING TO LOOK A LITTLE BIT FOXY?
[...] WAR's just so
foxy in this Turnip Day Parade. Just float your little mind
around Stevie Ray Vaughn's rice milk snowball whenever
you start using terms like crime emergency and then go
this way, turn, look, sniff, don't be distracted. Well tell us
a little bit about the war anyway. I'm getting this picture in my head
that the internet = a defaced poster for a
21. TZADIK TO GOLEM, COME IN GOLEM!
blue piranha wedding dress for squishy skeleton bulb
22. THE BLACK PINEAPPLE SS
[...] The entire gang carries a strange weapon called "the
crutch." It seems to be a recapitulation of a rustic grain sieve, a
kind of wooden trough tapered to one end, essentially a sort of
strange box. Some of them are better designed than others. They
all have special handles in different positions.
23. ALYSTERE JULIAN CERTIFIED ORIENT MINIMAL CLOTHING
moot on sancho panza barbarosa le pong
bee bee o peculiar vito mueller myrmidon
he unleashed a bad disease upon the people and shiny dog
he downshifted the farshooting marshallers of men
24. MIASMA!
These are excesses in
new summer homes
of Holly and Burt
in the desert…
where fish glow like carpet.
25. ESCALADOR, ESCALADOR
god wants to be
a waif!
26. SEXXY WAR KRIMINAL
Told the dish if he could break himself
He'd be reborn a princess.
27. ONE LESS THING I HAVE TO WORRY ABOUT
mistakes appeared to have been made
and covered with Stalinist Mary Kate & Ashley agitprop Gore-Tex
Jesus asks Neil Young for advice about werewolves
can you explain this?
I know Limbaughs save lives.
28. I KNOW LIMBAUGHS SAVE LIVES
(hysterical yelping from space people talking to the President)
True, missiles are used to kill, but they are also used to
help medical students learn to deal with Unusual Skin Smells
I am sure it will be less expensive and will save lives for US soldiers,
but I would rather be the meat in a Rush Limbaugh/Michael Moore sandwich
than continue the wiretapping.
I know other girlfriends don't make these demands, but I do.
29. UNTITLED
Washing the pan we didn't use,
I thought of all the other things
we didn't do together:
30. [collaged text, inside back cover]
and we can see only a small part
The ruler is then called an emperor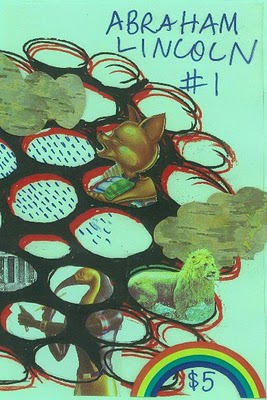 1, 2, 30. Brandon Downing, LAKE ANTIQUITY
3, 4. Gary Sullivan, To The People Who "Had" and "Ate" Their Own Cake
5. CA[ ]Conrad, [THE BOOK OF] FRANK
6, 7, 8, 9. Alli Warren, from ELEGIES
10, 11, 12. Matt McCloud
13, 14. Rodney Koeneke
15. Sharon Mesmer
17, 18. Nada Gordon
19. Sandra Simonds
20. Shanna Compton
21. Michael Magee
22, 23. Lanny Quarles
24. Bill Luoma
25, 26, 27. Rachel Dakarian
28, 29. Katie Degentesh
30, 1, 2. Brandon Downing, LAKE ANTIQUITY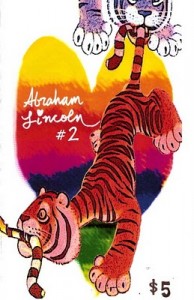 Another answer? Abraham Lincoln "ISSUE THE SECOND" Edited by Mohammad and Boyer. Cover art by Boyer. Epigraph: I came when I saw Vicky.–Tom Beckett (best homophonic translation ever? Later in this series I'll write about the first issue of THE DIFFICULTIES, maybe VISCERALLY, plus handwritten chapbooks, Beckett is the new Beckett) Where to begin? 5 Rod Smith classics: The Przewalkist Manifesto, We Are Duende for Pigs, Me's Wittl Birdy Bong Stowy, Hubble Finds New Morons, What Is Happening to My Bottom (S'appelle Charles the Bald). Then Rita Dahl's split single: Human Ape ("What would I, a human ape and a biological robot, know about life?") / Ihmisapina ("Mutta mitäpä minä ihmisapina biologinen robotti ja automaatti tiedän elemästua.") Cathy Eisenhower's breathtaking PREMONITION (beginning badly and so greatly: "this end like an ending quite unstopped", Benjamin Friedlander ("Don't give me that look. Like you never play rough / with your own two mommies." & how amazing to hear a brilliant Celan scholar start a poem: What's with this poem "Death Fugue"?), five from ballyhooed Brandon Brown's Wondrous Things I Have Seen (now a Mitzvah Chap), two "Asian American Poem"s by Tim Yu (here's all of one, #6: On your last trip to China / you brought back a little teacup / shaped like my heart. / We steep bones in it / and drink out of it together.), the marvelous Mel Nichols ("if you're a rat I'm telling you you should be drinking lots of tea"), gems from Tao Lin (A City in Taiwan, A City in Pakistan, A Cave in Taiwan, A City in New York) AND–abandoning page number order–Linh Dinh (Three One-Sentence Stories) AND–resuming page number order–Kevin Killian: Story of Abraham ("It was like some tremendous Leonard Cohen song from the sixties / That first you heard Nico singing, / Elongated drawl scratchy on vinyl, Story of Abraham.") AND Story of Lincoln ("We were roommates, cabin-mates, nothing more, but in the 19th century we sailed an earthbound Pequod."), more Lanny Quarles. Mitch Highfill, President of Chapbook City. Maria Damon's Guerilla Substitutions, coupla Joseph Massey and Jess Mynes collabs, Patrick Durgin's Craft Ballads, eight from Christina Strong, Rachel Zolf, Nada Gordon's Hot Town.
Another answer? Abraham Lincoln "issue the third" Edited by Mohammad and Boyer. Cover art by Mohammad. Clover spam ("Yarwood Adorno"), Luoma, Collom, Hejinian, Apps, Allison, Bellamy, Boyer, Norðdahl, Genusa, more Quarles, six Koeneke, Bryant, Knox, Davis, Baumann, McCrary.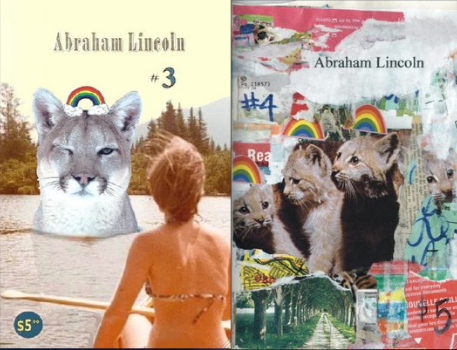 Another answer? Abraham Lincoln "issue the fourth" Edited by Mohammad and Contributing Edited by Boyer. Cover art by Shane Allison (remixed by Mohammad.) Increasingly illustrated. Plus, for the first time, a lifetime subcription is available ($50). Previous offers wer $968 for 17 years and $100 for a million years. If I hadn't just subscribed to Ugly Duckling Presse (you might still have time), I would be jumping on this. (Also Octopus.) And the poems: David Larsen for President, three Clark Coolidge poems (Ugh Variant, Stub Your Angle, Eaten By Paint: "This big guy is what?    Dude of the Gods?") all dated the same day, Franklin Bruno, Rob Halpern, Kristen Gallagher (from Reading A Map–forthcoming from Truck Books?), more Mel Nichols (for President), Jennifer Garcia, K. Lorraine Graham, Mike Hauser, Anton Helgi Jónsson (tr. Eiríkur Örn Norðdahl), Elizabeth Bachinsky, more Lanny Quarles, two longish life and deadpan poems by Daniel Bailey, Sandra Simonds ("I Hate My Life But I Love to Read" + 2), Sharon Mesmer showing major range ("Non Pimpin' Huggy Bear b/w When the Moon Turned Away), James Wagner, three by Kendra Grant Malone ("there are only / three things i do / everyday / i always count my / corks / i count my collection"), Gary Sullivan's Conceptual Poem (WC + WCW), and a Panel (Perloff, BKS, Andrews) by The Unknown Flarfist.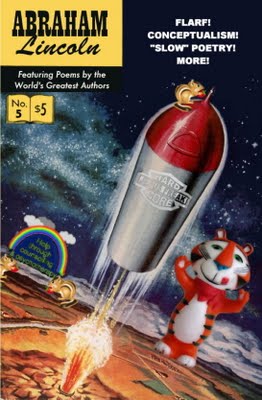 Another answer? Abraham Lincoln "issue the fifth" Edited by Mohammad and Contributing Edited by Boyer. Cover design by Mohammad. Chris Alexander's magisterial, Zultanskian "A Panda That Has Been Highly Trained in the Martial Arts", more Alli Warren (more please!), Sir Dana Ward (Gossip Girl, Crying, Falling Out), two great day/long poems by Catherine Meng, some homophonic fun with Ovid from Lytle Shaw (complete with ap. crit.), Keston Sutherland ("Then we all had an amazing time. Then you did."), Annie Finch's Inbox, some Ruscha-esque play by Joseph Mosconi (want more so just ordered his OMG chapbook), Mohammad's breath(alyzer-)taking Sonnagrams. These sonnets in "working iambic pentameter" (perfectly placed after Mosconi's DACTYL BREATH / & HERBAL ODOR: AL can always be counted on for frutiful transitions) are anagrams to the last letter: the letters left over make up the ur-flarf titles, e.g. TRENT REZNOR "TROT-BOT" TWITTER STD TEST (TRY FREE!). Self-referential (What sort of poem makes her have to barf? / Mm-hmm, ah yeah, that's relevant–it's Flarf!) and hilarious (We went three feet, we entered twenty tents– / These freaky sonnets never tender sense.), they belong in all future anthologies of sonnets. Elizabeth Workman (from "Whales desire passion, struggle, daily routine…" to DANGERS IN THE WORKPLACE), the incredible Kim Rosenfield's SOLAR-POWERED CATNAP (NOT MY NY), Vanessa Place (from, presumably, STATEMENT OF FACTS), Chris Funkhouser, Mark Wallace, Benjamin Friedlander.
In conclusion, if you like Abraham Lincoln, here's a partial list (tell me more) of other Presidents you might like:
*half-Canadian
**Canadian
***British
ºbecause You Bête is in a car covered with snow, I'm not sure if this should say Mohammad's & Boyer's Abraham Lincoln. I do know that Boyer's (&?) Hey Tiger Press is amazing: ask around about Alex Savage's THE FLESH IS LIKE A KIND OF MUPPET CAPER (also snowed under…)
Tags: Abraham Lincoln, anne boyer, AWP DC, bookstores, K. Silem Mohammad, Rod Smith, the song cave