March 18th, 2010 / 8:25 pm
Uncategorized
Nathaniel Otting
"Time goes/Left and right and crushes things": a belated coda to Natalie Lyalin Week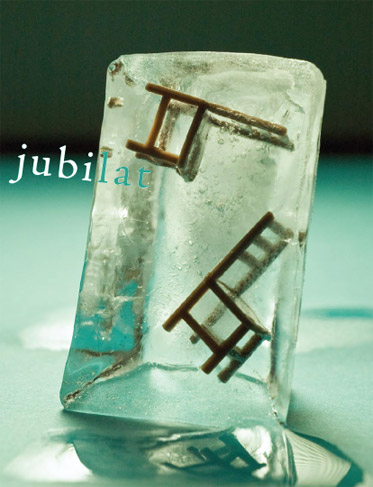 Today was a good day for poetry. [
Today
too:
Heather Christle typed my favorite poem
from
P&HPH
.) I had the pleasure of typing Natalie Lyalin's "All the Missing Children Go to Florida" in the comments section of
last week's NLW:
SUPERMACHINE
post
. A dwarf in a week shouldered by GIANTS (
Amy
,
Blake
), super Seths (
Landman
,
Parker
) and other guests (
Erin McNellis' Noö review
), my post shrank from showing and was tall on telling. Calling
SUPERMACHINE
Issue One "one of the best first issues of a journal I have read in a long time" was not overstatement, however, but its opposite. In fact, I would venture that most of
my
posts here (and elsewhere; indeed, most posts on many blogs anywhere) are marred by such short circuitry. I wish I were better at blogging, that I could rise to criticism and its callings (e.g.
Justin Taylor on this blog
and 
Matthew Zapruder on that one
), but for now I will stick to telling what I like and save showing for another day. Here's something I like: Natalie Lyalin had poems in the last two debut issues of poetry journals that, like
SUPERMACHINE
, left me unable to suppress understatement, 
Model Homes
(June 2007) and
Invisible Ear
(January 2008). Four more things I like about poetry today:
Wolf in a Field is back! "[Back to the basics of what we are saying, here are three poems by Tomaz Salamun. Translated by Michael Thomas Taren]"
jubilat 17 has the best cover yet (a photograph by Matthea Harvey), poems by Salamun, Dawn Lundy Martin from Discipline (a book to look forward to in 2011), Johannes Goransson, Arisa White (author of Disposition for Shininess), Kenneth Patchen, Ben Lerner, Joanna Klink, G.C. Waldrep, and Matthew Zapruder, as well as an excerpt from Tsurayuki's Tosa Diary (and a related interview with Kimiko Hahn) and a score for a Piotr Sommer poem which you can hear on the website ("Overdoing It").
I spent the morning immersed (for the nth time) in the poem that gave the magazine its name, Christopher Smart's Jubilate Agno, pausing at noon to finally finish Elena Fanailova's breathtaking The Russian Version (Ugly Duckling Presse, 2009), which last week won Three Percent's 2010 Best Translated Book Award for Poetry. One of the translators (Stephanie Sandler was the other), Genya Turovskaya also translated another volume (Aleksandr Skidan's Red Shifting) in UDP's unparalleled EEPS Trilogy, which you can now buy for 33% off (the middle volume, Dmitry Golynko's As It Turned Out was also masterfully translated by Eugene Ostashevsky, Rebecca Bella, and Simona Schneider).
And Turovskaya herself, as it turns out, has a terrific poem in SUPERMACHINE Issue One, which I reread this afternoon. More telling, maybe even some showing, after the endpaper: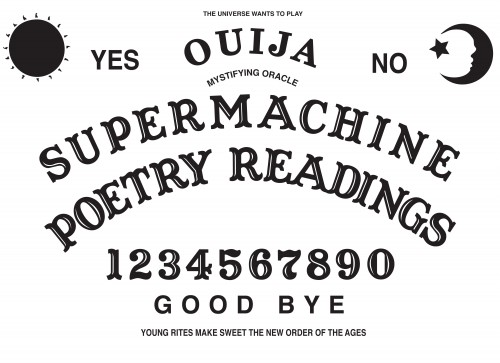 From Genya Turovskaya's DREAMS IN WINTER:
I dream that we are living in the same city but neither we nor the city are the same.
Someone needs to bring out a full length book of Turovskaya's. (See her Octopus chapbook The Tides for further evidence.) Then, moving backward through Issue One, we reach a poet I can't believe I hadn't heard of a month ago, Douglas Piccinnini, whose four poems here are somehow even better than the three in SoaandSo). From CROW YEAR:
I walk in, sit down, and figuratively
I kill everyone. It's April no it's still
March, no it's April we've planned for.
A book of these, please. Next up is Lee Norton, whose work was also unknown to me and who shows a range in three poems (YOUR SORCERY EMBARRASSES ME, YOU MANICURED OUTLAW YOU / YOU TIGHTENING SOUND, and QUIP, each among my favorites here) that defies my HTML abilities. Nor am I equipped to represent Derek McCormack's trio of visual poems, then there's the three from Natalie Lyalin, which brings us to Noelle Kocot, whose Wave Books books I liked, but which I'm now determined to revisit, as I *loved* the three poems here, likewise her "Home of the Cubit Idea" (as championed on the Supermachine site.) If Paul Killebrew's TEACH ME TO BOX ("Just simmer down, silverware") is any indicator, then his first book, Flowers (Canarium Press) will be all the book I've been waiting for since his UDP chapbook, Inspector-vs-Evader. The first (and by far the shortest) of seven paragraphs from Will Hubbard's CURSIVISM:
Some mosquitoes one can never catch. They are with us all our lives, even after.
Christian Hawkey's striking untitled poem heralds yet another seismosis in Hawkey's work (cf. the sonnets in Sienese Shredder #2), starting just so:
punch in. "A gritty palme d'or." to establish
the presence of an audience scribble the letters
l e n s. my calves on an iceberg, walrusing
around. the blubberscrunchwalk of all pinnipeds
on land & then the moment from a sea-wet
seaweed-covered rock they slide–slip–as if
before they hit the water already they were
part of it. needless to say don't say it. a poem
on a page as the body of a ghost. images
faster than pixels: ghosting. first-person shooter:
expected. [...]
You can read the rest of the poem in Petitions for an Alien Relative, one third of Series Three from hand held editions, if you hurry. Otherwise, you'll have to wait for Hawkey's next book from Wave, which is sure to be a major event. As may Brent Cunningham's Journey to the Sun, judging from the eight pages here. (Like Killebrew's, Cunningham's out-of-print UDP chapbook–still available from SPD–left me wanting more of the same.) Brandon Brown's name's also new to me, and I'm glad to know it. His long poem, YOUR MOM'S A FALCONRESS, reminds me of Rachel B. Glaser's poems which is why I'm going to offer to trade a copy of Hereos Are So Long for Your Mom's A Falconress and Other Poems, which he's hawking for $4. The first thing I did when I got Issue One (which, I might remind you at this point, is b e a u t i f u l: see endpapers above, and front and back covers here) was read the first poem, Lindsay Boldt's DO ME, DREAMLIFE, all eight pages of it, out loud to my favorite person. And now I'm gonna do the same with the last eight pages, comprising Genya Turovskaya, and two contributions I hope to write about another time, Jeffrey Yang (from YENNECOTT) and Matthew Zapruder, whose two poems here are new favorites of mine, surpassing even MIND THE GAP, the capstone to the first issue of JUBILAT.
So. SUPERMACHINE. Subscribe. Submit. Surpass it on.
Tags: JUBILAT, natalie lyalin, Supermachine, ugly duckling presse