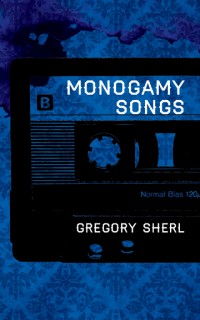 Monogamy Songs
by Gregory Sherl
Future Tense Books, 2013
136 pages / $12.00 buy from Future Tense Books
1. I am listening to the webstream of the remix Four Tet did of a Grimes vocal on a UK radio show last Tuesday while writing this. You can listen to it here: http://stereogum.com/1233702/grimes-skin-four-tet-remix/mp3s/
2. Gregory Sherl once got me a gig adjuncting fulltime and I had such bad anxiety that I turned it down because I could not get up, plus I wanted to move and was too broke to even travel to the job in the first place.
3. Monogamy Songs is a book by Gregory Sherl.
4. He has a lot of what reads like very good sex to me in it.
5. I have never hung out with Gregory Sherl in person that I know of.
6. I wonder if I would cry if I did hang out with Gregory Sherl.
7. I don't even know if I like Gregory Sherl.
8. Gregory Sherl discusses a lot of varying types of medication in this book.
9. He seems to write about taking Vicodin and I can't tell if the narrator is medicated or not.
10. Pretty sure he is, which is none of my business except that I am reading this book.
11. Gregory Sherl refers to the main female character in Monogomy Songs as Z. This seems profound to me because Z is the last letter of the alphabet.
12. The thing about Gregory Sherl's flash work is that he's going, he's going, and you can't tell if he's realized he's gotten at something important and that seems real to me because he's not on purpose.
13. It seems like there is nothing on purpose with him. There is something nice in that.
14. I feel like even though I don't even know him I'm watching a writer find himself while growing up.
15. Seems like Monogamy Songs feels like a step closer to Gregory Sherl editing himself in a good way.
16. It's very dark but there are some serious moments in this thing, observe:
(17): "You were born and I was standing above you and I was telling you that you would always be loved and that God was kind and that you would always be loved with the kindness God felt when he took clay."
(18): "She leaves me voicemails that sound like rainclouds."
(19): "I follow Z to the last place I cried."
20. I can't tell if this is a journal.
21. I know that he references music he likes a lot. A lot of it is good music.
22. Mary J. Blige says that we all need to get out of our own way to be something.
23. I didn't feel like talking to anyone for two days while reading this book because it made me upset.
24. "Sometimes but always I am wishing I could yell my throat into a broken tambourine."
25. "She forgets how to come back."
Tags: 25 Points, Future Tense Books, Gregory Sherl, Monogamy Songs