January 15th, 2013 / 3:56 pm
Roundup
Impossible Mike
I Can't Believe 2012 Is Over // I Can't Believe I've Lived In California for a Calendar Year // The Critical Nature of Commentary vs Experience PART ONE
I read some books last year. I'd like to tell you about them. Here's everything I read in 2012, part one.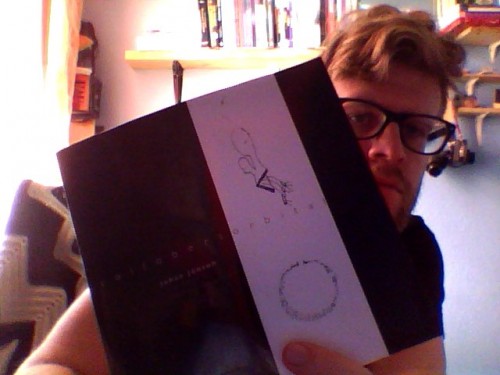 01 – The Wild Boys – William Burroughs
I've been reading Burroughs on and off since I was a Freshman in High School–& now, after all these years, I've finally read this one, and it's firmly secured itself in the place of "second personal-fave of Burroughs." (second only to Cities of the Red Night). Sontag considers the techniques in this extensively throughout her notebooks, and that's one of the more interesting things; it's formally very interesting and doesn't go on&on&on like, for instance, Place of Dead Roads.
02 – Architecture & Disjunction – Bernard Tschumi
I encountered this through an essay in the book Surrealism and Architecture (ed. Thomas Mical)–and then immediately requested it from the library and devoured it. It borrows extensively from Bataille in its dissident conception of architecture, how architecture works, it's affect, and more. It's fucking perfect.
03 – If I Falter at the Gallows – Edward Mullany
I bought a copy of this from Edward after doing a reading with him. I love his poetry; his twitter has always struck me as this bizarre between space of humor and despair, a truly abject horror at times, and the poetry, of course, is even beyond the tweets in its progression. There's something very dark and special about this book, and Mullany's readings are also very intense.
04 – Artaud Anthology – Antonin Artaud
Being in San Francisco without the bulk of my book collection I was craving Artaud, and this was the only thing immediately available from the local library branch, and I actually hadn't read this volume before (I've mostly worked through full books & the Calder anthologies) so voila. It's great, of course, and I think it makes sense that this volume would be enough to entice a generation of Artaud readers when nothing else was available.
05 – Atta – Jarett Kobek
One of my goals I made around the new year was to attend more culture event things, readings included, since that was the reason I had moved to California in the first place. So, I hadn't read Atta, but I knew I liked Semiotext(e) as a press & had enjoyed the event at City Lights for William E. Jones, so I went to Jarett's event. I enjoyed how sort of crazy his presentation was, so I freinded & messaged him on facebook & we became drinking buddies (we live in the same neighborhood). So what's weird about this book is that I became really good friends with the author about half way through reading it. So I feel like it perhaps shades my involvement with the book proper; which is not necessarily a bad thing since the one thing I do know is that it's a great book. It does some amazing things & it's simultaneously funny & solemn–as the subject matter would generally, of course, insist.

06 – Ghost Machine – Ben Mirov
The first reading I went to in San Francisco–other than a reading I accidentally ended up at at a bar when I was just at the bar to read and drink (a reading which ended up being absolutely terrible even though it included Rebecca Solnit, whose writing, at least, is wonderful–her reading was not wonderful) was a reading with Ben & Diana Salier in the lower Haight. I went with Janey Smith. Janey stole me basically everyone's books, but then when I talked to Ben he actually just gave me this. I like Ben's poetry a lot, and while I think his more recent Hider Roser is probably a little stronger, this collection is great & is a great trip through a Bay Area that's not necessarily still present (due to the hyper-gentrification).
07 – tiny people – Russ Woods
Reading one of Russ's ascii/MUD-based pieces in print is a sort of strange experience, but somehow it works. This is a pleasant little book. Not a huge fan of the "over-cover computer screen print-out thing" that Chad put on it, but that doesn't affect the quality of the text (also, it's a rare outlier in Chad (editor of NAP)'s design oeuvre, which is normally terrific).
08 – Meet the Lavenders – Carrie Murphy
I don't remember much about this, to be honest, but I do remember that it struck me as the least interesting thing I had read so far Birds of Lace press–which, honestly, isn't necessarily a horrible thing because that press is so perpetually fantastic. I remember it being poems about a fictitious girl-rock band, possibly with a little sentimentality in the direction of Phil Spector soft-rock, but something just didn't entirely coalesce.
09 – Hymns & Essays – Stuart Krimko
I didn't know who Krimko was until I saw him read with Ariana Reines & Dodie Bellamy at Dog Eared Books and realized that he had a book out on Ariana's MAL-O-MAR boutique label that I'm kind of obsessed with. Stuart's poetry is great, it's baroque and sort of hilarious with an insistence on classical forms (hymns, sonnets, shit that RHYMES). If I had tried to read these poems before hearing Stuart perform them, I think I might have had a harder time dealing with the RHYMING NATURE (although cut to December in 2012 and now I don't think I'd have a problem because I've sort of jumped back into poetry in a different way than before).
10 – Nick Demske – Nick Demske
The first time I read in San Francisco was with Monica Mody & Nick Demske at the California Institute of Integral Studies. I enjoyed the reading a lot. I had seen Nick read (though I don't think I'd realized it) at the Fence Books reading at the AWP that was in DC–there were some things I remembered from that reading that I was a little on the fence about, but actually fully being able to hear Nick read his poetry is fantastic. There's a performative insistence, I think, in his swagger. He gave me a copy of his book (this was in 2011), and then, because I wasn't reading as much the first six months that I lived in SF (despite possible evidence to the contrary, this is true), it took me until 2012 to read it.
11 – Incubation: A Space for Monsters – Bhanu Kapil
The first book by Kapil that I had read I was not that impressed with, it didn't work for me for whatever reason, but after reading the first book, I still had this on my shelf, and as I only had about 30 books with me for the first 3 months of 2012, I ended up reading it. And I'm glad I did, because Incubation is absolutely fascinating.
12 – Dark Object – Katrina Palmer
I had been interested in this, a combinatory effort that basically confronts art school and erotic fan-fiction about Zizek at the same time, so when I had an opportunity to hear Katrina read from it at Jarett Kobek's City Lights event, I was sold. It moves quickly and it's narrative fiction in a vein that I don't think exists as much as once did; and because of this there's something very refreshing about it.
13 – Collobert Orbital – Johan Jonson
I'm ridiculously obsessed with the poetry of Danielle Collobert. To the point, in fact, that I've been prolonging my reading of It Then for over three years because I've devoured everything else translated into English (though now MUERTE is coming out in January of 2013, so I can finally finish it). But Jonson is different than Collobert–that's OK though; because Jonson is a fucking beast himself. There's an aggressive violence in the text that is something I love to find in words; language that literally violates the white-space of the page. In fact, thinking about this has found me pulling it off my shelf to read again today.
14 – We Are All Good If They Try Hard Enough – Mike Young
Mike Young's words are insane. I still like listening to Mike Young read his poetry better than I like reading Mike Young's poetry, but I think that's because in terms of language Mike is a madman, and when it's language working best I think, sometimes, I prefer to hear it spoken by someone else than to hear it spoken by the voice in my head. Despite, I like this a lot, I like how it's funny without really necessarily being jokes–I think that's the only time I ever like humor; when things are funny without like explicitly trying to be. I don't know I have a VERY COMPLICATED RELATIONSHIP WITH HUMOR.
15 – The Map & The Territory – Michael Houellebecq
Houellebecq's latest novel is great, amazing. Art world + murder mystery while still carrying Houellebecq's insistently perfect misanthropic outlook, with perfectly clear albeit wandering prose, is my idea of a great novel. There are so many ideas in all of Houellebecq's novels, I wonder when he'll finally be noted as a great commentator of culture, despite the fact that's using fiction to do so.
16 – Fetish – Jason Helm
I read this in an airport and found myself weirdly turned on by it, despite the fact that there's a sort of idea that I should not be turned on by it implicit within the text–I'm not sure if that inherently makes me complicit with the bit of nastiness present in the narrative, or if it makes me complicit with the author in creation of an indirect fantasy, but either way, I enjoyed this long-short story quite a bit.
17 – HOE #999 – Jarett Kobek
Refer to ATTA notes for my initial interactions with Jarett–regardless, he gave me a copy of this the second or third time we got drunk at my local favorite bar (which, coincidentally, I have just returned from at this moment, where the author himself bought me two drinks and supplied me with cigarettes as my paycheck won't clear for another hour). The book is an interesting construction of multiple things; fragments adding up to a whole that I feel like I have particular insight in due to being a childnerd of the internet. Based on txt-file group writings, presented in book form as, perhaps, a catharsis, HOE #999 refuses most things and insists on the everything of space. There we go.
18 – ABCDEFGHIJKLMNOPQRSTUVWXYZ – Jerimee Bloemeke
I don't remember tons about this, but I do remember that I liked it quite a bit. About a week after reading this I met Jerimee in the flesh for the first time. We drank whiskey and he broke a glass. He's a good person and so is his poetry.
19 – Venture – Jerimee Bloemeke
This was a more narrative work detailing the story of Jerimee helping his girlfriend move from New York to Iowa City–I read it, partially, on a Megabus, which felt right due to the insistence of the narrative. In the hands of a lesser writer this would, ultimately, be a bullshit narrative to insist upon, but there's something about this, & Jerimee's writing in general, that works well.
20 – Ventrakl – Christian Hawkey
This book really penetrates, heads into a darkness and works on a level of affect, which was really surprising to me since the concept of the book is basically a conceptual exercise–translate Trakl's poems into English without knowing any German–but it works, oh does it work, incredibly well. Are Hawkey's other books this good?
21 – Natasha – KK Helton
More conceptual writing, I would assume. Ultimately too brief to really hit me I think, but it's a very lovely little chapbook.
22 – In Search of the Miraculous – Jan Verwoert
Bas Jan Ader is a fascinating artist, made all the more fascinating by his brief oevre and his disappearance. However, this book is fairly flat & boring, and while it's a quick read & offers a brief over-view, it doesn't probe the work with as much depth as I'd prefer.
23 – Art & Fear – Paul Virilio
I'm an honest fan of Virilio, his thinking astounds me, I find him utterly fascinating. However, I swear to god I've never read a more crotchety "get off my lawn" book of theory than this.
24 – Forever Valley – Marie Redonnet
The only book in Redonnet's "trilogy" I hadn't read, I knew this would be a pure joy to read, and it was. What consistently amazing me about Redonnet is how her writer and her characters are so clipped and static, yet they expand from this minimal insistence into an entire world confined to a square mile.
25 – The Bathroom – Jean-Philippe Toussaint
Being a Francophile when it comes to literature, I'd, of course, been hearing about Toussaint for years, but for some reason never bothered to read any. Finally picking this up, I found myself delighted, and pleased that while the book ostensibly presents the story of a man who locks himself in a bathroom and doesn't come out, this is not entirely the case. I found this very funny as well.
26 – Meat Heart – Melissa Broder
I went to the AWP bookfare this year exclusively so I could pick up a copy of Melissa's book. I wouldn't have stepped foot in that hellhole otherwise–I mean, granted, I was broke, perhaps I would have dropped some dough otherwise, but really the whole environs are just so icky. Mel-bro's book is icky too, but not in a way you want to stay away from, in a way you want to rub all over your body when you're by yourself in your bedroom and you have a weird sort of half-mast boner and you're either hungover or really tired.
27 – Coma – Pierre Guyotat
In a way, this book saved me. I don't mean in a way where, like, I was going to kill myself or something, but rather, as a book, Guyotat successfully reminded me of my body & how it can sit, reminded me of what it is about writing that makes it worthwhile, reminded me of a self that I had covered up with wanderlust. It's weird to consider a Guyotat novel as "rooting," but it was just what I needed. I loved it.
28 – Castle of Communion – Bernard Noel
Back when I was a lil pervy dude who had never gotten laid I spent all my time reading sexy & transgressive French literature, most of it rooted squarely within the realm of the fantastique, all owing some debt to de Sade. This was an early read for me, and I grabbed it when I had access to my book connection to read again. The narrative & the prose gets a little purple near the end, but it's got an astoundingly strong beginning, offering a fantastic quest into sexual perversion.
29 – Person – Sam Pink
I thought this was absolutely terrific. Before reading this novel I had only read YOU HEAR AMBULANCE SOUNDS AND THINK THEY ARE FOR YOU and FROWNS NEED FRIENDS TOO, both of which I enjoyed, but couldn't fully hold my attention in the way that Pink reading/performing his own works can. I traded Sam some vicodin & some zines for this (& THE NO HELLOS DIET) at the Pop Serial reading during AWP (of which I actually missed the entirety of the reading via drinking in the kitchen–except I saw Cassandra Troyan get drunk and climb up on a chair and shout to read, that ruled). Ultimately, this is hilarious, and had me literally laughing out loud with regularity. It felt good to read.
30 – Farm – ed. "Farmer Joe Jr"
This is an early 90s zine/anthology of queer writing that Kevin Killian gave me. I enjoyed it throughout, some fun stuff, but there's a story in it that sticks out to me the most–I don't remember the author (and the book is not with me right now)–has stayed with me in both its concept & execution. It's a story about a somewhat ugly/malformed man seduces a "hot young thing" at a bar ostensibly by telling the younger man that he has just killed somewhat. What's really interesting is that it reveals the seductive power of narratives, literally–how telling a story can seduce someone into your bedroom, which is amazing. Words can be magic.
31 – Novel of Roy Orbison in Clingfilm – Ulrich Haarburste
I bought this novel without realizing that some of the initial stories (this is one of those things that started on the internet ya know) had become memes. Then I didn't read it for like two years after I bought it or something, but whatever. It's great. You would think that the novelty of a couple 2 page stories–in case you didn't know, the novelty is that Ulrich Haarburste enjoys nothing more than wrapping Roy Orbison in clingfilm–would wear off in a novel-length work, but the lengths of absurdity created by the author are astounding and never fail to entertain. Truly terrific.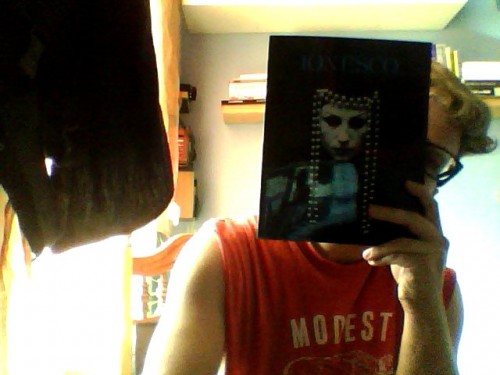 32 – The No Hellos Diet – Sam Pink
I can't remember, but is this the one where the protagonist works in the warehouse of a department store? Or is that Person? I don't know, I read this and Person basically three days apart so they're kind of melding together in my head. They're both really hilarious though.
33 – The Impossible – Georges Bataille
This is my favorite book of all time, and probably the 7th time I've read it in its entirety.
34 – Stories V! – Scott McClanahan
I got this from Tim Jones-Yelvington in a cab during AWP because he had traded a copy of his chapbook to Scott for this, but he already had this. The first story is literally astounding, and the stories–and they are stories–that continue on maintain a casual narrative of telling in a really fantastic manner; like this is narrative that is heavy when it's even about simple things. Scott both as a reader and a writer really seems to show how much of an actual life he has lived, and his narrative construction is great.
35 – Darling Beastlettes – Gina Abelkop
Great poems by the editor of Birds of Lace Press.
36 – Violent Silence – ed. Paul Buck
In the late 80s or something there was a conference on Bataille–this book is a sort of a collection of texts and articles surround the conference. It's ultimately interesting because it was a conference tha existed largely outside of academia (this was, it's my impression, before Bataille as much of staple of academia as he is, to some extent, now). There's also a lot of creative work in here that vibes with Bataille and his ideas, plus some great translated work from other French authors that hasn't appeared anywhere else.
37 – Sediment – CF
Review up here.
38 – Falcons on the Floor – Justin Sirois
This is, probably, the most 'straight-forward' novel that I read this year. This isn't a bad thing, obviously, it's just mostly outside of my realm of interest normally. But I got a copy from Adam (along with Melissa's book) at the Publishing Genius table at the AWP bookfare. It's a really strong novel and offers a fascinating counter-point to the general ideology that's afflicted the current unending war.
39 – Kramers Ergot 8 – ed. Sammy Harkam
Review up here
40 – Fanged Noumena – Nick Land
Probably the most important book (collection of essays) that I've ever read outside of Bataille's oeuvre. Land's intelligence is amazing. As Robin McKay put it to me once (and I'm paraphrasing here), "Nick was one of the few people to actually read and understand all of the classical canonical philosophers (from Plato to Heidegger & beyond) and both understand them and decide that they're full of shit." This shines through. Land might seem, occasionally, a bit nihilistic, but the fiercely intelligent direction that all of the essays take always manage to maneuver away from this conception. Land's experiments with the form philosophy takes too, as in MELTDOWN & other essays, really demonstrate the communicability of language beyond just the meaning of words in their own capacity, which is something the best literature can do. I will be reading the essays in this book many more times in my life.
41 – John Gerrard: Animated Scene
Interesting catalog on some of John Gerrard's "programmed paintings," which I hadn't heard of until Robin passed me a copy of this book. The work itself seems fascinating (though I've obviously never seen it in its actual capacity), and the way the work is talked about is also fascinating in consideration of work to text.
42 – The Atrocity Exhibition – JG Ballard
Easily the best Ballard "novel" that I've ever read. This is perfect.
43 – White Horse – ed. Sidebrow
Review up here
44 – Le Contre-Ciel – Rene Daumal
I'm a big fan of Daumal's novels, and while some of what I love is present here, I found his poetry far less interesting. It's not bad, but it did very little to pique my interest.
45 – The Malady of the Century – Jon Leon
Review up here.
46 – After Finitude – Quentin Meillassoux
I talk about this book a bit both in my review of MALADY OF THE CENTURY & Meillassoux's THE NUMBER & THE SIREN, but one major thing for me was that I finally actually finished this book, despite being short in length. It's got some astounding & incredibly dense ideas, but still manages to be delivered in understandable language if you put the effort into it.
47 – The Number & The Siren – Quentin Meillassoux
Review up here.
48 – The Passive Vampire – Gherasim Lucas
A rather exciting book from a Belgian surrealist–I should note that, despite teh fact that Lucas was literally obsessed with Andre Breton, his own work & ideology was far less annoying and dumb than M. Breton's was so I'm quite willing to overlook that fact. This is a fascinated narrative that seems to be, perhaps, memoir in a sense, but it's memoir traced by the presence of objects created by Lucas & his comrades, objects that he insisted brought about 'mystical' properties that instilled connections–similar to Burroughs' coincidences exploring the cut-ups and how they intersect with reality, Lucas could be said to be an early practitioner of hyperstition, this collection of writing being the, shall we say, key work in providing that continuity (the continuity from Lucas to Burroughs of course).
49 – Return to the Chateau – Pauline Reage
I read this initially in 2004 at the peak of my obsession with The Story of O, I was underwhelmed at the time and perhaps even disappointed as this is somewhat (though not entirely) a departure from what happens in the initial story–in fact, it's sort of an intertextual presupposition that the ending of The Story of O never occurs and rather the book continues on into this book. It is certainly a change, and somewhat changes the tone of what transpires in the initial book and its odd rise to a stardom of liberated intellectual sexuality, but the narrative here takes a more complex and Adult (or shall we say, "real") turn in the emotional responses of O. That, combined with the fact that there's a lot more Sir Stephen (who, in an abject way, I find the most sexually appealing & interesting character throughout the narrative), made me enjoy this quite a bit.
50 – Roberte Ce Soir & The Revocation of the Edit of Nantes – Pierre Klossowski
Finally reading this after meaning to read it for quiet a while, I was ultimately disappointed and truly found the latter book a chore to get through. I'm not sure if this is a reflection of the text or rather my mood and own throught-processes that were occurring as I read the text, but it's unlikely that I'll be revisiting this any time soon despite its presence on Dennis Cooper's Top 50 Novel list or it's hyper-presence among the literary world that always has and always will continue to fascinate me (being the Bataille-Blanchot-Leiris-Klossowski & beyond 'world').
51 – Dean Smith Drawings 2001
An excellent catalog of drawings by Dean Smith! (Who also happens to be my boyfriend, so I guess I won't go too hyperbolic here). Dean's work is amazing, though anybody will attest to the fact that the work doesn't necessarily reproduce well due to the level of detail. There're detail shots included here & while they're a nice addition to the shots of the entire works, not being able to really explore the drawing is a shortcoming. Includes a nice essay by Bob Gluck.
52 – Site – James Wines
This, being the Rizzoli catalog of the architectural firm Site, ended up being mostly disappointing. Site as a firm seems to have had one or two really visually striking ideas and then just either repeated them ad infinitum throughout their career or just made sub-par or somewhat hegemonic interiors in the late 80s. The work that seems so striking when you see a singular image of it ends up boring when you look at how often the motifs were repeated throughout the firm's history. Also, for a group concerned with things beyond capital, little seems to have come to that, and the interests in expansive thinking don't really go beyond public structures that occasionally function as architecture.
53 – Two By Duras – Marguerite Duras
Two very short, minimal works, but they're absolutely amazing works. The "two" being: The Slut of the Normandy Coast and The Atlantic Man, both works blowing me away, but the latter actually flooring me and inspiring a (private) performance art piece I did a month or two after reading. Unfortunately the book was in my back pack (along with Nick Land's THIRST FOR ANNIHILATION which, thank-fucking-g0d [as that's a far more pricey & unavailable book]) when I blacked out in Alamo Square and…somehow ended up soaking wet? My guess was sprinklers. The full story actually involves me blacking out, waking up wet & not realizing I didn't have my backpack, my phone dying, and then spending six hours attempting to get home on a holiday where BART didn't start running until way after I needed it to… I got my backpack back and that's not really the whole story but whatever the point is Duras is awesome and it's not a good idea to drink half a liter of whiskey and then leave the club with a bunch of people you've never met before.
54 – The Coming Envelope Issue 5 – ed. Malcom Sutter
I have a story in this, so I'll neglect that, but I do want to comment upon another story in here that sort of poeticizes/fictionalizes Beuys' life–it's a fascinating little moment, because Beuys was already poeticizing his OWN life, but the double disconnect here really worked for me for whatever reason.
55 – Patterns – ed. [???]
Went to an opening at a bookworks gallery because Dean's friend had a work in it, and everybody who went ended up getting a copy of the book (which, technically the show was organized around the book and not the other way around)–it's a really fascinating catalog actually, the work is great, it's all work that in ways functions on–you guessed it–a patterning in at least some capacity.
56 – Under the Sign of Saturn – Susan Sontag
I always love Sontag's essays, and it's no surprise that this collection is stellar. Brillant essays on Benjamin, Artaud, Fascism, this collection mostly consists of longer essays (and a few shorter ones), but the lenght lets you really sink yr teeth in, as can be said, and latch on to what Sontag's casual brilliance is saying.
57 – India Song – Marguerite Duras
So I saw the movie several years ago, I was very excited when it became available with subtitles because the movie more or less features Delphine Seyrig in an exquisite hotel, which is always the recipe for success in my book (see also: Last Year at Marienbad, Daughters of Darkness). However, the movie didn't do much for me. I picked up a copy of the book because the cover is absolutely fucking gorgeous, and after being blown away by The Atlantic Man (see above) thought I'd give it a shot–and I'm really glad I did, because for some reason reading the book manages to contain such an intense, controlled urgent beauty in places where the film left me cold (though admittedly I'm interested in giving the film another show now, having read the book). The dialog chills, literally, and the floating voices that move in and out of the text–well, if you've seen a Duras film it's easy to read the text as a film ( I suppose having seen the film proper this becomes even easier ) and let your head fill out the liminal edges of your site, a total experience.
58 – foamghast – Paul Cunningham
I really like the line "i closed my eyes for a really long time"–and there are flashes of other things that work for me, but ultimately this ends up not being my scene. I appreciate what it does, but it seems too rooted in… I don't know, perhaps something like Action Yes–which I have a similar relationship with; sometimes what they publish because like an ultra-perma-fave, but other times it ends up being stuff I'm not crazy about at all.
59 – Helen & Desire – Alexander Trocchi
Trocchi's erotic novel is actually fairly great. Not at all stuffy in the way British writing often is, though still takes a sort of orientalist navigation into the Arabian desert–like with Burroughs it's more often than not easier to forget because Helen herself, as the object of fascination and lust, is what's (who's) at stake in this narrative. I love the way pornographic narratives are constructed, they're almost always a permutation on the quest and they structurally mutate in such a simultaneously obvious and opaque way!
60 – The Unfinished System of Non Knowledge – Georges Bataille
This collection is literally perfect. I explain it to people as a sort of follow up to Visions of Excess, though really it's even better than that because it's more effuse from the time that Bataille's somme atheologique was written (which is the specific part of Bataille's oeuvre that I'm most obsessed with). "Method of Meditation" being, perhaps, one of the most unknown yet important Bataille essays ever (it's like honestly the coalescing moment of the entire somme atheologique), and also "Aphorisms for the System," and so much more, honestly. There's like one essay in here, a digressive series of "conversations" on laughter which ultimately fail to make much of an impression, but perhaps this is because there are so many voices other than Bataille's in them. Bottom line: this is essential.
61 – Vermillion Sands – JG Ballard
While I'm not sure if this collection is "official" or more just "conceptual," it occupies a unique place in collecting Ballard's short work–the vermillion sands stories are all sort of dreamy & languorous in a hyper-casual decadence, so the fantastique seeps out from the edges and it's Ballardian genius colored by Jon Leon, which is great. Though I find it hard to read entire Ballard collections straight through despite how much I love his short fiction, I always need to break the collections up due to a heaviness. Regardless, this is terrific.
62 – 4 x 1 – Pierre Joris
Four poets that Joris has translated into English–I bought this for the Habib Tengour and then was really pleased to discover how much I enjoyed everything other than the Rilke–though even the Rilke has moments of greatness. The Jean-Pierre Duprey is the real revelation here though, astounding, as well as Tzara's "Poèmes Nègres," which I was honestly prepared to find insufferable but ended up LOVING. & The Tengour was as great as I expected it to be. A worthwhile collection, really, there's lots of stuff in here that's translated brilliantly by Joris that isn't available anywhere else.
63 – An Idiom of Night – Pierre Jean Jouve
Jouve is a great, one of the many tendril linking points between surrealist writing & the "neo-formalists" of the 70s & 80s that I obsess over, but also fascinating in his own right. The poetry here is great, haunting, lovely.
64 – James Lee Byars: The Path of Luck – Michael Werner
A very short but lovely Byars catalog that could almost fit in your pocket. Absolutely lovely reproductions and a very bare-bones essay by Werner. Byars is magic.
65 – Tuleyome – Lawrence Rinder & Colter Jacobsen
This is a cute narrative written by Larry Rinder with photographs by Colter Jacobsen. I'd say they're one of San Francisco's cutest "art couples" but I'm also convinced that Dean & I will take over that role soon. But really they're both lovely people. This book is great too, it's fun, it moves quickly, there's something very New Narrative about it which isn't entirely surprising.
—-
Ok, so I was going to try to do these all in one post, but now after 65 and looking at 60 more to go, I think I'll break this into 2.
Tags: 2012, chill out mike, i think this is better than last years, idk, lists, reading