Susan Bernofsky
is the code you can use until midnight today to get free shipping on Tyoyeu. What is Tyoyeu? "Tyoyeu by Seths in Poetry." is the Book of 2007-2011. You can get it today, truly at cost, because shipping its 466 pages will cost you nothing. Keep in mind: "Our manufacturing process precedes shipping." (Know too: 2012 not included.) Two copies of Tyoyeu came in the mail today having been shipped expediently, with extra not free shipping. When you have Tyoyeu you will see who needs WHOASHIPPING. Also today: two copies of What Is Amazing arrived, delivered on foot by the author. The author is a fan of Tyoyeu. Fans of the author are fans of what is amazing. Now I'm going to play basketball with Rachel B. Glaser and John Maradik and then I'm going to eat the rest of this pizza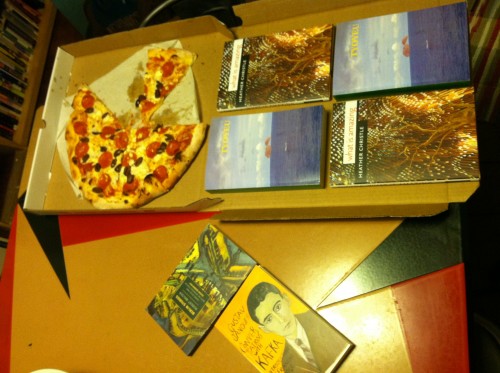 and watch basketball with Emily Pettit while typing words from the six books pictured (Berlin Stories by Robert Walser translated by Susan Bernofsky, TYOYEU by Seths, What Is Amazing by Heather Christle, TYOYEU by Seths, What Is Amazing by Heather Christle, and Conversations with Kafka by Gustav Janouch with a cover by Maira Kalman) in the comments. Whoever is the first to BOTH take a picture of themselves reading both Tyoyeu and What Is Amazing AND correctly match all the words with the correct book (in the comments), that person will receive (either via expedited shipping or delivered on foot by the author of this post) six machines:
the only copy of a book written just for that person (either OUR THE ROBERT WALSER or NANCY KÖF'S BÖK MADE OUT OF WORDS™ or RODNEY GRAHAM'S MACHINE FOR READING LENZ)
Matvei Yankelevich's Bending at the Elbow (trade edition, pictured below)
Taryn Andrews' Clouds Can Trees
Lesley Yalen's The Beginning In (watch Lesley read on a Seth's Divine Magnet)
Just Kids by Lawrence Giffin and Lauren Spohrer
 This Is What We Are Up Against by Ben Hersey, who is what what is and will be touring with Heather Christle in March and April.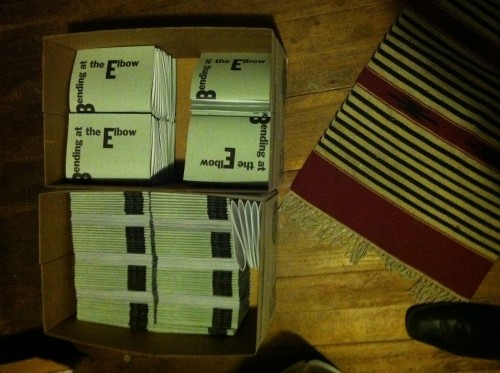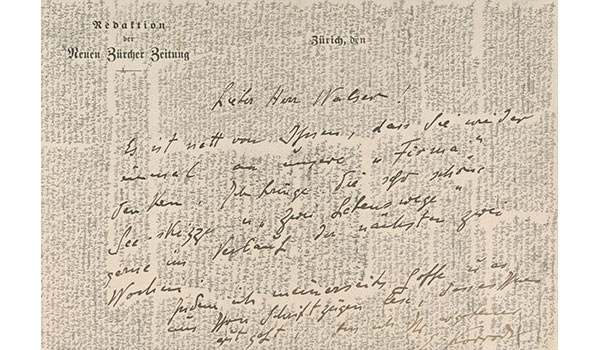 Robert Walser: The Microscripts, with Susan Bernofsky and Rivka Galchen

Saturday, May 22, 6 p.m.

177 Livingston (downtown Brooklyn)

$3 donation [unofficial rebate: free book from Walser & Co. if you go and comment below]
Walser biographer and translator [and writer and superhero] Susan Bernofsky teams up with writer Rivka Galchen (Atmospheric Disturbances  [and, in the May Harper's, "From the pencil zone: Robert Walser's masterworklets" (subscribe already]) to introduce stories from and about Walser's enigmatic microscripts, late texts written on scraps of paper in a millimeter-scale hand, which will be published on May 25 by New Directions and Christine Burgin Gallery.
Stories, a trivia quiz with prizes [!], larger-than-life secret manuscript pictures [!!], and a German penmanship lesson [!!!].
Advance copies of Microscripts [hands up the most beautiful $25 book ever published: heavy paper, full color, plus they actually glued a live microscript to the front cover, tucked elegantly beneath the decoy jacket like so: READ MORE >