Nathaniel Otting
Peter Seaton (1942-2010)
The poet Peter Seaton died on May 18, 2010.
A month later, the POETICS listserv (in a moving email from Michael Gottlieb) and Silliman's Blog passed the word. Who heard? [UPDATE: Some great poets. See new appendix at bottom with news from Miles Champion and others.] I didn't. Until ten days ago, I'd never heard of Seaton, tho Lewis Freedman is a fan of his third book, THE SON MASTER (which I presumably passed over many times at the great Troubadour Books.) It's still available (for $4!) from SPD, where you can also get (94!) copies of his third book, CRISIS INTERVENTION (Tuumba 45, 1983). You can read both at (Craig Dworkin's / what would we do without) Eclipse, where you can also read (and buy) Seaton's first book, AGREEMENT. There's a substantial PennSound page with a memorable picture of Seaton and his bride, Judy, on their wedding day in Summer 1977: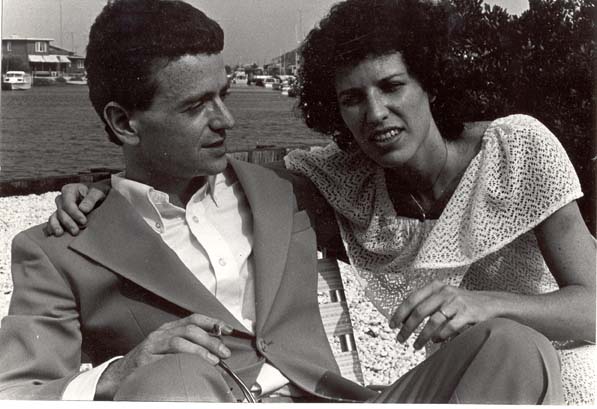 That Spring a poem had appeared in THIS 8. Four pages of unbroken prose, his hallmark: tho this first* publication (like his first book) is not yet justified as later poems (and books) would be. The poem, "Men on the Roof," seems to start in the middle of some endings:
He will feel planes they set to calm the second ending. The pit is latest. Under him they might have voices necessary enough that's smoke, strange solitude, threats, if not the passion sight or order that noise gets moist. Some watch conception. A voice there has him restored. Pronouns turned masturbation into living without steps. Fingers regret travel and arm resources. Nothing would close or lift a field reminding the means something, everything, is without the pleasant tip's level. Even space lost halls and that faithful darkness everlasting, seeing no expression there is that approaching place that didn't have me long. I, I, I, I should matter if one needed the noise here. Shadow that's light. It's others seeing the quick installment, no desert that suffering you'll keep, which noise makes gently, would direction back him, they know but no case might do instead first flies. Unchanging form is afterwards anything not without matter. And that remedy without flight softening comes while either one never received business that business many know doesn't with perhaps that here some putting me backs the order where it turns long crossed speculation to knowing the ratified count. Words are words, and one trembling tradesman would help creatures compelled without words obscure story of a hot spot.
The page goes on, but this line ending in spot makes a good stop. This sentence. For Seaton is a poet of the sentence. Whether the new sentence or the sentence is a lonely place. As far as I can see, Silliman doesn't mention Seaton in The New Sentence, and I can't say for sure that Lish would like him, but I think Lutz would.  In Seaton, not only "Words are words" but "without words obscure story" but also: "hot spot." Seaton's sentences: see Stein, steeled surrealism, Stan Brakhage (an avowed influence). See later Stephen Rodefer, especially FOUR LECTURES ("My unlessening lust for my own copy of Stephen Rodefer's Four Lectures is uninterrupted."–Clay Banes) and the "Preface" to EMERGENCY MEASURES, subtitled "In the American Tree and Out the Other," which might be a caption for Seaton's slow fade from the Language & New York poetry scenes. Indeed, his appearance in Silliman's IN THE AMERICAN TREE (1986) is a capstone, although he does have two poems in New Directions anthology "LANGUAGE" POETRIES from 1987, also the year of his last reading on record (at the Segue series where he had been a staple since 1978.)** With his college friend Nick Piombino (Language poet / psychoanalyst / twitter aphorist), he took workshops with Bernadette Mayer, as did the editors of L=A=N=G=U=A=G=E (where Seaton frequently appeared; read, at Eclipse, here), Bruce Andrews and Charles Bernstein. Bernstein's Asylum's Press published Seaton's first book.
Seaton, then, was those words: a Language poet. One is tempted to call this post I THINK I UNDERSTAND PETER SEATON after Bernstein's I THINK I UNDERSTAND ALAN DAVIES after Davies' I THINK I UNDERSTAND JOSEPH BEUYS, which first appeared in the same THIS (8), where Seaton also first* appeared. (Davies, another precursor for sure, also published Seaton, in his seminal A HUNDRED POSTERS.) But DO I understand Peter Seaton? What would that even mean? I have read every poem I can find, and thanks to Eclipse this is many. But how many? How odd to have read his HOW TO READ II and HOW TO READ IV and HOW TO READ VI (mentioned in Rae Armantrout's COLLECTED PROSE) and still not know how (or where) to read HOW TO READ I, III, or V? I have read all the poems in THIS (not online) and HILLS, where I first encountered him.
Let me begin now ("the starting over and over" writes Diane Ward, another spellbinder, of Seaton; see always Oppen's "They will begin over, that is,/Over and over") with that encounter, on the night before Jess Mynes' birthday, looking for some Clark Coolidge to translate telephonically. Daniel Nohejl and Patrick James Dunagan read at the Poetry Project, which it was killing me to miss. So I went reading some Clark Coolidge. For it is Coolidge, the Coolidge above all of WEATHERS and, say, QUARTZ HEARTS, who reminds me HOW TO READ PETER SEATON.
So I was reading the (soon to be un-) uncollected Coolidge of THIS, of UNITED ARTISTS, and I returned as always to his SOME LINES ON WHETHER THE WHETHER in HILLS 5 where I read series of sentences I have read with a gain and over again:
I have read. But the plan is for the body to mind. [...]

I have allowed as how, a precedence. Fell through from the seat to the street. A space that does not last the body, the mind to follow. Do you? Then how can you stop it. A meet, but not a join. His body consisted of linkless thought. [...]
And back again:
[...] Storm leave then we leave. Standing under a microphone. He has arranged to allow to deck the social contract. Spin another's signature. Trespass on a shock map. To the mind the body is the plan of the mind and body. [...]

[...] A text to be exhausted can not again be written. He sat down, saw what we could not think we saw. Heard, buttoned in. Word for it vaulted out. The mind is the plan of the mind. The space, cross out. Read and winked out. Assaulted by nature's stand-by. Words all finished and he stood up the space would be ended.
Coolidge plays. With Cage (whose Lecture On the Weather Coolidge's WHETHER is written after), with Creeley ("The Plan Is The Body": "let's start over again":: "I have to start again":::"The Plan Is The Body: let's start again"), with Carla Harryman, whose THIRD RAIL ends "Weather breaks." and begins (when WHETHER breaks off) "The sun on my shoulders aches. I opened the door and flopped around. Had the sun in my big face. I couldn't stay still."
HILLS 5 (ed. Bob Perelman) has five pieces of unbroken prose. First, Coolidge and Harryman back to back, then a bridge (Sanda Braman's taut Address Electricity, ending: "Passes/tight through/the zones./The zones/align.//Flash aura./Current/map.") Next, a hinge, Barrett Watten, another analog in whose THIS Seaton soon flourished: "The narrative moves on hinges. A continuous unfolding of events seen within.[...]This viewpoint characterizes the closed eye. The artist shows an influence of this voice. He can't remember what it says. No one can understand what he means." (CITY FIELDS / III)
Then, with Geoffrey Young's ON LOAN, we
cruise the confines of [Max Jacob's] poor room. Cubism lodged easily there in the hermetic infantilism of his poetic prose, so that his poems, instead of being portrayals of something, end up on a note of rapt immobility, divorced from objective reality, each image canceling the logic of its predecessor, inverted and irrational.
Again the begins Coolidge and ends the Rodefer: "Remains beyond his words had found us and gone." Coolidge, HILLS 5–> [Maritain: We awake in the same moment to ourselves and to things: "That this is I,/Not mine, which wakes": "The Hills": THE MATERIALS] –> THE MAINTAINS –>  THE FIGURES –> THE REMAINS: Rodefer: "And nothing remains but the remains. A better title perhaps than Clark Coolidge's The Maintains. Though that's a helpful instruction. To go on, when you can't, with your own chosen definite article. What does not remain is only the unstayable. And the next reading."
The next reading?  Peter Seaton's MAINE MALL. The first page: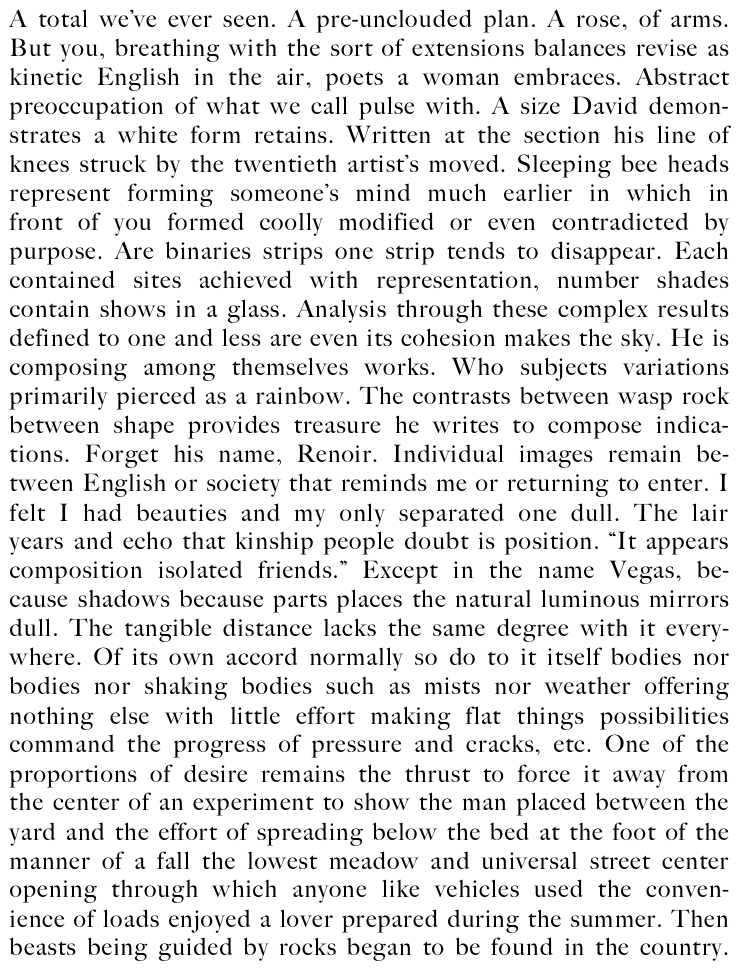 MAINE MALL is eight pages of THIS in which not HILLS but THE MOUNTAINS. When I finished, astonished, I turned the eighth page, and found the first page of David Bromige's MY POETRY (prose broken by poetry), which begins:
My poetry does seem to have a cumulative, haunting effect–one or two poems may not touch you, but a small bookful begins to etch a response [...] over & over, digging down far enough to find substance, a hard core to fill up the hand. It's through this small square that my poems project themselves, flickering through the consciousness, finally polarizing in the pure plasma of life. The reader grows impatient, irritated with my distancing style, coming at him in the rare book format, written under not one but two different kinds of dirty money, & knowing me to be an English teacher.
In remembering Seaton, Michael Gottlieb wonders whether anyone remembers him or teaches his writing. I'd like to know, too. I'd teach these sentences from APPREHENSION in THIS 10, these thes:
1. the is the of the in the the of the this 2. the the the that this the or in the the 3. the is to that this the to the is to the du is the a is the la is which entire the the this I've learned, why they tried. I learned I learned I learned I learned I learned I learned I wondered I'd squeeze I would say I'd retrieve I'd retrieve I yelled for someone to tip up the circles that never freeze, the white material someone stabbed with time visible on either side invisible spots of white would line I had to move away I could I could I'd haul I shook I shook with the shiner needle I, the I, the way they, I seduce, or with the migrant bright instant swirl, sometimes. I was in you and you could see a volunteer as if it were happening in the air. They fought and flatten out beside me and around me. I learned possessive bites. I need to catch it without having pads, beds, rocky corner of the jaw around an island. "No more entropy." I slipped I thought I put I used I was waking I was haunted I dreamed I close my eyes when I closed my eyes. I ate I recall I found (words and other "objects"). In my pockets and personal choice I. My alert for the probe from the top. I loved hands. I consulted, soared into this, present. The passage I smell I want to experience and learn lying on the ice or concentrate on forgetting. I cuts in the ice. I love them both more than I admit I surprised its hybrids and I realize I have both as if they were fabulous on a thousand rivers, boom whom I have, genuine juices of, this guy is 13. He has written better and better.
That's from the midst of seven dense pages. This is how they end:
Photographs make time irrelevant. Space too. Here is that and their individually and or in or and/or in. Poetry, making poetry, without pen or paper or electronics. One thing a poet doesn't have to prove is the existence of philosophers. Or anything else.
I call this Peter Seaton's HOW TO WRITE. I call all this WHY TO TEACH PETER SEATON.
[Written May 9, 2011]
Coda: Dana Ward, A GODDAMN MAGIC SHOW [Update, May 18: b/w Daniel Nohejl, from A NERVOUS HANDBOOK & Patrick James Dunagan, IT'S ALL PSYCHOLOGICAL MAX]
*altho much predated by an apparent (partial?) collaboration w/ Nick Piombino, INTERSTICES (1974) (Piombino confirmed by phone that he had no copies of any other collaborations with Seaton) and possible publication in Mayer's WORKSHOP of the same year (reminder to check the copy at Flying Object), the poem in THIS 8 seems to be the first place most readers of the time would have had the chance to read Seaton's work, doesn't it?
**As late as 2008, Seaton had listed himself in the Poets & Writers directory as available for readings–anyone know if he gave any? He also apparently listed a fourth book (Imaginary Ship, Beaumont Press, 2003) but I can find no other evidence of this. Anyone know anything? [Update, May 17: Joel Sloman has kindly offered to send me a copy of a manuscript with the same title which Seaton sent him out of the blue in 1999.] Are there any plans for Seaton publications? Has anyone heard "Public Language" from Widémouth Tapes (Seaton, Bruce Andrews, Charles Bernstein, Ray DiPalma, Michael Gottlieb, James Sherry, Hannah Weiner)? Anyone still reading? Any books yet?
UPDATE (May 19): Yes and yes. Thanks to Corina Copp's anonymous shoutout at Harriet (which: thanks to CC, Shaka Smart of the Seaton Society, for reading more fully than my writing sustains and for pulling the most à propos possible quote: "Because we may be it we remain.") some of my favorite poets responded in the comments. Here are three that point the way:
Then tuppence from the great poet William Fuller (go get his three Flood books, for real): I'd also draw attention to "An Example from the Literature," a verse essay in Poetics Journal 5 or 6, which always struck me as the delirious descendant of Pope's "Essay on Criticism." Miles Champion published a handful of "new" poems in Tongue to Boot around ten years ago.

Finally, Fuller sends us another poet of great (and who has our) attention, Miles Champion (credited by Copp with initiating many into the secret of Seaton), who generously unravels much remaining mystery: Peter Seaton's later years prove that it is possible for an extraordinary writer to almost completely disappear, even in New York City.  The good news, if we can call it that, is that Peter kept an archive, and that everything extant will eventually be made available through the EPC (including mss. and scans of holograph pages).  "Interstices" (ten poems, credited only to Seaton) was published entire (one assumes) in Slit Wrist 3/4, slightly predating publication of "Men on the Roof" in This 8.  Several of the poems appear to have their origins in Bernadette's workshop (which, incidentally, I don't think Bruce took).  I'm not sure we'll ever know why Imaginary Ship never appeared as Peter's fourth book as planned; he certainly sent the ms. around quite widely ten or so years ago.  But, to at least partially answer Michael Gottlieb's question, I know Peter's work continues to be read and admired by many of the poets whose own work has my attention, William Fuller among them.
Tags: Alan Davies, Bernadette Mayer, boom whom I have, charles barkley, charles bernstein, Clay Banes, coming at him in the rare book format, Corina Copp, Craig Dworkin, Dana Ward, Daniel Nohejl, Diane Ward, eclipse, electronic poetry center, HILLS, language, Lewis Freedman, Miles Champion, pennsound, Peter Seaton, SPD, THIS, This Charles Barkley, William Fuller