HTMLGIANT / janicelee
Janice Lee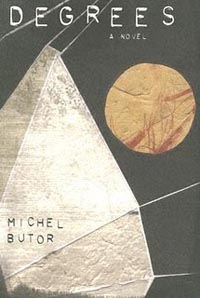 Degrees
by Michel Butor
Trans. Richard Howard
Originally published: Simon and Schuster, 1961
Reprint currently available from Dalkey Archive Press, 2005
351 pages / $13.95  Buy from Dalkey Archive
It is painful to report as much, especially here at the outset of this review, one of whose ostensible purposes is to attract readers to a classic of first-generation French postmodernism, a nouveau roman that was for many years unavailable in English and, even when it was, was not widely discussed. Yet it necessary to reveal that this is a novel [1] concerned with writers and writing. Its main character / protagonist / hero / narrator is a writer, and every dramatic action in the book both originates and terminates in "the literary." The aesthetic, social and moral quandaries all authors face are accorded some reflection in its pages, and, with the turn of each page, the novel grows in self-consciousness, as if such awareness-of-being-aware could accumulate in measurable deposits, like the nacre in a pearl. And make no mistake: objects matter in the world created by this novel. For this novel proposes to be a manuscript, and a rescued one at that; this manuscript's (re-)assembly in the form (one both ideal and literal) of a book is not just a plot point which the reader is asked to mark, a scope through which the reader is to track and focus the novel's action. The making of this particular book (that is, the manuscript "within" the novel) is something only we, as disinterested yet absorbed readers, can achieve. We aren't just reading pages, reading in the sense of digesting them. A page of this book, once read, is much like a page once it has been written upon. It grows in thickness under the influence of our attention, just as it must have swelled with ink and sweat and  the pressure of the author's hand as it was being composed. Each page thus acquires a distinct texture and profile, and can be stacked, will lay flat, but each page lends its own disarray to the sequence of pages being so collected. Each page will lay less "true" than it did when it was only blank, and the array of pages each reader puts aside (or places behind him/herself) rests disjointed and askew.
Reviews
/
7 Comments
August 19th, 2011 / 12:00 pm
Janice Lee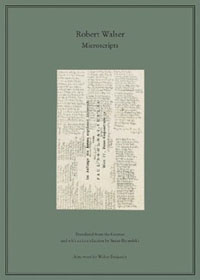 Microscripts
by Robert Walser
New Directions, 2010
160 pages / $25  Buy from Amazon
At their most definable, Robert Walser's microscripts are meditations, essays, parables, and sometimes distillations of other authors' works. Then there are more unclassifiable pieces; these are awkward journal entries, truncated portraits, and non-narrative stillnesses. In Microscripts, twenty-five of these handwritten miniatures appear in facsimile form with their English and German translations. Aside from their physical smallness, what the pieces have in common is a narrating voice that often pays self-conscious attention to its language. For Walser, words are a dangerous delight; they easily get away from him and can even embarrass him. Microscripts offers a tacit commentary on the author's difficult relationship with language and writing, as well as an extension of his artistic project. READ MORE >
Reviews
/
1 Comment
August 15th, 2011 / 12:00 pm
Janice Lee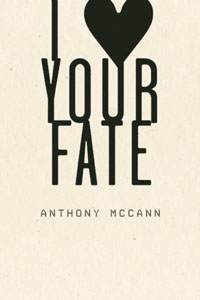 I Heart Your Fate
by Anthony McCann
Wave Books, 2011
96 pages / $16  Buy from Amazon, Wave Books
A review of I <3 Your Fate, I [heart] Your Fate, or I [love] Your Fate, or, truly, the way your cognition's filter makes you read it, maybe only when you look at the book, but maybe when you think of it, too, picturing the playful, blackbled type on the cover, I [hate] yr Fate, because the pull of the rhyme is stronger than the sound of the tongue-in-cheek, cardiod stain.
Reviews
/
6 Comments
August 12th, 2011 / 12:00 pm
Janice Lee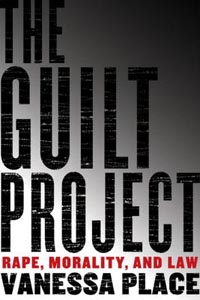 The Guilt Project
by Vanessa Place
Other Press, 2010
336 pages / $25  Buy from Amazon
&
Tragodía 1: Statement of Facts
by Vanessa Place
Blanc Press, 2010
430 pages / $45 (HB), $25 (PB)  Buy from Blanc Press
Among the individuals in Los Angeles who are responding to heavyweight issues exists an  uncanny force: Vanessa Place. A criminal defense attorney, she defends what some categorize as the lost, the wretched: indigent criminals, repeat sex offenders and violent predators. Some criminals learn valuable lessons while incarcerated; others leave prison refueled, angry and ready to re-enter what's left of the world as a less worthy version of themselves, less interested in following pre-ordained rules. This is where Place steps in: the blurry space between offense and re-offense, perpetrator and victim, right and wrong, ethics and morality. Place explains, "I work as a combination street sweeper and factory worker. I follow what's gone before, mopping up after the bloody mess, squaring the legal corners, assembling the lives disassembled by tragedy, and reducing reams of paper to bite-sized pellets."(p.2)
Reviews
/
8 Comments
August 8th, 2011 / 12:00 pm
Janice Lee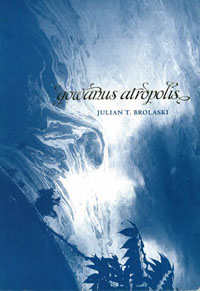 gowanus atropolis
by Julian Brolaski
Ugly Duckling Presse, 2011
104 pages / $15.00  Buy from UDP

We no longer reveal totality within ourselves by lightning flashes.  We approach it through the accumulation of sediments.
– Edouard Glissant
Every word in gowanus atropolis carries the traces of having been moved, altered, shifted.  Even the undergirding of the lines and stanzas feels rearranged and restructured to create a different kind of progression, far from a logical exposition.  Both syntax and spelling have been remade: "one ynvents a grammatical order / (& haf done)." We are in a specific post-industrial space, the New York City around the Gowanus Canal in Brooklyn, and we are listening to an elegy for the pastoral in a stridently non-pastoral setting, a polluted landscape struggling to survive. The experience of this landscape through words is only possible, Julian Brolaski seems to be saying, once everything has been pushed off its foundations a bit, with everything askance, a little slanted by the inclusion of a slew of portmanteaus, archaic words, macaronics, neologisms, transpronouns like xe, and of-the-moment slang.  Suddenly even the most obvious and brutal contemporary slang seems bizarre and highlighted in the mass of new or n-used words. In the thicket of all these strange words, there are some we recognize, some which very few readers could ever possibly know and then others that no one has ever read on the page before. These (queer) words open up all sorts of possible readings, mis-readings and failed readings, and they also open up a space for play, for contradiction and confusion, for being lost.
Reviews
/
6 Comments
August 5th, 2011 / 12:00 pm
Janice Lee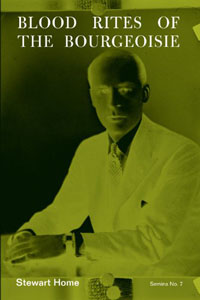 Blood Rites of the Bourgeoisie
by Stewart Home
Book Works, 2010
120 pages / $19.99 Buy from Amazon
&
The New Poetics
by Mathew Timmons
Les Figues Press 2010
112 pages / $15.00 Buy from Les Figues
If you're anything like me, you're probably keen on the emergent discourse surrounding our current atemporal, altermodern new media status. Facebook, Flickr, Google, iPad, iPod, Myspace, Youtube, etc, etc: its all grist for contemporary philosophers, and writers too have attempted to capitalize on the ubiquity of Twitter feeds and Facebook updates – with mixed results. Zen literary terrorist Stewart Home and Los Angeles-based poet Mathew Timmons are both authors of recent books that are candidates for an emergent atemporal literature (for lack of a better term); what Home and Timmons have managed to do is to avoid the trap of the ever-expanding rotting mounds and heaps of aspiring internet-based fiction, and needless to say – that trap is the perennial lure of narrative storytelling.
Reviews
/
15 Comments
August 1st, 2011 / 12:00 pm