November 2013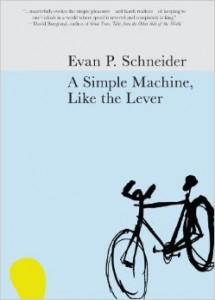 A Simple Machine, Like the Lever
by Evan P. Schneider
Propeller Books, 2011
179 pages / $14  Buy from Propeller Books or Amazon
I'm tempted to say all kinds of irresponsible things about Evan P. Schneider's first novel: that it's the Catcher in the Rye of our time; that it's the book that saves leisure-time fiction with an eye to the fact that making money and trying to survive on that money is the primary substance of most of our lives; that "If There's One Book You Read This Decade, It Should Be This!" If I said these things, I would risk being seen as engaging in the reviewer enthusiasm warned against here and here, which warnings, I would add, I agree with wholeheartedly.
But I loved this book. I think more people need to know about it. So what the hell.
A Simple Machine, Like the Lever is one of the very few novels I've sat down and read in a single sitting, not because I was planning to but because I couldn't not. Catcher in the Rye is the other one. It may not be cool to say you like Salinger anymore, but his seminal novel affected the hell out of me, and probably you, too, back when you read it in high school English. Like Holden Caulfield, A Simple Machine's Nicholas Allander is earnestly confused about the complexities of the adult world, plying his way through doomed encounters to a bare reconciliation of life's ridiculousness with his own naïve ideals.
Unlike Holden Caulfield, Nicholas Allander is 31 years old, barely employed at a "fucking sink company," and digging himself out of a huge hole of credit card debt while trying to retain the minimum amount of respectability necessary to hold a girlfriend. He is on a walk with said girlfriend, Marie, when he finds a paper cylinder of salt on the side of the street and picks it up to take home with him. She says:
"Can I tell you something?" Marie dropped my hand and stopped walking. "When I watched you pick that up I thought to myself, 'He can't possibly eat that. There's no way.' But I didn't say anything because I know that's what you do. That's how you are choosing to live."
Nick is nonplussed. The conversation turns to where they're going, as a couple. How Nick has to start taking better care of himself. But how he lives is not really a choice, he insists.
"I hate being in this position," I said. "It feels ridiculous and embarrassing. But I am, and I have to make sacrifices. If it makes you feel better, when I get home, if the salt seems bad or whatever, I won't use it."

"Jesus," Marie said softly, "it's not about the salt."
This kind of dialogue is what makes the book so compelling. Nick is so consumed with doing what seems right—paying off his debt once and for all, mostly—that he can't understand the secondary social constructs of a world that has been designed for folks who have moved past that point. The image of the cyclist here an apt one: if you've ever commuted by bike on roads thrumming with giant cars, you'll know the feeling of being left behind by the petroleum winds of an infrastructure that is not built for you.
It'd be easy to get preachy, here. It'd be easy, in a book about being poor and riding a fixed-gear bike around Portland, to make Nick into your proverbial hipster, trying desperately to find meaning in a world that is clearly devoid of it by fitting into a developed "alternative" culture. But Nick doesn't ride the kind of bike "so many young people ride these days"; as for its fixed gear, it just came that way. He does a circuit of push-ups and sit-ups and desk-chair-curls in his apartment after work, to try to stave off the love handles. He's not even trying to find meaning, really. He just wants keep up his relationship with Marie and get through every day without staining his work pants with bicycle grease.
This all works through a very particular narrative voice, one of observation and calculation and gentle confusion at the world's complexity. But this does not mean Nick is cold. His visions of the city in autumn, usually from the saddle of his bike, are stunning.
Why can't it take longer, the amazing things, such as leaves falling into my path as I ride? Like weightless gold coins, they tumble back and forth, to and fro, down and down, and then somehow land right in my wire basket as I'm on the move. I'd like to stay in these moments. I want to see them all the way through until they're gone for sure.
There's something childlike about Nick, something uninitiated that allows us to see the world for as cruel as it is and as beautiful. We need him, accustomed to it all as we are, to remind us of the sense of frustrated wonder we had back when we loved Catcher in the Rye. We need A Simple Machine, Like the Lever, to remember what it feels like to go somewhere, everywhere, only under your own power:
The movement, the shush-SHUSH, shush-SHUSH, shush-SHUSH of my pedaling up and down, pumped blood to parts of my body I swear I hadn't felt in years.
***
Dennis James Sweeney's recent work has appeared or is forthcoming in Fractured West, Sundog Lit, Whole Beast Rag, and Word For/Word. Find him at dennisjamessweeney.com.
Rauan Klassnik
—

In her review of Dirty: Dirty (an anthology of "dirty" writing that includes work by J.A. Tyler, Lily Hoang, Gary J. Shipley, etc) Roxane Gay states:
"In truth, sex is absurd as a physical act, so good writing about sex should find a way to convey that absurdity along with the intensity, the humor, the beauty and the ugliness of sex."
In Truth Sex is absurd as a physical act —- hmmmmmm??
***
what do y'all think ??
***
(go here to read Roxane's full review)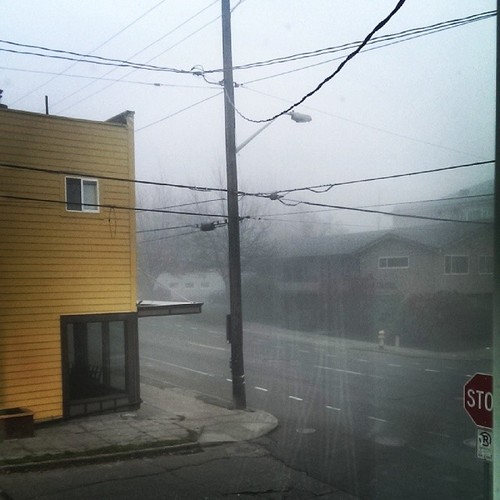 We had some plans but an unexpected medical procedure canceled those plans. READ MORE >
Last week I watched Nathan Staplegun eat salted peanuts on spreecast. What started off as Nathan eating salted peanuts soon turned into Nathan asking his roommates or friends (and thus turning the computer camera in their direction) what they were preparing in the kitchen, and quickly became a spreecast showing one of Nathan's online friends playing guitar. On the surface, Nathan Staplegun eating salted peanuts on television (that's what platforms such as spreecast are: do-it-yourself TV) would seem like a snooze, a no-brainer, an excuse to read more books. But, what Nathan did was really great. He put on TV a thing that he would have done anyway and by doing it on TV turned the act of eating salted peanuts into something else: an event, perhaps.
I love to tell the story of Glenn O'Brien's TV Party. In 1978, Glenn O'Brien and friends (and his friends were people like Jean-Michel Basquiat, Amos Poe, Deborah Harry, Walter Steding, Chris Stein) got together and decided to take advantage of public access cable television in New York City. The format was simple: hang out with friends, get high (one episode had Fab Five Freddy in costume teaching viewers how to roll perfect joints), have your friends play music, and talk to people (viewers called in live while the show was on air and used their short time to make death threats and complain about how shitty the show was). By television's standards, the TV Party shows were shitty, but they were fun to watch. And, in their own way, became increasingly popular (special guests included David Byrne, Klaus Nomi, and Mick Jones of The Clash) and influential (in one of his early top ten lists David Letterman cited TV Party as an influence). Art and everyday life will never be separate things; although, the art marketers sure seem to want us to believe that they are. Friends get together, record each other doing silly things, or someone we hardly know broadcasts himself washing dishes or whatever, and art's possibility is renewed, if not, realized.
I have been kicking around the idea of starting a series of posts in which I cruise my facebook friends' facebook photos and post the ones I like as part of 'Creeper: Favorite Facebook Photos of My Facebook Friends'. The word 'creep' (and its variations) has not always had negative connotations. When Radiohead hit the pop charts in 1992 with their debut single "Creep" the song seemed like a strange, wonderful call to embrace the pathos of a loser, a lost subcultural weirdo whose dreams and desires are too much for himself and the world. Much like Beck's "Loser" the song seemed to reinvigorate a long-standing yet dangerous tradition in the arts: the elevation of the low, the loser, the outsider, the emotional clown, to the status of cultural barometer, of artist. Long-standing because American cultural producers had carefully exploited this type for profit since the early days of white rock 'n' roll (Elvis Presley) and the first teen films (Rebel Without A Cause). Dangerous because sometimes people actually believed in these characterizations enough to begin to act like rebels, not satisfied with merely listening to them on the radio or watching them at the movies.
In 1969, Vito Acconci made art by simply following people around New York City. Acconci spotted someone on the street and followed them until they disappeared into a place he couldn't, or didn't, want to go. Acconci's performance lasted almost a month. He'd get up, go outside, spot someone, and follow. Most spreecasts, for better or for worse, go on way too long. But, so does hanging out with one's friends. At some point, you want to be by yourself or hang out with someone else. With the advent of the spreecast you can hang out with people you know or don't know or want to know simply by joining in. It's the logic of the club but not as restrictive. Of course, hanging out on spreecasts may never beat the intimacy of being in the same room with a friend or a loved one or turning it all off and reading a book. But I've known a lot of people who got all the companionship they needed by simply watching episodes of Breaking Bad or whatever–and apparently, according to some, you can be plugged in and still experience solitude.
This isn't a plug for spreecast, who I could give two fucks about. It is a plug for a kind of art that denies the art market and realizes itself in everyday life. One doesn't need an important architectural group, a big publisher, and a major museum to support an effort to follow and document people in your neighbor (although Acconci had all of those). One does need ideas. I was talking to Elizabeth Emily D'Agostino in her car about art. We were parked outside my apartment–a perfect venue to discuss anything. Our conversation shifted to cultural amnesia, an easy target. In our desperate efforts to predict the future I described for her a story written by Tao Lin and boldly proclaimed that this was Lin's crowning moment and that history would look at this moment as an opportunity lost. The story is simple enough:
when i was five
i went fishing with my family
my dad caught a turtle
my mom caught a snapper
my brother caught a crab
i caught a whale
that night we ate crab
the next night we ate turtle
the next night we ate snapper
the next night we ate whale [. . .]
The last line of the story is repeated almost endlessly or as long as the writer/reader can endure it. Although, I have read a version of it where it ends rather abruptly. For a video account of its hilarity, you can listen to Tao read it here.
Why an opportunity lost? Because when an artist with the talent of Tao Lin comes along he seems to come with a two-pronged fork capable of reflecting the zeigeist back to us and/or breaking the hold the zeigeist has on our attitudes, desires, fashions, discourses, etc. In the post-Warholian world in which we live contemporary artists have made it clear that they are more interested in and perhaps more capable of showing us who they are (i.e. reflecting the 'zeigeist' back to us) than breaking the mirrors that bind us to a social-medial and political-economic worldview that reinforces the notion that 'we're fucked.'
We are fucked. In Sheila Heti's novel, How Should a Person Be?, someone comes up with an idea for an ugly painting competition. I say 'someone' because not even Sheila, our narrator, knows who came up with the idea. The idea of making the ugliest painting is more difficult than you'd think. Relationships are ended, lives are changed. During the height of the national crisis that was punk rock in England in the 1970s, a roadie for The Who dismissed the movement as a mere 'revolt of the uglies.' I mean, imagine calling a bunch of teenagers parading their misfortunes, economic hardships, childhood traumas, bad skin, social awkwardnesses, and fashion made of actual garbage found in the street as revolting or, worse, ugly? It is with these two sentiments in mind–a conceptual call to ugliness in the name of something else (Heti) and its celebration as an insult (punks)–that I invoke the writers and artists of the alt lit movement, a movement that has come to signify everything that's right and wrong about everything that's fast, cheap, and out-of-control in the arts today. Perhaps the time has come to break the mirrors that bind us to our own little personal victories (i.e. 'I'm internet famous') and begin the more fun and difficult work of smashing those fucking mirrors so that we–and the big, bad world–may see ourselves again, as something else, something more, something seemingly uglier and thus, perhaps, more beautiful. Of course, you could choose to ignore me (I'm used to it, really)–your career path probably profiting more from it–than listen to me whisper to you, from the salted peanut gallery.
@janeysmithkills
kottonkandyklouds.tumblr.com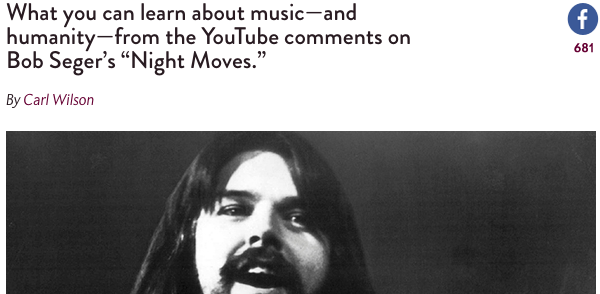 At Slate, Carl Wilson wrote brilliantly about Youtube comments and Stephanie Barber's book, Night Moves, a transcription of the Youtube comments to Bob Seger's song "Night Moves." Here are the comments from that article:
Youtube aside, Bob Segar is truly one of the greats. Soulful, rockin' and a great songwriter. One of the few who is equally believable as an all out rocker and as a tender, wistful balladeer. One of the greatest singers ever. He deserves to be mentioned in the same breath with Sam Cooke, Sinatra, Ella, Elvis and Aretha.
Coincidentally, Bob Segar was my very first real rock concert. I was 15 and I was blown away.
Side point to address the old vs new music conversation downthread: It is true that I will never experience music like I did with my 15 year old heart and all my musical memories are filtered through that 15 year old head that I lived in.
But now, I can listen to music with a knowledge and an understanding that I didn't have then.
And I love that old stuff, but there is great new stuff too!
The Shins, Blind Pilot, Death Cab, Bob Schneider, Uncle Lucius, Black Keys, fun. and lots of others. Some will say that some of these are too derivative, but all music is derivative.
Sinatra, Thelonius Monk, Abba, Segar there are many, many more great musicians, singers, producers and songwriters in every generation.
To dismiss the current or the old as crap is the mark of a philistine who doesn't really love music. They only love what music represents to them. Their youth,
And that applies equally to the fogies and the kids.
***

See, I always heard this on the radio as night NEWS.  I knew what the song was about. I just figured he was banging the girl working on the school newspaper with him.
***
Rauan Klassnik
—

Steve Roggenbuck is "launching a group project called Boost House" and needs "funding to get it started"
what in the frick is Boost House?

Boost House will be a publisher, and an actual house out of which that publisher is run.
we'll make books, posters, shirts, stickers, and other goods that promote ways of living we believe in.
get all the information here at Kickstarter
Don't call me 'you,' me!, Cecilia Corrigan commands herself in a startling line from her recent chapbook True Beige (Trafficker Press, 2013). I read this line and totally flipped out. Throughout her voracious and hilariously self-defeating piece, Corrigan weaves similar, self-reflexive threads that jolted me out of my basic assumptions about everyone's roles in this unspoken contract: the poet writes a poem, bows out, and then the reader reads it. Not in Corrigan's world. Here, the poet sticks around. Her active gaze follows you everywhere; it makes a subject of you, of the poem, of itself (Cecilia?), of the narrator (separate from Cecilia?), and of other characters, swiftly and freakily, like a demon possessing different hosts.
The poet's thoughts about the unfolding poem appear often: These Sentences are getting more complicated in this poem, now; The 'you' is shifting in the poem; So many abrupt changes in this poem! By reminding the reader of everything that is happening as it is happening, Corrigan creates a real-time temporality that slaps your imagination on the wrist just when you were about to suspend disbelief. Spooky, twisted, and strong, each of these observations seems to be Corrigan's cannibal who eats her own body.
The narrator of True Beige has a brassy voice, eager to leap off the page and into a throat.The read-in-my-head text simulates a read-out-loud text, aperformance. There're only two possible outfits I could wear which could be appropriate for the performance of this poem brings me right there, in the audience, watching the poet in her outfit, gesticulating. When I read, Oh look can I get a volunteer to call me 'the enemy of all things good and holy?' I'm like "Ooh! pick me!" Because I do want to call her that.
The narrator further transforms the reader into a listener with these deliberately audible emphases: liiiike, It is so uhhhh?,MATH <clap> MATH! <clap> MATH! <clap>.But the listener in this audience doesn't stay distanced from the performer. Corrigan is quick to wink at you, show you backstage, even take you home with her. You get to be in her room late at night, creeping over her shoulder, watching her lean on the w key: I think it was the American Poetry Reviewwwwwwwwwwwwww. There are other, less intentional, spelling and grammatical errors that show up across the poem like little cuts and scrapes. Did someone copy edit this? The effect is either revealing of some kind of rough honesty, or just a product of an editorial process that was, as the poet puts it, a real horror.
Settings and narratives in True Beige arise and drift off. Cecilia is in front of a classroom, she gchats with Trisha Low,  READ MORE >
Comments Off

on Cecilia Corrigan's TRUE BEIGE reviewed by Leslie Allison
November 26th, 2013 / 6:05 pm