October 2011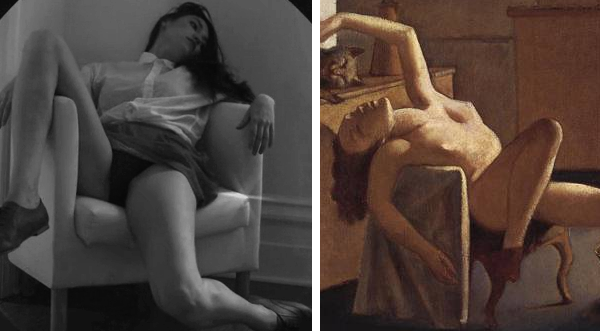 Ellen Frances, director and subject of her short film "Very Beautiful Woman" (2011, Pangur Ban Party) may well be aware of the evocative poses from which hers are derived, or not. Balthus (1908 -2001) has been criticized much for his erotic depictions of underage girls, often struggling in compromised and subordinate positions. Men may offer other men more to look at, but it takes a women to turn it into something formidable. I had to increase the RGB input level in the pic — to fill that room with light, virtually, miles away — to confirm that the dark patch between her legs were indeed panties and not the unkempt bounty of a more natural sort. I only speak so glibly in faith that my inclinations are at first respectful. Frances frames herself inside a cosmetic blush mirror, at first held in her hands, then in what is made to appear as a larger mounted wall mirror — the repeating circular motif functioning as a distancing viewfinder of some sort, lending a layer of documentary mediation and self-cognizance. With Cindy Sherman, Vanessa Beecroft ['s subjects], and perhaps Miranda July, Frances stands in the company of women who have found ways to negotiate the expectations of their bodies without looking away.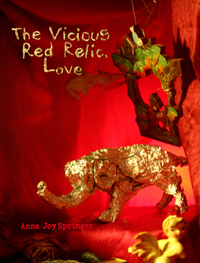 The Vicious Red Relic, Love
by Anna Joy Springer
Jaded Ibis Press, 2011
202 pages / $26  Buy from Jaded Ibis, Buy from Amazon
"Why would such girls waste their youthful hours employed in such thankless–and illegal–pursuits? What could they possibly expect to gain in unearthing off-limit excretions–embryos curled up like fiddleheads, alien cells, two kinds of cum blended together, and a handful of goldfish bones?"
– from The Vicious Red Relic, Love
There are people like me who follow one animated, gluttonous moment of emotional experience to the next in total anticipation and ecstatic fervor. Rolling our tongues and pawing at the door with melted acrylic talons. Total fandom found in the exquisite rapture received via all forms of stories, triple-bound puzzle pieces pressed into our skin 'til it puckers and marks. We are gauchely overly thankful, always looking to add one more jewel in a beguiling ancient crown, clamoring at the outskirts of that literary valley in hopes of pining our way back in.
Welcome to the fifth installment of my new series: Reading Comics. I've still got a bunch of great contributors lined up, but I'm also looking for more voices. If you'd like to contribute just email me and let me know! Without further ado….here's Salvatore Pane…
The Strangest Moment of Your Life: My Trip to New York ComicCon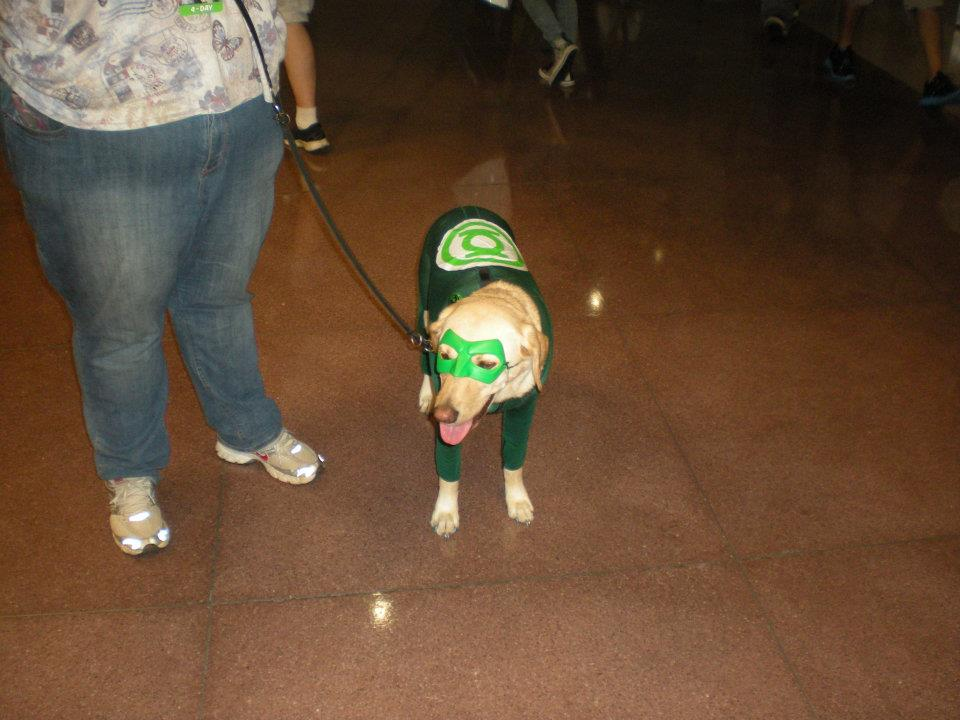 I've only been to two comic book conventions in my life. The first was in 1995 in a Holiday Inn lounge in Scranton, Pennsylvania. I was already an avid comic book reader and had a dedicated shop that handled all of my purchases. I went to the convention mainly to ogle the Star Wars collectible game cards. I played every day after school with my friends, and my chief tactic was putting IG-88 in an AT-AT and setting him loose on the sand dunes of Tantooine, a bit of universe defying logic I thought was both hilarious and charming. Two weeks ago I attended my second convention, New York ComicCon. I thought I knew what to expect. I'd seen coverage of San Diego ComicCon, NYCC's more movie obsessed older brother, the familiar news clips of people strutting around conference halls dressed like Comet the Super Horse or Ego the Living Planet, clipped footage of the men and women of tomorrow here today in tight fitting spandex every color of the rainbow. I followed the comic industry via fan sites like Newsarama and iFanboy ever since I took a graphic novel course in college and discovered that bam, pow comics weren't just for kids anymore. They were aimed at me. The nostalgic twenty-something who wanted to re-consume the tales of their youth. Trade paperback editions of Amazing Spider-Man and Daredevil sat perfectly on my shelves next to hundreds of hunted down Nintendo Entertainment System games and mostly unwatched DVD collections of Ducktales and Teenage Mutant Ninja Turtles. This rekindled interest in the preferred storytelling medium of my childhood led me to try my hand at writing comics. As I spent mornings working on prose, trying so hard to be literary, I spent nights in a world of joy and wonder, scripting rooftop scenes of madcap adventure. My best friend Mark and I co-wrote a comic, and it was accepted for publication. He was the one who suggested we go to NYCC, and as we drove across Pennsylvania and into New York City proper, I kept thinking about AWP. It had to be similar, right?
What's the most underrated candy? I'm going with Blow Pop. I mean you get to unravel the wrapper and then suck or lick the candy and chomp the gum. And it's fun to say aloud, Blow Pop. After you eat the Blow Pop, you get a useful little white stick. Blow Pop: It is an affordable and satisfying experience.
I don't think anyone is frightened by the blank page. People say that, but those people are wrong. The blank page is just there, a blank, white page. Writers just look at it like the rain, an orange crow, or a woman kicking a tree stump. It doesn't move them; it is something to move upon.
13.
Donat Bobet invited me to his home for the night of Halloween. I came as a pirate, a costume which I assembled out of a bandana and the cardboard spool from a roll of paper towels.
Ah, forget that one. Let's go with: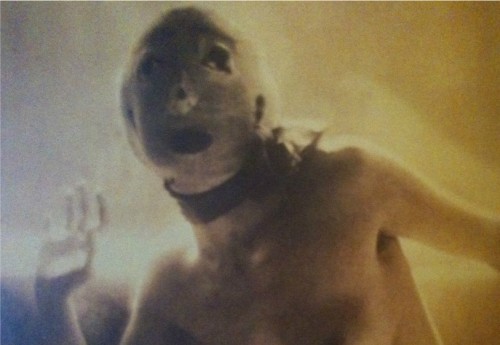 In a distant country where the towns had improbable names, a woman looked upon the unmoving form of her newborn baby and refused to see what the midwife saw. This was her son. She had brought him forth in agony, and now he must suck. She pressed his lips to her breast.

"But he is dead!" said the midwife.
3. You go to grad school and they have these Halloween parties and people get way too cute in their brains about their costumes: People go as Postmodern, as Realism, etc. It's a genre in itself, the myopic grad student costume. I went once as a homeless MFA grad and I held a sign that said, WILL EXPLICATE FOR FOOD. That seems tasteless and just sort of stupid to me now. Time and place. Who knows?
4. Why in the fuck does Stephen King want to be more respected by academia? By literary circles (whatever type of circle that is [circle-jerk?]) and the like? Let it go, Mr. King. You are Ok and doing just fine. Go have a sandwich or a seizure or a Blow Pop.
Ben Mirov
—
I suck at making money. I go for long periods of time without showering. I'm self-involved to the point of megalomania. I talk shit to myself about myself. I feel like I need drugs. I feel my poems have  more to offer than my personality. My work seems like a series of mistakes played out over the course of many years for everyone to observe. I turn my feelings into products. I have a strong need to be praised for my work, which I cannot explain. My poems have no ostensible value beyond their capacity to conduct oblique messages, which I have no control over. 
Why are you ashamed of being a writer?
The Olden Days
Spirits make THE THUMP.
Have you ever felt THE SHAKE.
Walking backwards on the Bridge of Names.
Even when I was not holding your hand.
Spooky boys laughing in the lake.
Have you ever been to the VERY BOTTOM?
Bad things happening in those woods.
I was not holding YOUR hand.
The dead face kills me again.
I am on the kitchen floor.
You are on the back road.
WAIT.
Where were we.
Running backwards on the shaking Bridge of Names.
–Lauren Ireland
What It Feels Like For a Girl
We are poco a poco, becoming witchy on a need-to-know basis. Our elders foist their little bottles of enzymes on us. Life experience naturopathy. In their presence, we do strange things: drink ginger and vinegar lemonade, lie down on the floor for past life regression. A few drops of oregano oil in a shot glass filled with water and, as with a dab of wasabi, come clear sinuses. Left alone again we find it's a little too quiet and we forget the difference between good and bad bacteria. We get scared. Intend to meditate and stretch, to host a dinner party sometime soon.
–Krystal Languell
Lauren Ireland grew up in southern Maryland and coastal Virginia. She is the author of two chapbooks: Sorry It's So Small, from Factory Hollow Press, and Olga & Fritz, from Mondo Bummer Press. She lives on Alabama Street in San Francisco.
Krystal Languell was a semi-finalist for the 2010 University of Akron Press Poetry Prize and a finalist for the 2011 National Poetry Series. Her first book, Call the Catastrophists, has just been published by BlazeVox Books.
Last night I went to a, well, artist talk I suppose, featuring my good friend D-L Alvarez, and an artist I wasn't formerly familiar with, Colter Jacobsen. The event, as a whole, was terrific. But this is perhaps because I like when I encounter new things to think about.
Darrell's talk was fantastic, of course, a personal narrative lauding his relationship with books, with art, how these things are working, with people. The distance between D-L's performative aura and his mode-of-everyday-being always catches me off guard, but it's good, it's professional. Darrell's story was lovely, of course. Stories I had heard part of before, stories that featured the artist Jennifer Locke who I was sitting next to, who hugs me every time she sees me, stories about Raymond Carver, stories about Stockton, CA. Well, one story, really, with all of these.
Colter was second, and there was a sort of beautiful disorientation to it. There was no performative aspect here, there was basically only stuttering and a power-point presentation of some of his own work. However there was a winding sense of thought that, due perhaps to how much more space was left open, found me thinking more about ideas that are, perhaps, tangential to the work. The space also left my wanting the talk to be a discussion, but I kept my mouth shut.
At one point a work was presented that was a drawing of a cell-phone photo that Colter's boyfriend had sent him of a snapshot from Bas Jan Ader's "I'm Searchin'," part of Ader's In Search of the Miraculous. At the specific revelatory moment of sentimentality, I fell completely in love and fugued into the daydream of a conceptual artist boyfriend who couldn't watch I'm Too Sad To Tell You without crying himself. How it would be a perfect combination of his praxis to my theory. A fit. My day dream ended, of course, and I remembered how mostly I actually think relationships are terrible and how nothing in the world can ever fit into my headland. But, then, just as I was returning to earth, Felix Gonzales-Torres's words arrived:
The theory in the books is to make you live better and that's what, I think, all theory should do. It's about trying to show you certain ways of constructing reality. I'm not even saying finding (I'm using my words very carefully), but there are certain ways of constructing reality that helps you live better, there's no doubt about it. When I teach, that's what I show my students – to read all this stuff without a critical attitude. Theory is not the endpoint of work; it is work along the way to the work. To read it actively is just a process that will hopefully bring us to a less shadowed place.
Worst book you have ever read? Read all the way through? OK, then, so fuck worst. That's a lollygag word. It can't be worst, because you learned something. Something to note/avoid/admire in its essence of awfulness.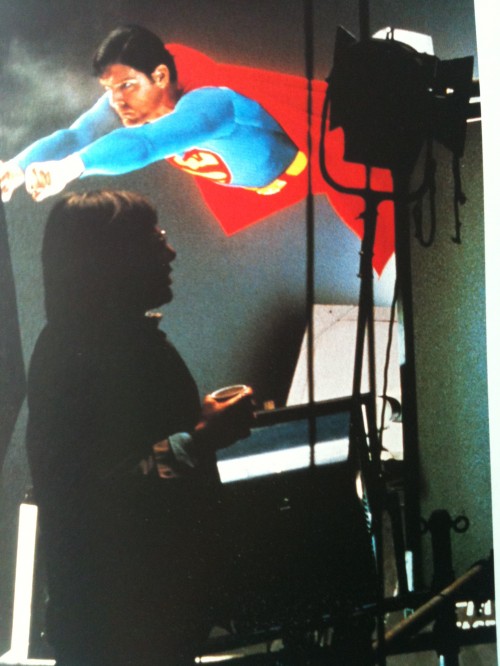 Anyway, book you just threw at wall?
I was really thrilled to read all the responses my last post generated; thanks to everyone who chimed in! And I wanted to post something that clarifies some of the things I wrote there, since it's apparent I caused no small amount of confusion…