January 2014
I can remember this thing happening before on HTML Giant, at least twice. There was a comment-less winter, recently. I also remember summer 2012 being pretty mellow and quiet. I remember posting about trains and like… annual reports.
Commenters and contributors get periodically underwealmed by the quality of what's being written. Everyone checks out for a few months.
OK. Great. Rather than try to break this up and inject/ejaculate/energize the comments sections (something I don't have the ability to do anyways), I'd like to lull HTML Giant into a deep and productive slumber: a lengthy hibernation induced by a lack of engaging or enraging content.
A bit about my week.
For readers who don't know, which I hope is most, I live in Brooklyn and work in Midtown Manhattan. Sometimes this can be really pleasant and even convenient, but this week the Superbowl is being held in New Jersey and New York City is attempting to ensnare peripheral tourists as well as  thick swarm of media that constantly moves through the veins of the city.
I think it's called "Super Bowl Avenue" or something but is really just this lengthy stretch of Broadway (the lurid and fun diagonal street Dickens called the best in the world, at one point), including all of Times Square,  that has been packed with a circus of giant logo-filled screens, satellite trucks, giant foam photo opportunities, military police patty wagons, children's play areas, and maybe 50% more advertising than would be usual.
I get to walk through it on the way to and from my office, which is a lot like dropping acid for breakfast and dinner 5-days in a row. At this point, I'm able walk in the fetal position.
This morning we awoke to unforgiving gray everything. It was a little warmer, in the 30s, we hoped.
Been taking it easy at work. I might have stomach flu or something. Been feeling like shit, body-wise.
Last night, I watched The Hunger Games and cried. Never cried about anything written on this website.
So, I hope you like the Super Bowl, if you plan to watch.
It's a lot like a Hunger Games, except that everyone dies at like… 50 instead of like.. 17. Oh and I guess it's all-volunteer, instead of just one person volunteering. I wonder if the world would be more or less violent without the institutional application and transmission of national blood sports?
Today, I'm sort of feeling like blood sports are releasing more tension than causing… who knows.
Heard somebody say, in the last few days, that football is like a war that is possible to win: a grand national delusion of a win-able war. I keep turning that one over again on the room-tempurature BBQ of my mind. I was never personally aware of a war that was won.
At least literature is like… a war that everyone knows they will lose. That's good.
I've been afternoon-dreaming about beaches and swimming pools.
I've been trying to remember the center of sleep.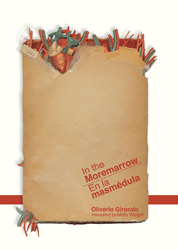 In the Moremarrow / En la masmédula
by Oliverio Girondo, translated by Molly Weigel
Action Books, 2013
93 pages / $16  Buy from Action Books or SPD
the pure impure mix that undoes my dovetails my soulmortar tightens my stubborn female couplings
the mix
yes
the mix I stuck my bridges together with
That first line is beautiful & on one level it seems a sort of how-I-wrote-my-book-and-so-can-you! treatise by Girondo.  They are the last 4 lines of In the Moremarrow's first poem, The Mix
A dovetail is a joint formed by two pieces whose respective notches are made one for the other, in alternating fashion, so they conveniently fit. Here, the dovetails are undone, & instead we have for example soulmortar, an unlikely union of the ethereal intangible but vital, with the crushed inert material. Which, in creation myths, sounds like the soul blown into dust to animate a person. Perhaps, then, this is not so foreign. It is more primordial marrow. The mix seems to refer, then, to this poetics of uniting the disjointed, of mending broken ligaments, & the "bridges" are the compound words themselves, the neologistic portmanteaus
It is hard to say what stubborn female couplings refers to. Maybe something about the male poet accepting his anima, that female part of him that is stubbornly there but his machismo stubbornly rejects.  This is a reach, as psychoanalysis is a reach. The "ex-she" seems to support it, & the several later poems' repeated references to the ego seem to support it, & the erotics of "the mix" seem to support it, but it still feels like conjecture
Every left page gives the original Spanish version of the poem, and the right page holds the translation. I notice the Spanish helps. The original version of that first line is two
la pura impura mezcla que me merma los machimbres el almamasa tensa las tercas
hembras tuercas
English grammar now is largely gender-neutral, and Spanish grammar isn't. Every noun & adjective in this sentence is female (ending in -a or -as) except for two. On a macro level we at least can say that "female couplings" refers to the writing itself. The writing is self-referential. The universe of En la masmédula writes its own rules & thereby writes itself into existence. Perhaps this explains its lack of proper nouns; on one level, it has no need to tie itself to the World as we know it, it needn't be referential, it loves itself into being, it is self-reverential. It ties itself to the Word. It hermetically seals itself
But on another level, no. It hermaphroditically seals itself
Because it rewrites itself by correcting the mistakes of our World. The mistakes of our World embed themselves inside the grammar that we use, those stubborn couplings that lead us towards fixed fragmentations, binary perspectives, formal & social discriminations. Therefore the recombinations in this book are all still legible, because they adhere to grammar rules but comment on them while deforming them. "alma" for example means soul. It is one of those strange nouns with a feminine ending (alma), but is nevertheless considered a masculine noun, hence the male article "el." Combining "alma" with the feminine noun "masa," however, creates a Word of indeterminate gender, but the "el" still precedes it. This seems a problematization.  "masa," in fact, means flour, it is the baseline substance for sweet sumptuous cakes, for savory bread of the Earth, etc.
"machimbres" isn't a word. It reminds of the word "machismo," a word English has imported, & of the word "chimba" which can mean the opposite bank of a river, or a pigtail, or a piece of meat, etc. It also sounds like "machihembrado," a dovetail joint, hence Weigel's translation choice. It seems again though that this dovetail has been pared down, to remind us of all its assemblage, & question gender once again. To undo the dovetails, quite literally. A beautiful translation choice. It bridges shores. The shores Girondo sticks his bridges with
Translation is hard.
*
milkdrunken
solicroak
prefugues
sighspirits
selfsoundings
inlabyrinth
ex-she's
soulmortar
*
A lot of poems end on their own titles, creating a feeling of being in an enclosure. This is a bizarre feeling, because the poems are intensely lyrical without being confessional or "sincere" or narrative in the way the Lyric I often attempts to be; instead it is like handling a ball of pure psychic energy. The poem entitled "You have to look for it" has three stanzas, each of which ends on "for the poem," which inscribes itself within the title's "it." The first line of the poem goes
In the eropsychis full of guests then meanders of waiting absence
Which is, like, incredible. But once again, very gestural. It once again informs the readers of the poem's motive & the poem's dimensions. It is a meeting place, a delimited house, a hovel of guests, entering the poet's eroticized ego; it couples. There are other people there, straying, erranding
     Love Song #1
      [Ava Adore]
             by
                                                                    Alexandra Naughton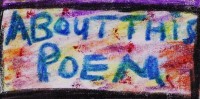 Someone: "HTML Giant is so sexist…"
Nigel Tufnel: "What's wrong with bein sexy?"




note: I've started this feature up as a kind of homage and alternative (a companion series, if you will) to the incredible work Alex Dimitrov and the rest of the team at the The Academy of American Poets are doing. I mean it's astonishing how they are able to get masterpieces of such stature out to the masses on an almost daily basis. But, some poems, though formidable in their own right, aren't quite right for that pantheon. And, so I'm planning on bridging the gap. A kind of complementary series. Enjoy!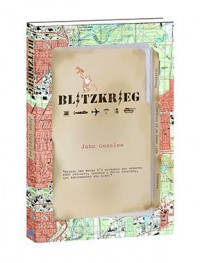 Blitzkrieg
by John Gosslee
Rain Mountain Press, 2013
60 pages / $15.00 buy from Rain Mountain Press
1. Split-screen madness
2. Piano-playing, the keys turned to pills
3. A kiss on a grimy elevator floor
4. The interior of the exterior of a shut door
5. An angel with her arms torn off
6. Rejection, acceptance, rejection
7. Illustrations by Yumi Sakugawa, trees in a forest, pachyderms inside the breadth of a bird's chest
8. Flashmobs, tornados, claws and urninals
9. An all-out assault on the status quo
10. A baker's dozen of streets and silence mingled with the rattle of dead claws on stony ground READ MORE >
Rauan Klassnik
—
***
are you a "boy writer" ??
one of those who "remind us of how great it is to be alive…"
click here
Breakup Time: Proposal For Alternative Metric Systems That Objectively Reflect Human Pain
1. Liters of Visine produced, organically
2. Years spent on bathtub, monthly
3. Number of "Ace of Base" songs that sound like "just like Nirvana" (*ATTENTION: if said number >=5, please revert to the bathtub immediately.)
4. Weeks spent during which The Most Delicious Thing You Always Crave But Never Have Because "Too Many Calories" tastes like a shoe you would not even wear
5. Months spent during which The Most Delicious Thing You Always Crave But Never Have Because "Too Many Calories" is all that you have, all the time
Universally Shared Symptoms Across All Metric Systems
*When in a different continent, the following inquiry recurs: "WHAT DO YOU MEAN NYQUIL IS UNDER THE COUNTER?"
In your heart, Destiny's Child is still a group. Sometimes, Oprah is the lead singer.
Stay strong! Start smoking, avoid leaving your house and spend more days, one after another, eating The Most Delicious Thing You Always Crave But Never Have Because "Too Many Calories." It is all about finding the balance between 4 and 5, where "weeks" and "months" transform into days.
Video-games might also help.