July 2014
Seiobo There Below

by László Krasznahorkai

New Directions, 2013

440 pages / $17.95 buy from

Amazon
1. I almost laugh, attempting to write anything about the Krasznahorkai, since I've done an interview with the translator for The Paris Review, and feel my work is done here, and also since we are dealing with a nearly 500-page book that lashes out in chunks of twelve-page sentences, transcendent, dazzling, insane, hilarious, vicious and brutal, determinedly unexplainable and unexplained.
2. Transparency is not the hallmark of the Krasznahorkai.
3. But ok. This is the Hungarian writer at the forefront of a renaissance in Hungarian letters, an intense, experimental madman whose books are metaphysical puzzles of stunning originality and brilliance.
4. This is a man with burning eyes and a cheap suit, who shows up at Columbia to a packed house and reads…in the dark…in Hungarian…and kinda actually scares people.
5. There's a quote from Susan Sontag on the back of Seiobo There Below that calls László Krasznahorkai "the Hungarian master of the apocalypse," which is intimidating, and doesn't sound like much fun. Do not be scared away; this book is a pleasure to read, and even funny.
6. The last chapter is named "Screaming Beneath the Earth," which is a reverse riff on the first phrase of Gravity's Rainbow, "A screaming comes across the sky…", and gives an idea of the author's ambition. The book is an incoming rocket, taking on the small matter of the power and transcendence of art.
7. Krasznahorkai has the interesting idea, though I'm not sure I'm convinced, that good art is dangerous. Art in this book tends to overpower ordinary people or drive them insane. Is this pretentious? Probably, right? Real migrant workers are not often driven mad by the sight of glorious paintings.
8. But then again, I also believe in salvation through art. What is a God without destructive power?
9. Seiobo There Below is structured in a series of sections, mostly about artists making art, a few about tourists or exiles. Sections include a modern-day man visiting the Acropolis, a Japanese Noh actor speaking to his disciples, another Japanese artist making a mask, a stork hunting in a river, a Renaissance painter in his workshop, an immigrant in Barcelona.
10. Some quotes: "…to stand there, to look at this life withdrawing for all eternity into death in the human and natural landscape, and to depict what is before him when he looks up from the blank canvas: that is everything…"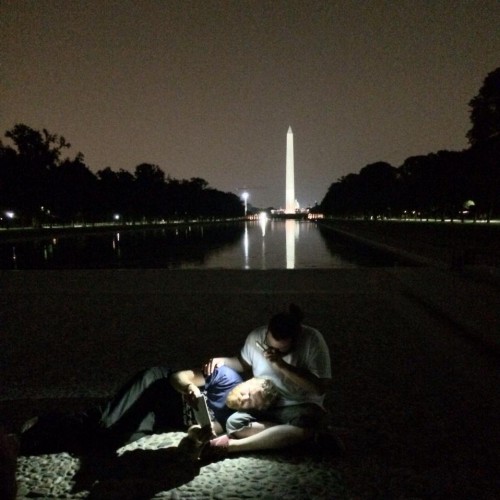 July's a funny time because of vacations and America and hot dogs and home run derbies. It's also funny because sometimes you are born and everyone wants to get together and just be born together (see above). It's also also funny because who has time for anything anymore.
Here's the shit that was the shit this month.
The Cantos of Ezra Pound

by Ezra Pound

New Directions, 1996

896 pages / $25.95 buy from

Amazon
1. In the Middle Ages, as a practice of divination, as a method of drawing lots and to soothsay, to learn what might be the wrath to come, to draw out a linear progression from a dark mass of chaos, those with access to Virgil's Aeneid might practice Sortes Vergilianae. The instructions were simple: fetch a copy of the epic poem, let the weary spine fall where it may, and whatever passage the eye lighted on the reader interpreted as indicative of prophecy.
2. My copy of The Cantos of Ezra Pound is a fresh New Directions paperback with the spine still intact. Regardless, it looks ominous. The backdrop black with serifed white letters stamped down on the cover. At twelve years old and knowing nothing of Ezra Pound, I picked the book up because it looked Biblical and heavy, like  תֹהוּ וָבֹהוּ, the waters of Genesis 1:2.
3. The Cantos present chaos before the Spirit of God levitates over the deep. Although Pound principally brings forward "light" as his favorite element of spirituality and mysticism, darkness pervades the poem. It's universally acknowledged that the work turns on an axis based more on Inferno than Paradiso.
4. Interviewed by Donald Hall in The Paris Review, who spent three days with Pound in Italy during the early 1960s, a restless and writer's block-inflicted Pound comments, "It is difficult to write a paradiso when all the superficial indications are that you ought to write an apocalypse. It is obviously much easier to find inhabitants for an inferno."
5. After publishing Thrones de los Cantares, the penultimate section of the Cantos, Pound admits, "Okay, I am stuck." One imagines him gazing out the window, sunlight revealing a Roman street where, if you dig far enough, discoveries of pagan rites abound. He continues, pulling at his beard, "The question is, am I dead."
6. The aforementioned Hebrew typically translates as "without form and void" (KJV). It can also mean "utter confusion," a feeling most readers share when tackling the Cantos. Pound's classic outline for his epic poem, from a letter to his father (who was appropriately, I kid you not, named Homer), begins, "Live man goes down into world of Dead."
7. Pound, like his hero Odysseus, descended into Hell and still lived to see daylight. Kept outdoors for many weeks near Pisa, Pound was a caged panther, captive of the US military in 1943. During this time or immediately afterwards, he promptly went insane, dubbed mentally unfit to stand trial, housed in the "bughouse" of St. Elizabeths Hospital for thirteen years. As the story goes.
8. To draw lots, to soothsay out of an inferno, is simply not done. It reminds one of the Faust legend, or Robert Johnson's railroad deal with the devil. Like a Oujia board for literary nerds (or, more properly, "bibliophiles"), a variety of sortes tempt many.
9. But The Cantos beckon. Suck a poor poet into their orbit. They are sirens. Robert Frost mentions, in a 1960 interview with the Paris Review, how Ezra Pound practiced jujitsu on him in a restaurant. "So I stood up, gave him my hand. He grabbed my wrist, tipped over backwards and threw me over his head." Like its writer, the poem practices a similar sort of action on the reader.
Mark Cugini
—
CALL TO ACTION: if a person invites you to their author/book page less than 24 hours after you've accepted their friend request, block them and report them for spam.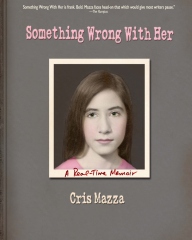 Something Wrong With Her
by Cris Mazza
Jaded Ibis Press, 2014
388 pages / $18  Buy from Jaded Ibis or Amazon
This amazing "real time" memoir by Cris Mazza deserves a love-letter, and also a review or maybe six, written at different points while the reviewer is reading. Some would be awed and respectful, some would be infuriated, or in tears.  I was obsessed,  and ended up forming intense bonds to the characters, the love story, and the way of telling. It's such a complex book, it's taken me months to try to write about it, and even now….
The basic format is that Mazza sets out to explore what she characterizes as her sexual dysfunction, which she intends to both confess and try to explain (to herself and to us), through an examination of her sexual and emotional history. But as she's working on the book, she gets back in touch with a high school boyfriend, and the story she thinks she remembers starts to change. She begins to include the story of their current emailing, along with old journal entries, earlier draft versions of the same chapters, and excerpts from her previous published books, which have fictional versions of real events, remembered and re-created at different points in time.
A strange note: The book was supposed to come out in fall 2013, and a cover was released and some advance reviews came in, but due to problems with the publisher, it was finally published with a different cover in April 2014.
Most of the other writing on the book has addressed its feminism and sexual politics—Mazza is a well-respected writer of experimental literary fiction with 17 books to her name, known for graphic sexual content and a feminist bent. A previous novel was titled Is it Sexual Harassment Yet? She edited a collection of "chick lit" before that was a term that meant a pink-shoe. And yet in this book she confesses that she has or had vaginismus (a spasming condition that makes penis-in-vagina sex painful) and has never had an orgasm. She also admits to many un-modern-feminist thoughts, like considering herself to be frigid, and thinking her body is dirty.
Her honesty is brave, rare, and hopefully might be helpful to other women who suffer from the same problems. Mazza found talk-therapy to be useless and something called Pelvic Floor Therapy helpful in decreasing the pain during sex. It's refreshing to hear a woman—especially an older woman—speak honestly about sex, especially when she's admitting to the uncoolness of not liking it. As she points out, we usually hear from women who are having too much sex, and though this is presented as a flaw, "isn't the unspoken aura that these women are—for the same reasons—exotic, worldly, exciting, charismatic, provocative…or just plain cool?"
Explanation
Two days ago, my job went missing. Yesterday, my house went missing. And then I went missing too.
*
For some reason, I can't stop moving. I would like to stop moving and settle down.
*
My job is a three-dimensional rectangle with four floors and is mostly filled with people I do not care about. But two days ago, when I cycled to work, it had been replaced with a hole. I looked down into the hole and saw fire.
*
Upon walking home a day later, my house was gone. My house was a warehouse unit with a car garage next to it. That, too, had been replaced. But this time, it had been replaced with a mass grave. Everybody inside of the grave was naked and pink.
*
And today, I woke up but when I opened my eyes everything was red. As if my eyes were closed. Around me, the sound of traffic but the sound was muffled as if two pillows were cushioning my ears.
*
My vision slowly came back. I was on the floor. I couldn't get up. My legs had been replaced with walking sticks.
*
This couch is uncomfortable.
*
Things got better for a while. I came back. I was conscious and my legs were legs, my arms were arms and my head was still intact. This is the way life should be, with everything in place, where years go forward and minutes die in seconds.
*
Suddenly, everything was worse. I was sitting in a chair at the top of a Georgian townhouse in 1765. Samuel Johnson, writer of the first English dictionary, and other artists, were taking turns kissing me all over my body and I didn't say no.
*
And then they taped my eyes open and my glued my hands to a Nintendo Entertainment System controller. Johnson laughed at me and I asked: why me? No answer. I was forced to play Duck Hunt. Duck Hunt is a two-player game. Player 1 controls the ducks.
*
Back to reality, I decided to go and buy a flute of bread to satiate my hunger.
*
Outside, the weather blinded me and I couldn't see again. All I wanted was to go back to work and resume life as it was.
*
I woke up in a field. Cows surrounded me. I was thirsty so I grabbed an udder and sucked. No milk came out.
*
Upon returning home, three of my high school friends were sitting in my sitting room. I asked why and they said they wanted to talk about my absence. Theodore remarked that my drug abuse was 'pronounced' and I said: please leave.
*
My job came back to work. So I went back to work.
*
My colleagues commented on my shaking.
*
Upon returning home, I had a shower and all my skin came off. I went to dry myself. An elderly gentleman called Fellows told me that'd be a bad idea. I went up to the roof of my apartment block and dried off my skeleton.
*
Don't worry, they told me.
*
I was told that I could take a two-week holiday. My boss said I looked thin. His assistant said I looked like a skeleton. I told them that I was a skeleton. I told them I was trying to find my skin again.
*
They fired me. Now what?
*
My house didn't want me either. It told me to leave. I asked if we could talk this over and my house said nothing.
*
I asked my friends for help: could you help me out/have you got a couch I can sleep on/Just until I get back on my feet. The answer was no. They said they didn't feel safe around me.
*
I went to the library and found a small opening behind a bookshelf. I now lived behind a collection of medical journals. I would travel out every day to bring provisions for my new home. I had a pillow, a yoga mat for my back and some tarp for a cover.
*
I learned many things in my new house. But there are only so many times you can read about Central African lymphomas and ambiguous genitals.
*
An artist named Koonig said I could stay at his place. He picked me up because he liked my legs. He said to me: "do you like my apartment?" I said: "Sure." And I did. He laughed and patted me on the back. My jaw fell off. He said: "the ceilings are high. Don't hang yourself in here!"
*
The weeks passed by. I liked Koonig and he liked me. I was not sure whether I was coming or going most of the time. I asked Koonig just to check. "Koonig, am I coming or going?" He said neither and this didn't really help.
*
Koonig got me back on my feet. He gave me some new skin. I wasn't moving around all the time anymore. People weren't forcing me to play games I didn't want to play. People weren't kissing me on my body against my will. Time was suddenly finite and organized.
*
Koonig sat me down and stroked my legs. I looked at one of his paintings. It was of a man sitting down having his legs stroked by Koonig. I struck Koonig aside the head with a tire iron.
*
I left the house. I ran far away to a mountain and looked out on the city. The lights were moving. I had a headache because I felt every single person in the city moving. I just wanted to stop moving and be surrounded by silence and a black blanket of darkness.
*
And that's all I remember: how pretty the world looked when it wasn't there.
Bio: Oliver Zarandi is a writer. His work has recently appeared in Hobart, Electric Cereal, theNewerYork and The Boiler Journal. He's working on a collection of short stories and a novel. Find him on twitter: @zarandi.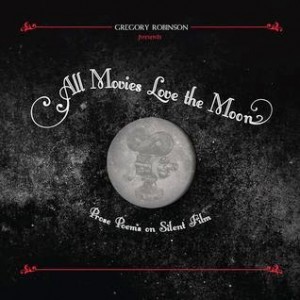 All Movies Love the Moon: Prose Poems on Silent Film
By Gregory Robinson
Rose Metal Press, March 2014
96 pages / $14.95  Buy from Rose Metal Press or Amazon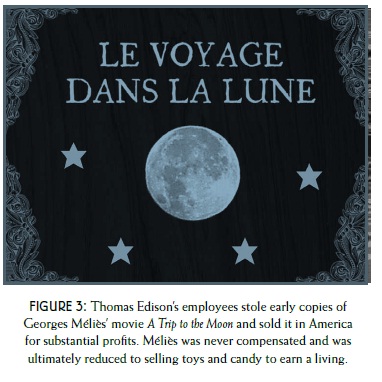 "In 1894, Fred Ott sneezed. Thomas Edison's cameras were there to transform the event into a motion picture, appropriately named Record of a Sneeze," So begins moving pictures, and Gregory Robinson's brilliant new meditation on silent film, All Movies Love the Moon, out now from Rose Metal Press. In this work, he juxtaposes frames from silent pictures with musing prose poetry. He explores works by the Lumière brothers, Georges Méliès, and Fritz Lang. Just the filmography he provides is fascinating, especially if you're like me where these films have always chiefly evoked classic Smashing Pumpkins music videos: Méliès (Tonight, Tonight) and Lang (Stand Inside Your Love).
Like Simic's treatment of Joseph Cornell, Robinson brings a poet's eye to the project. He employs information,misinformation,history, and histiography; and the result is often very funny, offering up strange errata and juxtapositions.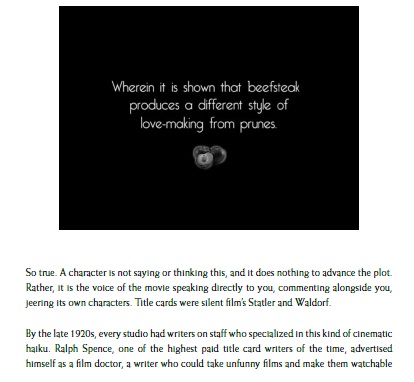 He tells the story of Ralph Spence, a "film doctor" responsible for taking unfunny early films and making them watchable, by writing witty title cards. READ MORE >
Comments Off

on All Movies Love the Moon
July 25th, 2014 / 10:00 am
Crystal Eaters

by Shane Jones

Two Dollar Radio, 2014

172 pages / $16.00 buy from

Amazon
Shane Jones,
To this day, I have still never seen these movies: Ray and Walk the Line. There are probably a few reasons why I haven't, but one of the most important reasons concerns the fact that these movies were extremely hyped upon their release. Everyone was blowing their load. And by everyone, I guess I mean critics and my parents. So, I never saw them. I have a tendency to shy away from things that have received too much positive hype. I know myself and I can usually expect that I will be let down.
Crystal Eaters. I awaited the release of your book for months. And when it came out, I ordered it. And when it arrived at my house, I didn't read it, at least not for a while. I wanted to pick it up and start it, but I kept seeing all of these intensely wordy and existential reviews popping up on Twitter (I'm reasonably new to Twitter). I usually don't know what to make of intensely wordy and existential reviews, people who say that reading Crystal Eaters is like setting your brain adrift in the primordial muck of your ancestral wandering and watching it develop a higher consciousness as you stand stuck on the shore of your own punitive physicality. What?
I read it recently. I had high expectations. I'd never had a reading experience that was like tripping balls. I still haven't. I don't know that I want to trip balls when reading something. So, Crystal Eaters. It had one of the coolest concepts I had ever heard of, so naturally, while awaiting its release, I started to imagine what the book might be like. Months of imagining. It was like being in high school and idealizing the girl who has the locker across from you and finally having the chance to speak to her when you both find yourselves the last ones out the door from spanish club. And boom! You walk up with the perfect opening line only to hear her squeak one out because she doesn't notice you coming and she's never noticed you. All of this is to say that reading Crystal Eaters was nothing like a fart. It was a book that kept me up late. It frustrated me. I talked to my fiancé about it endlessly and now she is reading it because she wants to have a better idea of what I am talking about so we can discuss it further.
WEDNESDAY, JULY 9 2014
DENVER TO OMAHA
SONG OF THE DAY: NEIL YOUNG "GIRL FROM THE NORTH COUNTRY"
SCOTT: I liked driving through Nebraska because I'm a big Willa Cather fan. This was our loooooong day of driving and we were in the car for 9 hours. I think we both got a small case of what truck drivers and bikers call "monkey butt." Definition?
Monkey Butt (noun): When the back parts of travelers get permanently red and give off a strange odor that attracts wild animals.
We also almost ran into a tornado during the middle of the day. The storm turned over a couple tractor trailers along the highway and we started getting nervous about tornados and being carried away.
We saw a rainbow in the distance and we started calling it "the rainbow of doom." Rainbows are mean as shit. Our conversations about the rainbow of doom sounded like this.
I don't have anything else to say about Wednesday.
UPDATE: Two hours after emailing Juliet my Wednesday section of the tour diary this happened.
The following writing was rejected, in June 2014, from an internal essay competition held by the company I work for. The prompt was: is a well rounded education valuable? Discuss. The company I work for is a large conglomerate that owns brand consulting shops, media buying groups, and advertising agencies. The essay is based on a manifesto I wrote in 2011, which appeared on the artist Tom Moody's blog, and based in-part on the views of middle class creative theorist Slash Lovering.