May 2014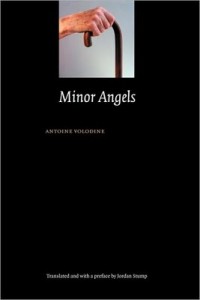 Minor Angels
by Antoine Volodine
University of Nebraska Press, 2008
166 pages / $19.95  Buy from University of Nebraska Press or Amazon
When I think about different world cataclysms (cataclysmic for the human species, anyway)—natural disaster, famine, nuclear fallout, genocide, slavery—the idea usually resides in some abstract part of my brain. In any event, it's usually nicely framed. It seems there are few reasons to feel immediately concerned by the prospect of a major disaster. I'm living in a home, and a country, and a relatively safe historical moment for people in my demographic. Even those of us who discuss the possibilities from a privileged historical and socioeconomic position usually reserve real urgency—the material kind—for a later, never-to-arrive date. That's probably a fair position to take for the time being for people like us, even if it is cynical and myopic. But if you're interested in writing Marxist post-apocalyptic fiction, or if you want to make people feel immediately concerned about the ahistorical reality of humanity's failure, which usually presents itself at the bleak and neglected margins of the event horizon (which is temporal as well as spatial), then it would seem to be of the greatest importance to make that reality feel both immediate and visceral. In Antoine Volodine's Minor Angels we find ourselves thrown into a strange world composed of forty-nine short stories, which Volodine calls "narracts." The novel takes place in the centuries-old wake of an apocalyptic event, after the rise and fall of Communism. In this world, Volodine's characters (which feel more like ghosts, fading into and out of identity with one another and even with the author—who contains many of his own pseudonymous creations) are left to cope with the aftermath. While the event that led the world and its forty-nine survivors to their current condition is never precisely or definitively articulated in the text—something to do with nuclear fission, maybe?—it becomes clear that the mysterious narrators of Minor Angels are coping in very real, strange, and uncanny ways with the fallout of the disaster which is humanity at large. In this way Volodine makes the wages of his text boldly universal while we, the readers, are left to sift through the wreckage of the disaster.
In the twenty-second of Volodine's narracts, the text performs a metafictional gesture that goes beyond our typical understanding of the metafictional impulse as a reflexive act. Narrated by Nayadja Aghatourane, we soon learn that the text's relationship to the world outside its borders is much more complicated, interesting, and affective than that:
Twenty-one, and soon twenty-two strange narracts, no more than one each day, composed by Will Scheidmann in your presence, and when I say Will Scheidmann I am of course thinking of myself. (68)
So if we map it out, the narrator of this narract is telling the reader that her act of narration is in fact being narrated by Will Scheidmann, and that this is all being done in the presence of a "you." And then we can't forget the image of Volodine himself sitting down to write his forty-nine narracts, "no more than one each day." The reason this metafictional impulse reads differently than something we might have seen in a story twenty or thirty years ago is that the reflexive act isn't presented as an event to be discovered but as something taken for granted, an inexorable, omnipresent reality that is always at work in the text.
On the most basic narrative level, while living in a nursing home Will Scheidmann's witch- and fury-like grandmothers have created Scheidmann through an act of magic in the hope that he'll save the world from destruction. Instead of doing this Scheidmann eventually restores the fundamental dynamics of the capitalist system, to the detriment of the world at large. As punishment for his decision to reestablish the capitalist order, Scheidmann is sentenced to death by firing squad, but at the last instant, with their guns drawn, the grandmothers change their mind. Rather than executing him for his crime, Scheidmann's grandmothers listen to Scheidmann as he recites the forty-nine narracts that make up the entire text of Minor Angels. This makes the grandmothers the subjects of the second person narration quoted above. So, when the "when I say Will Scheidmann I am of course thinking of myself" moment arrives (and moments of destabilized and disseminated identities like this—both human and non-human in nature—are profuse throughout the forty-nine narracts of Minor Angels), it isn't just another transparent reflexive meta-textual moment at play. In a way it's actually the opposite. It's the text's refusal to recognize its creator. It's a deflection or déplacement of the narrator, the arranger, the author. The text tells us, and I paraphrase: "It isn't me who's writing this. It's her. No, it's him. No, it's him." The text never stops pointing fingers. The text is a refusal, a coping mechanism. And if we can agree on this point then it starts to look like the whole of Minor Angels is a kind of diary of coping mechanisms, written within a historical reality from which the bleak end is always already playing itself out.
As the twenty-second narract continues, it's hard not to see the world described as our own. The walls are down, but it's as though there's no one there to see what has been left:
I would have liked someone to speak to me of the men and women I'd told of, [I would have liked them to say to me]: 'We also belong to the dying humanity you describe, we too have come to this point, to these final moments of dispersion and nonexistence,' or else 'You were right to show how the joy of remaking the world has been stolen away from us forever.' But there was no on whispering beside me, no one encouraging me to continue. I was alone, and suddenly began to regret it.' (69)
Is this a story about the bleak end of humanity and its world, or is it about the deep solitude and loneliness of one anachronistic person, or is it about the end of literature and of the generative act of creation itself? We ask ourselves the question, and the answer has to be "Yes."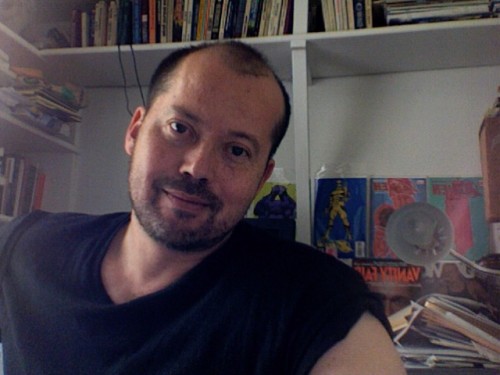 As part of Summer Reads, Alexander Chee shares what he's looking forward to reading this summer.
***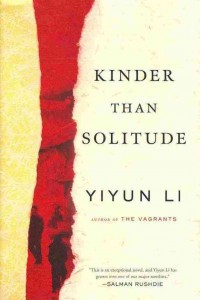 1. Yiyun Li's Kinder Than Solitude came out this last March, and I have been saving it until now that the semester is done to read it. The story of a murder and the three surviving friends of the victim—one of whom may be the killer—well, I couldn't wait, it was the first to the top. I'm reading it right now and I love it.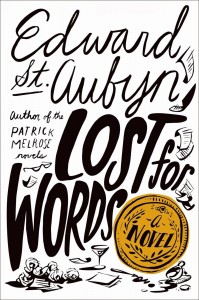 2. Edward St. Aubyn's Lost For Words is a novel about a literary prize in England and the judges and the judged. St. Aubyn has a terrific knack for taking you into the filthiest places with style and wit, and I don't doubt there's a lot to see here. Since falling for his Patrick Melrose novels last year I was worried I'd have to wait longer for a new novel for him, and it's good to see this come out just this month.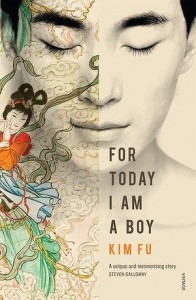 3. I just heard about Kim Fu's For Today I Am A Boy, the story of a young Chinese-Canadian boy who comes to understand he is really a young woman. This sounds amazing. I glanced at the first few pages and bought it.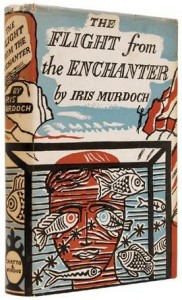 4. I have been reading Iris Murdoch all the last year and will continue this summer with her novel Flight From The Enchanter. The first two lines: "It was about three o'clock on a Friday afternoon when Annette decided to leave school. An Italian lesson was in progress." Please, join me.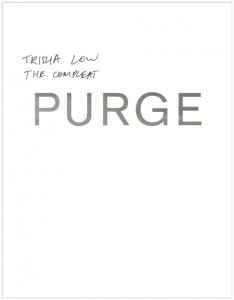 5. And last but not least, Trisha Low's The Compleat Purge. This hooked me in last fall but got left behind when I went to Austin for the semester, so I'll be diving back in now that I've returned. Cannot wait. It is a novel composed of the suicide letters of the same woman as she ages (and doesn't kill herself, or at least, so far—don't spoil it for me). It's a lot of fun.
***
Alexander Chee was born in Rhode Island, and raised in South Korea, Guam and Maine. He is a recipient of the 2003 Whiting Writers' Award, a 2004 NEA Fellowship in Fiction and residency fellowships from the MacDowell Colony , the VCCA, Ledig House, the Hermitage and Civitella Ranieri . His first novel, Edinburgh (Picador, 2002), is a winner of the Michener Copernicus Prize, the AAWW Lit Award and the Lambda Editor's Choice Prize, and was a Publisher's Weekly Best Book of the Year and a Booksense 76 selection. In 2003, Out Magazine honored him as one of their 100 Most Influential People of the Year. He lives in New York City and blogs at Koreanish. His second novel, The Queen of the Night, is forthcoming from Houghton Mifflin Harcourt.
Luis Silva runs Electric Cereal, a literary site dedicated to sharing the work of new and exciting voices. I like talking to Luis on facebook because we are facebook friends and we both consider ourselves outsiders in the lit scene (which we are totally okay with and even proud of). Like someone said on House M.D., I think it was Omar Epps' character, "You can see a lot more when you're on the outside looking in." I'm unsuccessfully trying to find the exact quote on the House M.D wiki, but I can swear someone said something like that while I was binge-watching on Netflix.
Anyway, I sat down in my bedroom the other night and messaged Luis some questions about alt lit and we had a pretty lengthy and somewhat controversial conversation about the community. Keep reading.
Alexandra Naughton: What is alt lit? What does it mean to you?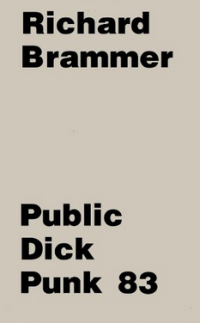 Public Dick Punk 83
by Richard Brammer
East German Sunshine, 2014
93 pages / $5.98 (print version) $1.28 (e-book)
buy from Amazon
1. This is Richard Brammer's second book following on the heels of last year's MDMA and Menthol Cigarettes which first discovered and borrowed on Alt-Lit library. This one isn't free but it's still pretty inexpensive (especially the e-book but I'd recommend the print version).
2. This is to be the first in a long line of Public Dick Punk… books. The next is mooted to be named Public Dick Punk 82. We are not sure about the significance of the '83' or the '82'. These poems/writings appear to be set in the present day.
3. Number 2 may be a lie as previously Richard Brammer stated that his second book was to be called 'Selected Serotonin' and fabricated (presumably fabricated?) an interview with retired English ballerina Darcey Bussell about the new book. He said the new book would be a homage to Teenage Fanclub album 'Bandwagonesque' but there book never appeared and was never mentioned again.
4. Public Dick Punk 83 is an extremely fast read, the reader flies through it and then wishes to fly through it again afterwards. In the words of poet Michael Hofmann it is 'a machine for re-reading'.
5. It contains many proper nouns and names and brands and theseare collected in a particularly unhelpful index at the back. I will now list a few of these things:  Michelle Williams, the Roland 303 drum machine, the NSA scandal, cupcake lesbian, Bjork, Bourne Supremacy, The Fall, Dreampop, Instagram, John Updike, Fractional Reserve Banking, Estonian Shoegaze, Google, TV, Hipster and PDF, Husker Du.
6. The index also elucidates on which pages basic conjunctions and articles such as 'the', 'and' and 'if' appear on. For instance: 'if' appears on pages 16, 29, 34, 37, 47, 55, 65, 70, 72, 84, 87, 92, and 96.
7. The poems/writings are split into five sections: 'Log In, Remember me', 'Thrift with outside detractors', 'Food and Activities Outside', 'On Coloured Vinyl' and 'A short history of all memory'. None of these section titles appear to have much to do with the poems that they envelope but sometimes you think 'Hey there's a plan, here!' so sometimes the reader thinks they do.
8. The book is very hipster friendly and is unapologetic for that, defiant even. It is dedicated to 'the unreconstructed hipster'.
9. There is a poem about a girl named Edie whose name 'isn't Amy' and who has 'a cool cervix'.
10. The poems/writing themselves are generally written in a breathless kind of way with many idioms recognisable from social media but also from a variety of registers. You get the impression this writer hasn't only grown up on the internet and references to early 80s style magazines such as 'The Face' and to a number of bands much beloved of what was, at one time, called 'college radio' (now known as bands that Pitchfork are likely to review)  crop up throughout. As does late-80s, early 90s British rave culture.  You never know, maybe he's just Googled alot of this 'vintage' stuff.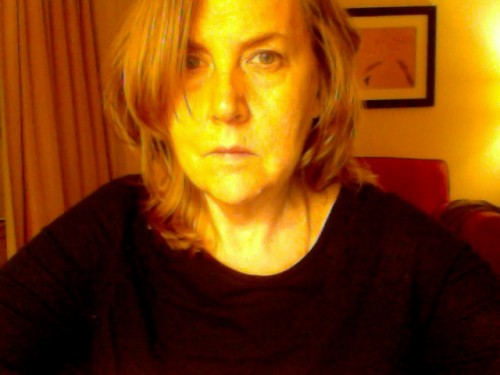 Anticipated Summer Reads from Dodie Bellamy!
***
Devil in a Blue Dress, Walter Mosley. New York: Norton, 1990.
Devil in a Blue Dress is the first of a dozen books featuring Easy Rawlins, an amateur detective who frequently finds himself on the wrong side of the law, where the LAPD are worse thugs than the criminals. As a series, the books track the position of blacks in America from WW II through the Vietnam era. Life is brutal for these characters, and Mosley articulates tenderness towards them that is never simple or saccharine. The women are amazing—horribly oppressed but brimming with sexual agency. Easy loves these women for their power, even though he does not always win with them. I've read the first four books in the series, and I'm addicted.
Theory, A Sunday. Louky Bersianik, Nicole Brossard, France Théoret, Gail Scott, Louise Cotnoir, Louise Dupré. Belladonna, 2013.
In US in the 1980s, feminism and the avant garde rarely collided, so for women with both proclivities the avant-garde Québécoise feminists were mythic, providing us with models of rigor, collectivity, and how to exist politically and creatively in the world. Originally published in French 25 years ago, this volume collects the writing of six Montréal women writers who met on Sundays to discuss language, feminism, and aesthetics. Each woman contributes both a theoretical text and a short piece of fiction, and it's fascinating to observe the play between these two modes of expression. Theory A Sunday does not read like a stodgy historical document. On the contrary, the work is still fresh and exciting—and important.
Thunderbird. Dorothea Lasky. Wave Books, 2012.
In preparation for the September release of Lasky's fourth book of poetry, Rome, it's time to take another languorous look at the multilayered, polyvocalic Thunderbird. Lasky has stated that her title references "the Native American Thunderbird spirit, but then also how that divine force gets infused in American culture, like within the streets and hotels named after it, the car, the liquor, even the search engine. It also comes from the idea of air travel and what it means to control seemingly uncontrollable forces, like air and wind." With enough narrative beats to keep the poetry-phobe engaged, Lasky reinvents the first person. Her insanely imaginative narrators are libidinal, yet somehow stylized, emitting a vulnerability that sets off fireworks.
Tweaky Village. Kevin Killian. Wonder, 2014.
Okay, I admit it, Kevin is my husband, but he's also a genius of a writer. The poems in Tweaky Village ping pong back and forth between two lines of action, one of them the ongoing crystal meth "problem" in San Francisco (the subject also of Killian's most recent novel, Spreadeagle). From there the poems take on the larger subject of the catastrophic gentrification of the city, speed hyped up to the outer limits of capital. Not for nothing is this book dedicated to the social critic Rebecca Solnit. More than any other poet I know, Killian decimates the divide between high and low culture, between politics and desire. His poems make you laugh and cry and pull your hair out.
The Undercommons: Fugitive Planning & Black Study. Stefano Harney and Fred Moten. Minor Compositions, 2013
If you've ever asked yourself, "How do I evade the colonizing totality of Capitalism?" this is your manual. Wonderfully incendiary and subversive, Harney and Moten offer strategies of refusal that gesture to, as Jack Halberstram says in his introduction, "a wild place that continuously produces its own unregulated wildness." With its validation of the marginal—the fugitive, criminal, queer, unprofessional, visa-expired—The Undercommons is the theoretical equivalent of a Genet novel. Perfect for clearing your head of the drudgery of systems of social control.
***
Dodie Bellamy's latest books are The TV Sutras (Ugly Duckling) and Cunt Norton (Les Figues). Her chapbook Barf Manifesto was named best book of 2009 under 30 pages by Time Out New York. Her reflections on the Occupy Oakland movement, "The Beating of Our Hearts," was published by Semiotext(e) in conjunction with the 2014 Whitney Biennial.
Comments Off

on Dodie Bellamy's SUMMER READS
May 28th, 2014 / 10:00 am
If Dikembe Mutombo decided to write a chapbook-length manuscript of poems about what it felt like to be one of those weird Internet Era cultural figures who has a sugar-rush style identity and factors thus accordingly into evil surreal advertising memes, he would probably just use his giant arms to place his chapbook manuscript into Dikembe Press's electronic mail inbox.
But you're not Dikembe Mutombo. You're not in any commercials. Write a good chapbook manuscript and send it to Dikembe Press. They're reading manuscripts for a month. The guy Jeff? He's from Reno. They make good chapbooks.
If any of us really had imaginatively big arms, they would put us in a tiny cell in the White House basement and the Vice President would laugh at us and light matches against our skin.
Send your chapbook manuscript to Dikembe Press.
Presses
/
Comments Off

on Dikembe Press has a cool name and they're reading chapbook manuscripts
May 27th, 2014 / 2:48 pm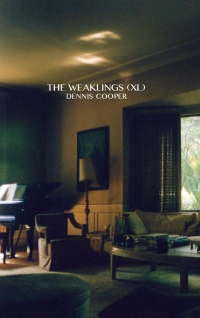 The Weaklings XL
by Dennis Cooper
Sententia Books, 2013
84 pages / $12.95 buy from Sententia Books or Amazon
1. Dennis Cooper's The Weaklings XL repeatedly interrogates three unknowables: the body, desire, and language.
2. Language is eternally indefinite: "You're the / one who fired a gun at his head, so high / on whatever, and so depressed by my / lack of whatever that you were afraid you / might have otherwise not hit the target, / wherever I was at the time."
3. We can never truly know our own bodies, the insides, the way they function. Because of this, one might assume the only way we can ever truly know the idea of a body is through exploration of the body of another. This is akin to Blanchot's conception of death: we can never know our own death, we can only know the death of another.
4. Desire is impossible to ever know, to ever understand, to ever achieve in the sense of a totality. Cooper's poems show how parts of desire can be hinted at in physical altercations, but desire is always immaterial and, thusly, can never be adequately incorporated into an experience.
5. In a suite titled "BOYS2BRELOCATED," a selection of invented "personal ads" by under-age gay (or not gay, because it doesn't really matter) men/boys soliciting sex, 666HEAVYMETAL666, 17 years old, posts the following: "DO YOU REALLY GIVE A CRAP? I'M SCARRED OK." The suite presents a context in which misspelling echoes the reality of the quick-typing mode of the internet, where the reader can imagine these personal ads would be found. However, in a bizarre semantic twist, the context of the typo allows a double reading of the message: "SCARRED" can either be read as it is typed, as "scarred," as in wounded, damaged or affected, or it could be taken as a misspelling of "scared," as in frightened, terrified. This dynamic back-and-forth is all the context any of the personal ads need.
6. Before recent years Dennis Cooper was mostly known as a transgressive writer who was obsessed with writing about the sexual murders of young boys. This is his content. The success of his writing is dependent upon this obsession: it's not literal (as in, I don't think the claim could be made that Dennis Cooper the person is interested in murdering a young boy in a sexual context), but it's the guiding force of the work. It's a metonymic mode that allows a total and occasionally exhausting exploration of the indefinite nature of language, desire, and the body.
7. Somehow in recent years the content of Cooper's work has been "white-washed" and the focus has turned onto his ability to construct sentences. Dennis Cooper is a brilliant prose stylist, and at the level of the sentence is work is amazing. This is demonstrated throughout all his work, I think; the poems here, all of the novels, his work in theater. However, I think ignoring the obsessive thematics of the work is doing the work a disservice. It strikes me as a sort of intellectualization that would position the work as some sort of purely intellectual art. Cooper is a brilliant writer who demonstrates remarkable intellect, but I think to read the sentences while ignoring the content would be a futile gesture. Language and the body, language and desire, these things are all linked.
8. Bernard Noël's early career as a poet consisted of works that interrogated the relation of language to the body. This often resulted in the work carrying on into dark places. As a poet, I think Noël's work is far stronger in its interrogation of the body/language divide, and much more accomplished. However, nobody reads Bernard Noël, especially not American audiences, as very little of the early poetry is available in English, and what is available is in no way easy to come by. In opposition, however, Cooper's novels are far more accomplished than Noël's single 'straight-forward' novel, The Castle of Communion.
9. Cooper's poetry, while less formally/visually interesting or experimental than his novels, strips the words to the core of the problem that is often present in the novels: how can one mete language with desire, with the body.
10. In the annals of juvenile "trying to out-gross" one another, I remember hearing a "joke."
"What's the best thing about having sex with a twelve year old girl in the shower?"
"…"
"Slick her hair back and she looks like an eight year old boy."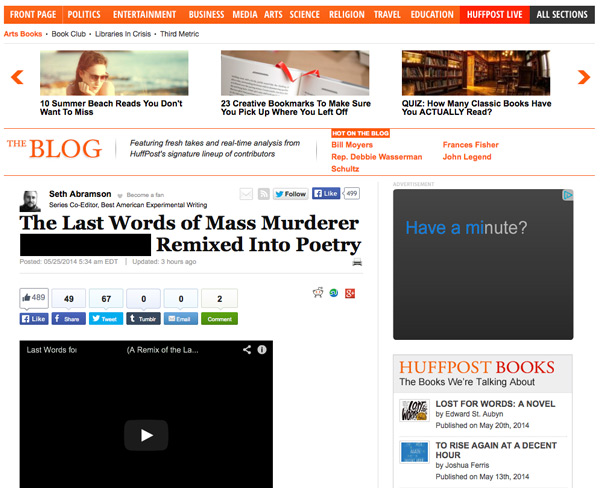 How do you ethically navigate your media?
When I heard today about the shootings in southern California, my first thought was, "oh, again?", and my second thought was, "Rachel is in southern California." After running to the computer to confirm that the shootings took place far enough away from where my wife is, and after feeling huge relief none of the victims were my loved ones, and after feeling momentary guilt for that relief in the face of others' grief, I felt the now-usual feelings of sadness for the victims and their loved ones, frustration at the cultural attitudes that enable and produce this now-usual violence, and renewed knowledge of my helplessness to protect those I love from "random" tragedy.
I then did my usual thing of scanning the web for information about what went on and what lead to it. I read a good deal of the killer's memoir/manifesto. I noted his childhood joy of opening a Pokémon booster pack to find a Charizard, his journey of dyeing his hair partly and then full-blond, his use of the term "playdate" to talk about hanging out with people when he was 17, his emotional connection to his N64, and his reverence for brand names. I realized he had probably killed his roommates before I saw any media mention that he had killed his roommates. I read that he had planned to kill his younger brother and his stepmother. I saw an excruciatingly self-involved man who in many ways still thought as a boy, and who had never been able to understand other people are human, like him.
After thinking a lot today about empathy—the visceral recognition of yourself in other people, of other people in yourself—and reminiscing some about feeling unloved, unattractive, outcast, and misunderstood, I scrolled past a Facebook post about Seth Abramson's remix of the killer's YouTube confession. I thought, "too soon!" and scrolled on. And then later scrolled past it, and then, on seeing it for the third time, read it. In the piece, Abramson reorganizes the killer's words into something life-affirming. Rather than railing against the dumb beast blond women and the thugs their animal minds force them to couple with, Abramson's piece intends itself as a message of comfort, understanding, and love for "Every single girl. Every single man. (Even obnoxious men!)" Even Elliot, the killer.
I then read the comments on the Facebook post.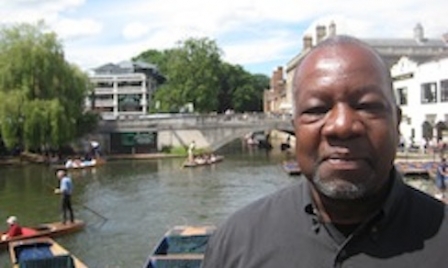 Anticipated summer reads from Tyrone Williams as part of this year's Summer Reads series.
***
Not the only five—a lot more will be mini-reviewed at Jacket 2—but certainly some of the ones that have whetted my appetite.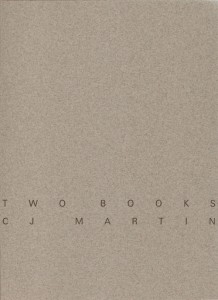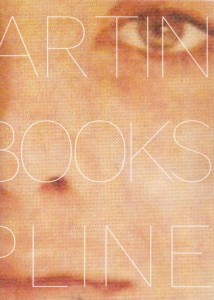 C.J. Martin, Two Books
As far as I can tell, this Compline Book is undated, suitable for Martin's formal work that I've been following for several years, some of which (e.g., What is Worship) is included here.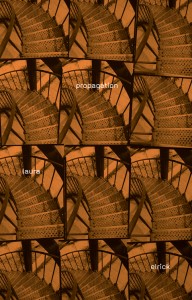 Laura Elrick, Propagation (Kenning Editions, 2012)
I've been trying to write about STALK, Elrick's foray into video documentary poetry, for years. I'm hoping this book will jumpstart that project.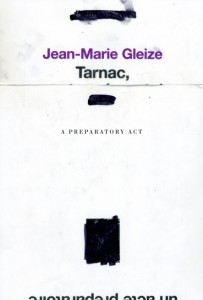 Jean-Marie Gleize, Tarnac, A Preparatory Act (Kenning Edition, 2014)
The "position" of poetry and poetics re political activism, That's enough—maybe—for me.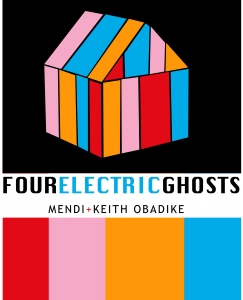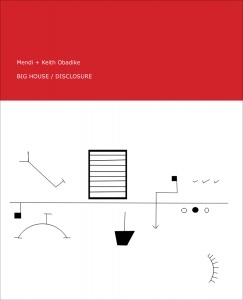 Mendi + Keith Obadike, Four Electric Ghosts (1913 Press, 2009) and Big House/Disclosure (1913 Press, 2008)
I've been wanting to read deeply into the performative work of this couple since my distant impression has always been that rather than theorize (simply) praxis, they do it, on a number of levels. I'm cheating here with two books but…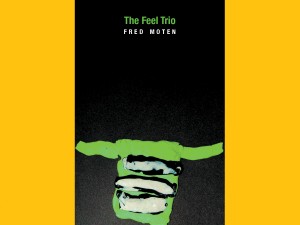 Fred Moten, The Feel Trio (Little Machine Editions, 2014)
I like Fred, have read and liked his previous books of poetry (haven't gotten to the criticism) but I'm still not sure what I think (not what I feel) about the work. This latest should help orient me a little (I hope).
***

Tyrone Williams teaches literature and theory at Xavier University in Cincinnati, Ohio. He is the author of five books of poetry, c.c. (Krupskaya Books, 2002), On Spec (Omnidawn Publishing, 2008), The Hero Project of the Century (The Backwaters Press, 2009), Adventures of Pi (Dos Madres Press, 2011) and Howell (Atelos Books, 2011). He is also the author of several chapbooks, including a prose eulogy, Pink Tie (Hooke Press, 2011). His website is at http://home.earthlink.net/~suspend/