As part of Summer Reads, Amanda Ackerman shares what she's looking forward to reading this summer.
***
Taste
2 a person's liking for particular flavors : this pudding is too sweet for my taste.
a person's tendency to like and dislike certain things : he found the aggressive competitiveness of the profession was not to his taste.
( taste for) a liking for or interest in (something) : have you lost your taste for fancy restaurants?
the ability to discern what is of good quality or of a high aesthetic standard : she has awful taste in literature.
conformity or failure to conform with generally held views concerning what is offensive or acceptable : that's a joke in very bad taste.
These particular books were selected because I could get them from the Los Angeles Public Library. The city of Los Angeles experienced record-high temperatures this month and we will probably have a brutally hot summer The heat makes it very hard to think. These books are all short. I found them excellent and feel better for having read them (or being in the process of reading them).
Inger Christensen's alphabet, translated by Susanna Nied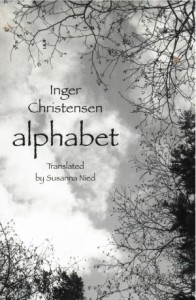 This might be one of the best books I've ever read. Everything is in the world. The book is also written in a Fibonacci sequence, something I've wanted to try for awhile.
Excerpt:
"apricot trees exist, apricot trees exist"
Tan Lin's insomnia and the aunt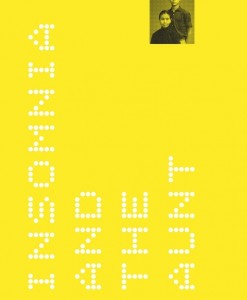 This is the only Tan Lin book LAPL has. I have lived a good portion of my life watching television. Television is in and of the world and Tan Lin's language becomes atmosphere, like a room enveloped in color and scent – living in and of the words becomes more important than their meaning as.
Excerpt:
"Any mathematician can tell you, lovers like drapes are feeble signs of a light that can't come in, for the minute a TV show or a person becomes memorized (the worst form of recognition), it or she ceases to exist in any meaningful way. A dumb TV show is the most beautiful TV show. My aunt knew my love for her very well. She was clairvoyant and an insomniac."
Alain Badiou's In Praise of Love, with Nicolas Truong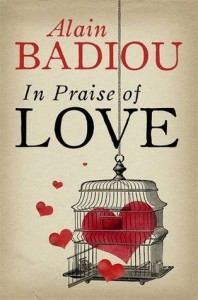 The library doesn't have this book. I like books that attempt theorizations of love and argue why we should radically love each other (two other good ones: bell hooks's All About Love: New Visions and Erich Fromm's The Art of Loving). Also, Badiou gives one of the first definitions of art that I find myself agreeing with.
Excerpt:
"One has to understand that love invents a different way of lasting in life That everyone's existence, when tested by love, confronts a new way of experiencing time."
Ann Quin's Three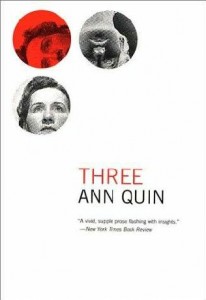 I'm only on page 22. It's stunning. The dialogue is vulnerable, the poetry and prose cohabitate the story, and the vulnerable dialogue neither collapses nor widens the distance between its characters. Why it is we talk so much?
Excerpt:
"Hands motionless she gazed past the cockerel, marked a point between the trees, statues. The shadows of statues on the lawns stretched to cliff's edge. What shall we do Ruth it is our last day fancy going out for a while? You're so restless."
Latasha N. Nevada Diggs's TwERK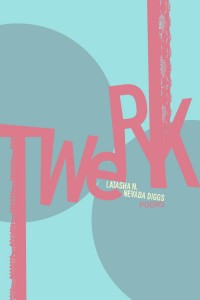 This book is brilliant. I'm only on page 15. I find myself sounding each word out loud. I like one of the blurbs: "an endlessly spinning polyglot wheel."
Excerpt:
"It is said that eels can come back to life. Chopped into tidbits, left alone, the pieces may regenerate, wiggle; grow new heads, eyes. Teeth. The girl thinks of this every time she eats sushi. She never eats eel two days old. What if it came back to life and paid her a visit one shifty night?"
***
Amanda Ackerman is the author of the chapbooks The Seasons Cemented (Hex Presse), I Fell in Love with a Monster Truck (Insert Press Parrot #8), and Short Stones (Dancing Girl Press).   She has co-authored Sin is to Celebration (House Press), the Gauss PDF UNFO Burns a Million Dollars, and the forthcoming novel Man's Wars And Wickedness (Bon Aire Projects).  She is co-publisher and co-editor of the press eohippus labs.  She also writes collaboratively as part of the projects SAM OR SAMANTHA YAMS and UNFO. Her book The Book of Feral Flora is forthcoming from Les Figues press.
Tags: amanda ackerman, summer reads