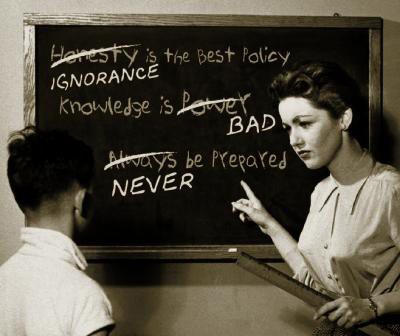 I have been in school for nearly 32 years with a few years off during my twenties to solve existential crises and the like.  I don't know much but I do know school and I have gone as far as one can possibly go. In a couple weeks, I will defend my dissertation and I have already started working as an assistant professor at a university in the middle of a cornfield so it's safe to say that I will probably always be in school in one way or another.
Education is not something that has to happen in the classroom. I often tell my students they will learn just as much, if not more, beyond the classroom, by living life and losing at life and learning what to do with the critical thinking we try to instill in them. Anyone with a library card can get a valuable education. Self-taught scholars abound. Education is also a privilege. To be adequately prepared to succeed in college and to be able to afford college, either through financial aid or having your family pay for your education is a real gift and one not available to nearly enough of the people who want a college education. I believe the education system harbors an inherent bias to people who are white and/or middle class or wealthy but I also believe a good formal education has helped more people than it has harmed. Whenever a student complains about something like the amount of reading or writing I assign (to be fair, quite a bit), I like to remind them that they choose to be in college and if they don't like it, they can move on to a different opportunity. They can also drop my class. I don't mind.  There are all kinds of things wrong with the education system but I don't think there's enough talk about what that the education system does right or at least I would like to talk about what a good education has done for me.
There's not much for me to say about pre-school through 8th grade. I ate paste and used dull scissors and learned to add and divide and write in cursive and I was pretty much a dork the entire time which is basically what we are during those years–barely sentient and deeply concerned with things like juice boxes and orange wedges after soccer practice. I had other things going on like the Duran Duran club I founded with three other losers in fourth grade but mostly, I was just bumbling along trying to keep my head above social leper waters.
My high school used something called the Harkness Table which is simply an oval wooden table that allows the students and teacher to be able to see everyone from every vantage point. Most classes never had more than twelve students and everyone sat around this table as intellectual equals or at least we tried to be intellectual equals and once in a while we succeeded. Sometimes, it really is the smallest detail that makes all the difference. In every class from Biology to Architecture to French, whatever the subject, we had to look at each other and stand up for our opinions. We had to contribute. There was no hiding in the back of the classroom where we could fall asleep or doodle or otherwise fuck around. You had to be prepared to participate in every single class or you had to be prepared to be awkwardly humiliated when you couldn't do your part in a class discussion. I often say I learned more in high school than I have in the eighteen years since I graduated. Yes, I am old. That's not the point. My high school experience taught me how to actively engage with my education. I learned that there's a responsibility attached to being a student. So often, we're taught to resent education. That attitude was not indulged in my high school. I also loved how we were allowed to do really interesting things in each of the four years of the program. Physical education was mandatory so I played field hockey and rowed crew and fell on my ass during ice hockey. It was throughly humiliating because I have not been blessed with athleticism at any point in my life. Still, I learned how to participate on a team and how to get off my ass once in a while. I suppose that's important. I also learned how to wash dishes because my parents made me get a job in the dining hall. You haven't lived until you've spent two hours a night in a humid dish room with surly old ladies who hate your face and stand around watching you spray discarded institutional food off of plates.
Service learning was encouraged so we often did projects that could also benefit the local community. I learned that the world does not revolve around me. (It kind of does.) During Upper (Junior) year, everyone writes an essay for a program called Reporter at Large where you follow a professional of some kind then write an essay about their work. I followed a doctor who was a neighbor of my parents. The good doctor let me watch him operate and I thought it was the coolest thing ever to see all that grossness and the scrubs were so adorable. I very much wanted to wear them all the time and he gave me a set. That experience led me to believe I wanted to become a doctor until I took College Biology with a professor who made it clear from day one that he was out to destroy anyone who wasn't serious about joining the medical profession. I was, apparently, not serious. I failed that class, spectacularly. The teacher may as well have been delivering course material in Latin. His class was incomprehensible. I was able to participate in the theater program building sets, then designing sets, then becoming a technical director. I wrote and produced a play. I worked with people who would later become sort of famous, the fuckers. In Architecture class, we had to build a device out of styrofoam, rubber bands, paper clips,and some kind of adhesive, to protect an egg dropped from the roof of one of the campus buildings. I am happy to say my egg survived because I used the rubber bands to build a bungee type situation where the egg would bounce in the middle of a larger styrofoam frame. I felt terribly smug and clever. This modest success led me to believe I should major in architecture after the pre-med thing didn't work out. After a year as an architecture major, I realized in order to be an architect, one must be able to draw and master subjects like physics. I could do neither, though I did design a gorgeous new entrance above ground for the underground library on my college campus. That entrance would have promptly collapsed, murdering any number of students but it would have looked good while doing so. I suppose the most important thing I learned in high school was that I could become anything I wanted until my intellectual limitations proved otherwise. Those limitations often remind me of what I can never be. Becoming an astronaut is completely off the table at this point.
I shamelessly wasted the first two and a half years of college. I spent all my time doing Dramat, which was the student-run theater organization on campus. Theater was very serious business and it took all of my time. Sometimes, I skipped classes to work on a set. I got down and dirty on the regular and put everything I had into an extracurricular activity instead of my coursework. I once drove with a guy for hours in a Ryder van to go pick up a section of chain link fence from an all boys school in Massachusetts. The show was West Side Story and we hung that fence from a fly bar and it would fly in and off stage as needed. Actors were even able to climb the fence during the show. It was awesome. My Romantic Poetry professor did not share that opinion nor did my Urban Planning professor. I did not retain a great deal of school-related knowledge from that time but I did learn how to be passionate about and committed to something and I can build a mean canvas flat. Seriously,if you need a flat, I am your woman. I had my first drink at the end of my freshman year during an annual drinking competition called TANG. I learned how to drink two eight ounce glasses and a pitcher of warm, flat beer very fast. I won the individual drinking competition. I was a world conqueror. At the same time, I had very little appreciation for the amazing opportunities available to me and I hated almost everything about the school other than Dramat. I am embarrassed, now, by the time, opportunity, and money I wasted but I was young and stupid.
I decided to take some time off to find myself. I searched in California and Arizona and Minnesota but was largely unsuccessful.Two years of working terrible, sometimes humiliating jobs made me realize college was a vast improvement over working retail, bartending, doing telemarketing or other jobs I cannot discuss in polite company. When I returned to college I had a bit more common sense and was far less wasteful because I had a better understanding of the value of money and the relative misery of not having any. I decided I would keep going so I got my master's degree in creative writing (MA, not MFA because I knew I would go all the way eventually). My parents were rather concerned about the utility of that choice. I'm pretty sure they continue to worry. I was still young and stupid and I thought my English degrees would serve the greater good. I would make a massive contribution to literature. Those degrees did not quite achieve the grand plans I laid out for myself. I did, however, learn how to read critically and how to critique the writing of others and how to be critiqued. I learned how to be a lowly grunt opening envelopes at a literary magazine and sending out little paper rejection slips and doing all the menial work befitting my lowly stature as a graduate student. I also learned a bit about what it takes to sustain excellence in a literary magazine and how to maintain an aesthetic when there's a new staff every few years. I learned humility and that I was not nearly as awesome as I believed myself to be. I also learned how to write a full length book that only kind of sucked and I learned how to defend my work and stand up for my creative choices. These are great things to learn. I didn't really learn humility very well.
When I finished my MA, I started working as a writer for the College of Engineering at that same university and it was a good job. I worked hard and did well but faculty always talked to me like I was a complete moron. Even when I was right, I wasn't right because I didn't have three silly letters behind my name. The faculty I worked with didn't have to work 9-5 (or as it turned out, 9-7 or 8 or 9) and they had summers off and they made decent money.  I thought it would be nice to be like them (minus the asshole part) so I decided to get my PhD in Technical Communication. I learned how to live in the middle of a forest and more about how universities work than anything else but I had plenty of time to write. I learned how to teach and deal with over involved parents and students giving me the same bullshit excuses I've given to teachers over the years. Alas, the poor grandmothers. I learned how to design academic journals and set up open source submission systems and how to edit a literary magazine. I learned how to write an academic book and conduct research. I learned how to kiss ass without being gross about it. I learned how to be useful and I became less young and stupid or at least, less young.
Everyone learns something different from their education but the best thing about an education is that it affords you the time to be young and stupid. A good education is forgiving and I needed that forgiveness as I tried to get my shit together. There were plenty of things that sucked in each of my educational experiences but the benefits far outweigh the liabilities. Ultimately, I learned how to learn and ask the right questions and that's a really powerful thing. Learning how to learn has to be guided and cultivated and I have been lucky enough to have amazing teachers help me with that. I always feel like anything is possible (minus that astronaut thing) and I know that confidence comes, in large part, from my education. I also became a doctor, sort of, anyway, so take that evil biology teacher!
What have you learned from your education?