Roxane Gay
{LMC}: Our March Selection: Salt Hill 28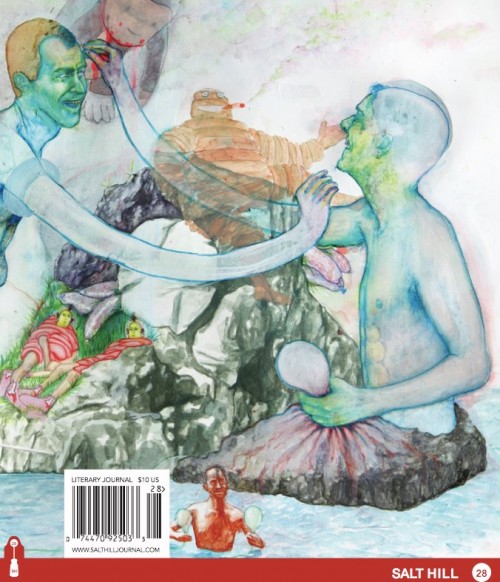 The stories, poems, interviews, and art in the 28th issue of Salt Hill are reminders of the inspiration that comes with encapsulation; if we are living in a body, we are writing. Stories from Mark Baumer, Maile Chapman, Sarah Rose Etter, James Robison, and Jason Schwartz traverse sentience and sentiment in stylized prose. Poetry from Jennifer Denrow, H.L. Hix, Ben Mirov, John Skoyles, and Dara Wier navigates tonal and geographical journeys. An interview with Dana Spiotta on outsider musicians while Mary Caponegro talks about what's inside her cerebral, musical prose. As the temperature hits its bitter notes in Syracuse, bundle up with SH 28 and find new meanings to the body's hibernations.
CONTRIBUTORS
POETRY
Ciaran Berry, Bruce Bond, Brett DeFries, Jennifer Denrow, Laura Eve Engel, John Gallaher, H.L. Hix, Bridget Lowe, Ben Mirov, Oliver de la Paz, Wang Ping, Nate Pritts, Zachary Schomburg, John Skoyles, Tony Trigilio, Dara Wier
FICTION
Mark Baumer, Maile Chapman, Sarah Rose Etter, James Robison, Jason Schwartz
NONFICTION
Interview of Dana Spiotta by Rachel Abelson, Interview of Maile, Chapman by Chanelle Benz and Natalie Rogers, Interview of Mary, Caponegro by John Madera, Amy Benson, Casey Wiley
ART
Frederik Heyman, Andrew Jilka, Anders Oinonen
Abby Koski talks about the issue briefly at Vouched Books. This is a beautiful magazine and one you do not want to miss.
We are giving away fifteen of Salt Hill, first come, first served. If you are interested, e-mail me at roxane at htmlgiant.com with your name and mailing address. If this announcement is not crossed out, copies are still available. Salt Hill 28 is available for a fine discount available if you are interested in purchasing this magazine. If you go here, the magazine is available to HTMLGIANT readers for only $7. THAT IS AN AMAZING DISCOUNT. Support literary magazines! The discussion starts here, on Monday, March 4, after AWP.
LMC Administrivia:
Future club selections:
May 2012: Trnsfr
July 2012: Uncanny Valley
September 2012: J Journal: New Writing on Justice
Stay tuned for special offers and giveaways for these magazines.
If you're interested in writing a guest post or some other feature related to Salt Hill 28, get in touch by e-mailing me at roxane at htmlgiant.com. Topics you might consider discussing include the design, content, overall aesthetic, whether the magazine met your expectations, what the magazine contributes to the literary scene, etc. You might also do an in-depth analysis of one writer's work, etc. There are no limits.
There's also a Google Group with light posting about literary magazines and club announcements. If you want to join the group or want more information about the LMC, if you're an editor who wants your magazine featured, etc, send me an e-mail. To summarize: however you want to participate please get in touch or watch this space in November when hopefully, we'll have a great discussion about an interesting literary magazine.
6 Comments