September 28th, 2009 / 9:00 am
Presses
Roxane Gay
Rotten Apple: There's No App For That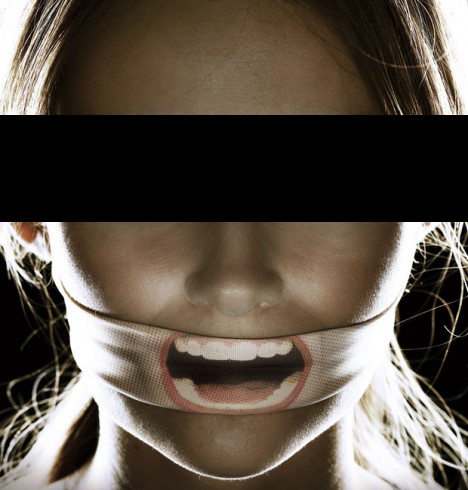 In December 2008, Peter Cole, editor of Keyhole, thought it would be nice to develop an iPhone app for the magazine to broaden its reach. He hired a developer and they submitted the application to Apple. A few days later, the app was rejected by Apple for violating their standards. The story with which they had objections was Heather Fowler's Catholic Girl Smile, a rather mild story under any circumstances and particularly when contrasted with many of Keyhole's offerings. Peter shelved the idea.
When the iPhone 3.0 software was released, including Parental Controls, Peter decided to try again. He re-hired his developer to make the Keyhole App 3.0 compatible and add a few features. They resubmitted the app and it was rejected again.
Apple wrote:
Dear Keyhole Press,

Thank you for submitting Keyhole Magazine to the App Store. We've reviewed Keyhole Magazine and determined that we cannot post this version of your iPhone application to the App Store because it contains inappropriate sexual content and is in violation of Section 3.3.14 from the iPhone Developer Program License Agreement which states:

'Applications may be rejected if they contain content or materials of any kind (text, graphics, images, photographs, sounds, etc.) that in Apple's reasonable judgement may be found objectionable, for example, materials that may be considered obscene, pornographic, or defamatory.'

A screenshot of this issue has been attached for your reference.

If you believe that you can make the necessary changes so that Keyhole Magazine does not violate the iPhone Developer Program License Agreement, we encourage you to do so and resubmit it for review.

Regards,
iPhone Developer Program
At this point Peter was pretty irate, having invested a great deal of time and money in this project. The censorship was particularly troubling given the range of potentially "objectionable" content available via iPhone apps not to mention that the iPhone includes a full web browser allowing users to access any site on the Internet. Their choice of drawing a line with regard to Heather's story, which is PG-13 at best, is baffling to say the least.
Peter says:
I sent back a quick, angry email saying, I saw pictures of underage naked girls in one of your apps (there's an app for that, apparently) and I didn't even get an 17+ warning for that one. They have porn star apps. They have an app that lets you make boobs in pictures jiggle.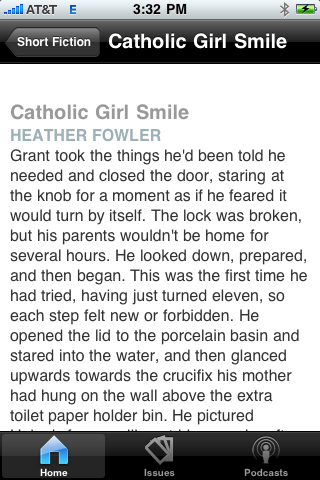 Peter then came up with a plan. He would unpublish Heather's story for two weeks while the app went through the vetting process and then republish it after the app was approved. The problem is that many of the stories Keyhole publishes are far dirtier or more "objectionable" than Heather's story. He is not optimistic that the Keyhole app will ever be approved because once he addresses the issue of Heather's story there are many other stories the Apple Overlords will likely flag and he is unwilling to contact every author asking them for permission to temporarily unpublish their work nor should he have to.
As a fan of Apple products, I am extraordinarily disappointed by their conduct in this matter. For a company that markets itself as forward thinking, this is ass backwards behavior. Their arbitrary standards with regard to objectionable content are bewildering. Pornography (which I'm all for) is okay but literature is not? As Peter notes, "if parental controls and the 17+ warning aren't good enough, then they're saying that this type of writing is not suitable for any age."
This issue is particularly timely and troubling given that it is Banned Book Week. Any time writing is censored intellectual freedom suffers.
The good news is that Heather and Peter are in good company.
Tags: app, Apple, censorship, developer, iPhone, Keyhole
42 Comments