July 19th, 2009 / 2:40 pm
Uncategorized
Ryan Call
By Myself by DA Powell and David Trinidad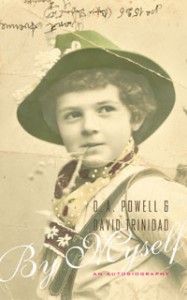 I had a chance to read By Myself (Turtle Point Press) by DA Powell and David Trinidad a week or two ago and wanted to give it a quick treatment here. It's a three hundred sentence chapbook cobbled together from three hundred memoirs/autobiographies (one sentence per memoir/autobiography – in the back of the chapbook, they've noted which sentence comes from what book). So basically, Powell and Trinidad selected one hundred and fifty memoirs each, read/skimmed them, and then traded sentences back and forth one after another to eventually create a patchwork story of someone rising from poverty, becoming successful, dealing with various struggles (such as an unhealthy addiction to birthday cakes), and so on. It's an arc we might expect to see in an autobiography, right?  Here's how my life is a meaningful story, with a beginning, middle, and end. However, due to the breadth of memoirs/autobiographies from which Powell and Trinidad select the sentences (Tennessee Williams, Kathie Lee Gifford, Gertrude Stein, William Shatner, Gore Vidal, etc.), the narrator's trajectory is a bit erratic, but in a hilariously good way. Powell and Trinidad cleverly take advantage of this to create some funny moments and some sad moments as well.
To give you a taste, here are lines 1-11, the first section of the chapbook:
To put it in two words: disaster struck. I was born on June 27, 1880, in Tuscumbia, a little town of northern Alabama. I never was coddled, or liked, or understood by my family. My mother's childbearing had been dangerously botched by a fashionable doctor in New Orleans, and forever after she stood in fear of going through it again, and so I was an only child. It puzzled me a little why Mother had  decided to take up butterfly collecting. There was a time when it was thought that she might become a concert pianist. One day, while she was seated at the piano, I ran to her to confess that I had smashed a cup belonging to her best set of Haviland china. My mother always seemed to me a fairy princess: a radiant being possessed of limitless riches and power. Mother was furious, and I was too – but we had each other, so the hell with it. We knew little about the outside world, having no radio and no TV. That woman never taught anyone anything worthwhile.
I liked this chapbook a lot and hope you'll take a chance on it. It's an entertaining read and a neat experiment, one that reminded me of how pleased I am when I see the 'turn' at work in a string of sentences.
Tags: DA Powell, David Trinidad, Turtle Point Press
16 Comments