June 14th, 2009 / 10:58 pm
Uncategorized
Catherine Lacey
Internet Artifact: Woman interviews Dog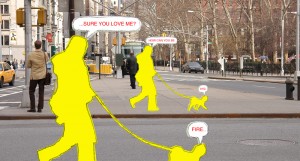 Found an awesome thing on the internet the other day: an interview between a woman and a dog as written by an entity that is neither dog nor woman: Specifically, it was written by David Stromberg, a writer  and artist who has a graphic book coming out from Melville House this fall. Woman & Dog interview below…
1.Did you always know you were my dog?
Yes, no, yes.

2. How do you feel, having no ultimate control over
your life, having your own decisions be meaningless?
I have control, I could pee now, or later, or I could
poop.

3. But if you poop at the wrong time, if you poop at
home, for example, then you get your face in your
poop, I know you don't like that.
If I didn't like it I wouldn't do it where you could
see it.
*I can't quite figure out the circumstances under which this interview/fiction/thing was published. It seems to be a personal website, but not Stromberg's website, I think? If anyone can explain this to me leave a comment.
4 Comments