April 22nd, 2009 / 6:00 pm
Uncategorized
Ryan Call
Sample THE FUTURE with Barrelhouse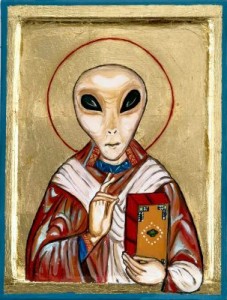 The editors of Barrelhouse have a PDF sampler online of their latest issue, #7: THE FUTURE. The sampler contains, among other things, Alex Irvine's "The Truth About Ninjas," an annotated version of Michael Czyzniejewski's "The Atheist Reconsiders," and a remixed version of Blake Butler's "The Ruined Child," now called "The Passionate Male Prostitute."
Here's one of Czyzniejewski's notes on the phrase 'crucifix-bearing alien':
I also still love the idea that these aliens would be as in love with symbols and trinkets as we are. I just like the notion that they wear normal clothes – in movies and comics, aliens are either dressed like astronauts, all in silver space suits, or they're naked. Why wouldn't the clothing industry take off with other intelligent beings? I like the image of an alien wearing a suit, or kicking back in sweat pants and white socks. If God made them and gave them Jesus, why wouldn't God give them shame? And soon after civilization started wearing clothes, there'd be fashion faux pas. And slobs. I just wish I'd worked in an alien rosary, to throw in the Mary angle as well. This story is part of a new manuscript, my second collection, and to be sure, I will throw an alien rosary somewhere – more than a crucifix, I think a rosary is what really separates Catholics from other faiths. Even thinking alien virgin and alien manger and alien little drummer boy makes me smile.
You have to read the piece, really. So go over to the Barrelhouse website, take a look at the sampler, and then buy the issue.
Czyzniejewski's first collection can be ordered from Dzanc Books.
Tags: Barrelhouse, Michael Czyzniejewski
10 Comments