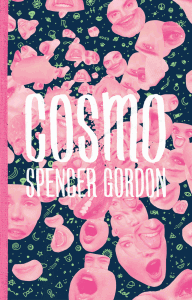 Cosmo
by Spencer Gordon
Coach House Books, 2012
218 pages / $18.95  Buy from Coach House
In his much-cited 1993 essay E Unibus Pluram: Television and U.S. Fiction, David Foster Wallace bemoans what he then saw as the rise of a mode of hyper-referential, pop/junk-culture-splattered fiction, one where "velocity and vividness—the wow—replace the literary hmm of actual development," that in lieu of plot or character favours moods, the "antic anxiety, the over-stimulated stasis of too many choices and no chooser's manual, irreverent brashness toward televisual reality," and—like television or other similarly clipped fields of entertainment (Wallace, writing in the nineties, naturally focuses on TV, but his arguments are easily transposed to today's even vaster glut) operate in images, rather than quaint notions of emotionality. In pursuit of surface realism, there is risk of forsaking heaviness, or timelessness, or truth.
As in every era, today's crankers-out of culture face this squirrely dilemma of realism: just how far the boundaries of mundane contemporaneity can or should extend, and how useful any parameters therein might be delineated—that is, the question of how realism should be defined right now, and whether such a classification matters, or even exists. If an author adopts or mangles forms anchored explicitly in "today," is such a thing inherently parodic, or just being true to the times? It is certainly possible to write fiction about Facebook (and, oh, it is done), but do we find this acceptable?
Spencer Gordon's new short story collection Cosmo enthusiastically elbows its way into that mosh pit of a question with equal measures vigour and charm. Though offering a gaudy all-you-can-eat spread of pop/junk cultural references, the book selects its menu wisely, hitting both the salad bar and the sundae counter in equal measures, as it were. Gordon is unafraid, for example, to hinge a lengthy passage around the single word "YouTube"—describing how, for one character in distress, the word rings "like black magic, a sinister open sesame to some sealed chamber inside her"—and it's, for the most part, not only convincing, but stirring.
Approaching Cosmo (which, it should be said, is a great title, swirling with evocation) without calling upon Wallace, or less directly, Donald Barthelme, is a tough task, as there is an obvious debt to both here; however, Gordon cannily embraces his influences outright, name-checking both guys as epigraphic sources. For Gordon, such acknowledgement is just another facet of the book's own breed of flamboyant realism: in the universe of Cosmo, mid-brow literature interplays with our cultural consciousness just as smoothly (or unsmoothly) as Tyler Perry movies or vintage WWF, just an extra platter of teriyaki tempeh brought to the buffet when the honey mustard wings run low.
Gordon himself said in a recent interview, "injecting celebrity characters and a host of pop (some might say 'trash') culture references into my narratives—and coupling these people/references with sometimes anachronistic and baroque writing […] is my first response to our contemporary fiction situation here in Canada. I am not interested in 'celebrating' anything, or waging class war, or slinging mud. I am interested in being a realist, despite what is hailed and awarded as realism in this country." The call-out of Canadiana is another vital aspect of these stories, for though they are mostly set in recognizable Canadian locales, and though Gordon's book emerges undoubtedly as a product of longstanding traditions in our nation's fiction, it also gleefully flouts tradition. The most outright funny story, "The Land of Plenty," perfectly slays one of the Great White North's most revered poet-icons (also irrevocably altering the way we will, and must, reckon with the hard truths of Subway sandwiches).
Despite such gestures of subversion, there are too bows to tradition: Gordon writes stories, not pitches, with characters, and plots, and often conclusions. Names aren't dropped simply to take digs at current strains of the contemporary miasma, or, at least, not just to do that. The deployment of such references—the emptiness of an Osmonds-hosted Miss USA competition, the disheartening ridiculousness of pro wrestling, porn, angsty LiveJournals, the career twists of Hillary Duff and Lil Romeo—is drenched in melancholy, regret and, most often, failure.
What also saves Cosmo from the "irreverent brashness" of Wallace's loathing is the care and craft of these stories, both in their form and in prose that is playfully enthusiastic and digressive, yet rarely overstuffed, burrowing into the knottiness of humanity while avoiding the hazards of total schmaltz. For example, he would likely do much better with a half-assed buffet metaphor than was attempted above.
Cosmo's stories are often at their most stirring when veering off the rails, with the slightly more sentimental entries swinging a few notches lower than those of more quirky premises. "Journey to the Centre of Something," in which actor Matthew McConaughey (convincingly, and somewhat depressingly, written exactly as one imagines he would behave and think in "real life": he gives praise to the desert for its "tiny unthinking lizard brain, buried miles beneath the buttes, dreaming its quiet dreams like some sleeping insane god") experiences something like transcendence on a solo Amboy Dukes-soundtracked road trip, is genuinely sad. Perhaps most successful is the opening "Operation Smile," hyper-detailing the inner tumult of a beauty pageant contestant wracked with pre-gala anxiety aboard a navy cruiser. Yet the cheek and irony serve as mechanisms for a throat-punchingly intimate portrayal of doubt and self-loss, one that can, with a mostly straight face, describe its protagonist's hope for "a glimmer of something unforeseeable and moving, like the orange glow of Heaven spreading its storybook light over a redeemed world," or at least, she imagines, "something foggy and distant — something to look forward to."
There are occasional lapses into jokey experimentation, where that sequined jean jacket of referentiality is obviously tucked in tight to hide a flabby frame. "Frankie+Hilary+Romeo+Abigail+Helen: An Intermission," essentially a lengthy bio in point form drawing non-correlations between tween celebs and Helen Keller, oozes by with minimal effect. And despite its evangelical fervour, the breathless Miley Cyrus obsession-creepout "Transcript: Appeal of the Sentence" doesn't really resonate. But even these prankish riffs are elevated by often startling sentences and crystalline images—no doubt, Gordon is a syntactical sensei.
Cosmo presents its stakes loudly and clearly, tinged as much in neon as in sepia—or maybe a heartbreakingly tacky sepia-toned filter. These are arresting stories, and as voyeurs and disciples and melancholics, we are all made implicit in this grotesquification. Though, of course: there are laughs to be had along the way.
***
Rob Benvie is the author of the novels Maintenance and Safety of War. His writing has appeared in many print and online publications, including McSweeney's, Joyland, Matrix and Broken Pencil. In his musical life he has recorded and toured internationally with such endeavours as The Dears, Thrush Hermit, Camouflage Nights and Tigre Benvie. Born and raised in Halifax, Nova Scotia, he has since split his time between Toronto and Montreal.
Tags: coach house, Cosmo, Rob Benvie, Spencer Gordon