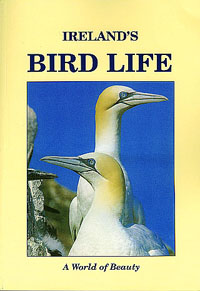 Ireland's Bird Life: A World of Beauty
Edited by Matt Murphy and Susan Murphy
Text by Richard Lansdown
Images by Richard Mills
Sherkin Island Marine Station Publications, 1994
160 pages  /  Abe Books
There is a twitcher out on the seafront.
The seafront must be a few miles long altogether – stretching from the oil refinery past the power-station all the way to the saltwater lake, and then the woods. Some days the twitcher will be outside our house where the waders dabble in the mud for lugworm and shellfish. Other days he'll be down by the saltwater lake where the wigeons and shovelers compete for stale breadcrumbs.
My boyfriend thinks there are a couple of different twitchers, but I know there's just the one.
He is a little kingfisher of a man with long beak and speckled brow, and when he perches on the folding-stool with his face fastened into a pair of binoculars, his elbows jut out at each side like a stubby wingspan. Although it's hard to tell through all his cold weather clothes-wear, I guess he is about seventy.
I am certainly interested in nature but it's other people that interest me the most.
One day I tried to spark up a conversation with the twitcher, but he wasn't very forthcoming. I suppose he's bored to death of nitwits like me blundering over and scaring all his wagtails and wheatears away only to point out a common herring gull and think that I'm smart.
It must be lonely, being the twitcher.
Not just out there on the seafront in the drizzle all by himself, but up against of world of ignoramuses who do not know a purple sandpiper from a bar-tailed godwit.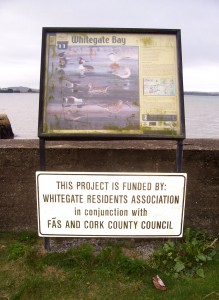 Some time last December I mentioned that I would like to get a bird book for Christmas. I can't remember exactly whose company I happened to be in when I mentioned it, but the result was that I received three.
I received Shore Birds of Ireland, The Complete Field Guide to Ireland's Birds, and Ireland's Bird Life: A World of Beauty.
Shore Birds has lots of nicely composed distance shots of flocks in flight and razor-sharp close-ups of freshly hatched chicks. Field Guide has hundreds of pages worth of shaded maps and anatomically correct illustrations. But World of Beauty has taken something of a less traditional approach to its photography.
On page 78, for example, a neat line of turnstones appear to be conducting a shitting competition down the hull of a ship. On page 80, an old man in a tractor is being mobbed by a rabble of black-headed gulls. And on page 90, there is a kittiwake sitting, somewhat obligingly, on an information board which reads KITTIWAKE / NUMBERS ARE NOW INCREASING.
I stacked up my bird books on the living-room coffee table and I study them after dinner in the evenings when my brain has been turned too spongy by food for anything terribly literary.
While I know I'm learning far more of practical application from Shore Birds and Field Guide, World of Beauty is the most strangely gratifying.
World of Beauty is the tabloid newspaper of bird books – its subjects captured off-guard whilst in the act of something vaguely inappropriate. And because what I mostly read is fiction, I suppose the appeal has something to do with how each picture alludes to a life beyond that which is pictured. The birds are not just glamorous specimens of their given species – but complicated and inconsistent individuals going about their respective daily mischief.
My boyfriend glances over my shoulder while I am reading, and as he does I will say things like That's a GREY HERON and on page 21 he gets pecked by a ROOK. Or, That's a JACKDAW and on page 140 he sneaks up on a sleeping horse and rips a beak-full of hair from it's wiry white tail.
Ireland has approximately 370 different species of bird, and perhaps when I know all of them I will consider approaching the twitcher again.
Whenever we see him out the front windows or down by the saltwater lake, my boyfriend – who now accepts that there is only one – always comments on How nice it must be, or so he supposes, to be the twitcher.
And then I must tell him that it is lonely being the twitcher, that no one really understands.
They don't understand how pure the oystercatcher's single-noted piping call, how exquisite the golden plover's plumage as it twinkles in midsummer sun, nor how the curlews are dying because of afforestation and how if global warming continues the way it is, then the knot won't be able to get fat enough in Irish estuaries for its long-distance migration come the winter.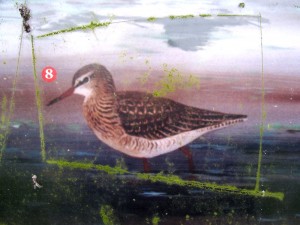 I tell him that to be the twitcher would be to care little for the world beyond these things, and to be left with nothing much to talk about as a result.
We've never seen the twitcher down the pub, for example, on a bar stool instead of a folding one, enthralled by the on-screen Darts or Premiership instead of brent geese and redshanks – flinching at kicks of the ball and strikes of the board instead of the flap of wing-feathers and the paddling of webbed feet.
But my boyfriend says, No.  It's nice to be the twitcher.
That it's nice to be seventy and to have reached some stage in life where it's okay just to strike out in pursuit of your interests and to sit at perfect peace before a rising, falling tide all day.  To have a flask in the boot of the car and a colourful Tupperware thing stuffed with teabags and a tinfoil rectangle to house your ham sandwiches.
Then why not go have a twitch? I say. I'll lend you my World of Beauty.
But my boyfriend says, No.  That he hasn't earned it yet.
That he still has too much to be discontented about for twitching.
***
Sara Baume is a writer, of sorts. Her reviews, interviews, articles and stories are published occasionally both online and in print.  She lives on the south coast of Ireland and can be found at
www.sarabaume.wordpress.com.
Tags: Ireland's Bird Life: A World of Beauty, Sara Baume