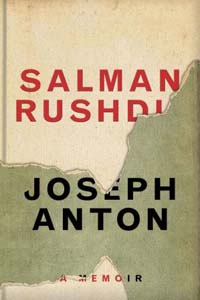 Joseph Anton: A Memoir
by Salman Rushdie
Random House, September 2012
656 pages / $18  Buy from Amazon

On the cover of this utterly compelling book, two names belonging to five different individuals introduce the reader to a life abruptly interrupted by politics. First is that of the British author, Salman Rushdie, who deserves praise for the beautiful prose that follows. His surname was adapted by his father from Ibn Rushd, the twelfth century Muslim philosopher whose vein of Islamic scholarship had left its mark on the Rushdie family. Below Rushdie, "Joseph Anton", a name unknown to history, is inscribed in large letters. This is an invented name which, when taken as a whole, is fictitious, but when separated into two parts, becomes a composite of the first names of Joseph Conrad and Anton Chekov, two of Rushdie's favorite authors.
Although Joseph Anton is a name invented by the author, the relationship between them is quite different from, say, Oliver Twist and Dickens. The invention here had not been the result of an artistic choice. It was necessitated when Rushdie wrote a novel, in 1989, about the origins of Islam, earning the hatred of Ayatollah Ruhollah Khomeini, the Supreme Leader of Iran.
Khomeini accused Rushdie of blasphemy and issued a fatwa to all Muslims, informing them that the writer of The Satanic Verses as well as "all those involved in its publication who were aware of its content" were sentenced to death. The death of the author, however, had been a wish that was not granted. Rushdie survived and is here to tell the tale. (Others, though, were not as lucky: the Japanese translator of the book was murdered in 1991, the Italian translator was stabbed and his Norwegian publisher attacked at his house.)
Rushdie's account begins when a BBC reporter calls him to ask how it feels "to know that you have just been sentenced to death by Ayatollah Khomeini?" It doesn't feel good, he replies before rushing downstairs to lock the front door of his London apartment.
As the reader walks in his shoes in the course of more than 650 densely-written pages, it becomes apparent that Rushdie's mental state was much more complicated than his initial reaction might suggest. Fatwa becomes for him an elixir, helping Rushdie to identify his friends and his foes. The event also kickstarts a public discussion on blasphemy, religious intolerance and freedom of expression, leading to numerous political stances some of which were taken at the expense of personal safety.
The day after Khomeini issued the fatwa, Rushdie was offered protection by Scotland Yard's Special Branch. Because of the seriousness of the threat, he was entitled to a level of protection only offered to heads of the British state. Under the protective wings of these police agents who inhabited his life, it became very difficult for Rushdie to make distinctions between his private and public affairs.
The death sentence had produced an extremely alienating effect on Rushdie who decided to tell his experiences in third person. Although it feels a little awkward at the beginning, his technique quickly gives an ironic tone to the narrative, allowing Rushdie to point to absurd moments in his life which wouldn't seem so absurd had they not been narrated from the point of view of a detached observer.
After giving a fascinating, detailed account of that fateful day in 1989, Rushdie takes us back to his beginnings and a colorful portrait of the artist as a young man ensues. A sense of solitude accompanies the young Rushdie in his days at Rugby school and later at Cambridge where he grows an interest in history.
As historian of his life, Rushdie never forgets a negative review or an act of animosity. Writers as diverse as James Wood, John le Carré, John Berger and Jacques Derrida (all coincidentally sharing the letter J in their first names) alienate Rushdie in their reactions to his texts or political acts. Rushdie disjoints specimens of intolerance from the rubble of history, hanging them out to dry, as he feels he was treated likewise during his troubles.
Some of Rushdie's politics I found difficult to agree with: I didn't like his mocking of the term "Islamophobia" on the grounds that Islam is a synonym for intolerance. Although his personal experience might suggest otherwise, it is too broad a claim which ignores Islamophobic acts of violence in Europe and the US whose narrow-mindedness equals some of Rushdie's extremist enemies.
His consistent advocacy for freedom of expression, and influential leadership of the American PEN, on the other hand, are admirable. Accounts of the writing processes of his books, publishing deals and the problems involved there are as detailed as book recipes: every ingredient had been carefully preserved, every step clearly described.
From the history of Andrew Wylie's legendary literary agency to the strange internal machinations of large publishing houses like Penguin and Knopf, "Joseph Anton" approaches its subject matter with a hyper-realist's eye. Our illusion of inhabiting the point of view of a writer under imminent threat is never broken. Unpredictable, often stained with personal and public crises and a constant sense of danger, Rushdie's life makes compelling reading.
***
Kaya Genc is a novelist, essayist and doctoral candidate from Istanbul. His has work appeared in The Guardian, Los Angeles Review of Books, The Guardian Weekly, Index on Censorship, Songlines, and on Guernica, The Millions, Specter and London Review of Books websites. His first novel, L'avventura, came out in Turkey in 2008. He is currently working on a novel in English. www.kayagenc.net
Tags: Joseph Anton, Salman Rushdie