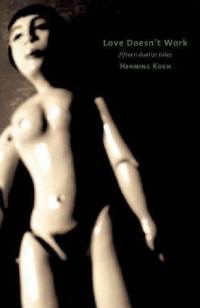 Love Doesn't Work
by Henning Koch
Dzanc Books, 2011
143 pages / $16.95 or $7.99 for eBook Buy from Dzanc Books
Rating: 9.0
Short story writing at its best must quickly introduce the outward facts of a given world and create some narrative interest. We see this in Raymond Carver or Alice Munro, who are both brilliant at making us believe by the end of the first sentence that we already understand the world of their stories. And then, of course, there are short story writers that flirt with genre, and this is where Henning Koch's collection, Love Doesn't Work seems to belong. While it hovers on the edge of fantasy, there are no swords or dragons in sight. Steven Gillis, the American novelist, once commented that there were parallels between Henning Koch and Raymond Bradbury and this seems quite close to the mark, even though there is really little science fiction in Love Doesn't Work – mainly a feeling of a strong sense of imagination.
Geographical location is important in the collection. The reader moves from Sardinia to Stockholm to London to Cambridge suburbia, and this movement creates a sense of dynamism. Each location seems to sketch out a background that directly helps shape the story in a sense that could almost be called "cinematic". The characters in Koch's stories are not real people. This may not be to everyone's taste, at least not to readers who like to go into the lives of people facing more recognizable struggles. Koch's characters are not worrying about paying the rent. But on the plus side, his exuberance does not descend into whimsy, and there is plenty of stony-faced humor to offset the lack of social engagement. In spite of all, I would say that as a reader one relates to these people and their struggle to find love.
The collection features a series of unlikely narrators, for instance a cloned Ingmar Bergman griping about his work as a plumber, an impotent architect and his sexually curious wife, and a lonely middle-aged woman who has bought herself a giant amoeba for companionship. Reading Love Doesn't Work brings on a pleasant feeling of mental massage, because these are not derivative stories. The prose is fluidly written and one rarely doubts the writer's sense of purpose. Most of the stories seem to be dealing with sex – or with love, which the author seems to suggest is a pretty difficult thing to achieve.
Dzanc Books are currently publishing a whole raft of interesting writers including Dawn Raffel, Hesh Kestin, Robert Lopez, Matt Bell and Laura van den Berg. Henning Koch has a new novel coming out with Dzanc next year and he seems to be someone worth watching. I recommend this debut to anyone who enjoys a bit of the wild side.
Tags: dzanc books, Henning Koch, Love Doesn't Work