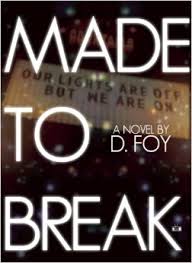 Made To Break
by D. Foy
Two Dollar Radio, March 2014
242 pages / $16  Buy from Amazon or Two Dollar Radio
Friendship is a two-headed beast. As humans, our continuous need for interaction, communication, and companionship regularly clashes with fear of exposure, the sourness that comes from the inevitable accumulation of failures in life, and our proclivity toward pettiness when faced with frustrating situations. In Made To Break, author D. Foy explores the conflicting sides of amity as well as the unexplainable cohesive element that hides in the interstitial spaces between the good and the bad and ultimately holds friendships together.
Lucille wants to celebrate her new high-paying corporate job, so she decides to spend New Years' Eve weekend drinking and getting high in a cabin in Lake Tahoe with Dinky, Andrew, Hickory, and Basil. When the five friends get there, there's a dead caged bird filling Dinky's family cabin with the smell of rot. Instead of taking it as a bad omen, the group starts talking about childhood pets and argue about who's going to get ice. Dinky and Andrew end up having to leave the cabin despite that fact that weather forecasts warn of an impending flood. On their way to town, they crash their truck and Dinky is seriously injured. Broken and without ice, they finally encounter a strange man called Super who takes them back to the cabin. With the storm raging outside, no car, and the phone lines dead, the group turn to a game of Truth or Dare to help them pass the time until the sky clears and help can arrive. However, what starts as a game quickly transforms into a series of attacks, thinly veiled insults, and cruel accusations. Old wounds bleed again and new ones open up while weather conditions worsen and Dinky's health deteriorates. Before the night is over, everyone will have to face, and question, themselves, death, and each other.
Nothing is what it seems to be in this narrative. There's supposed to be a celebratory mood in the air, but hidden agendas, snarky comebacks, and the type of wittier-than-thou personalities that inevitably cause conflict whenever they're put together give the novel a surprisingly oppressive and noirish atmosphere that it never shakes off. Andrew acts as narrator and slowly reveals his crush on Hickory and a romantic triangle between Dinky, Basil, and Lucille. With each revelation, a piece of each character is exposed, and they're all flawed. While being imperfect is part of human nature, when flaws are exposed in public and boosted by vindictiveness, they become enlarged and serve only to inflame any situation and bring forth retaliation. Foy understands this, and so do his characters. However, knowing about it doesn't stop them from repeatedly trying their best to eviscerate each other with words, fully aware of the fact that they're using them as weapons and deriving a bizarre pleasure from it:
"There was that briefest moment of doubt where Basil and I considered exchanging our knives for guns or throwing the knives away. But really the doubt was feigned. We knew what would happen. The kill was just a dream. The sight of blood was enough. We were only after the blood. This of course was a perversion cultivated over time, like a taste for taboo food, monkey brain or mice. The satisfaction of knowing we'd wounded one another was more than sufficient. In fact, it had become for us a fix of sorts, why our hate for one another always equaled our need. Basil and I were Siamese twins parted only in flesh."
Foy, who was an ubiquitous online presence during the novel's pre-launch tour, calls Made To Break a "gutter opera," and the term is very accurate. With influences that range from Jack Kerouac to Tom Waits and a prose that possesses a fast, strange, perennially changing rhythm that's somewhat akin to some of John Coltrane's wildest compositions, this narrative is at once emotionally gritty and surprisingly beautiful even during its darkest moments. Foy has a way with words, and the result is a novel that's comfortably nestled in literary fiction but has tendrils that reach out and touch on noir, tragedy, romance, nostalgia, and even humor.
Made To Break could be interpreted as an ode to the 90s, a sharp commentary on the capricious nature of desire, or a deconstruction of friendship when it's built on weak ties. The characters have known each other for years, but they're more interested in insulting each other than on surviving the night unscathed. Between memories being used as weapons, the desperation of being trapped, and the booze and drugs, the group dynamic morphs into something dark and dangerous before eventually becoming something entirely different and seemingly more positive. The shift is a crescendo that helps Foy deliver blistering passages full of poetry and strangeness. Some of the best come when Super is around:
"Super swore about certain pods of anguish, of how soon, on a bed of niggardly hearts and jealous bones, beaks sewn shut with bloody thread and the toes of babes hacked off with shears, those pods would blossom into flowers of spleen, and the colossus of venality humanity had become would shudder and by crappers crumble in that swarm. Super was mad. The moon had come too near, he said. The eagle should never had landed. And the man on the moon was a whoreson goon and all the world his toilet."
Despite the plethora of elements that make Made To Break a success and a pleasure to read, the most impressive thing about it is that it's a debut novel. Foy has delivered the kind of notable narrative that pulls an author out of the very crowded rookie pool and places him at the top of the list of fresh voices that readers of outstanding fiction should keep on their radar.
***
Gabino Iglesias is a writer, journalist, and book reviewer living in Austin, TX. He's the author of Gutmouth (Eraserhead Press) and a few other things no one will ever read. His work has appeared in The New York Times, Verbicide, The Rumpus, HTMLGiant, The Magazine of Bizarro Fiction, Z Magazine, Out of the Gutter, Word Riot, and a other print and online venues.
Tags: D. Foy, Gabino Iglesias, Made To Break, Two Dollar Radio