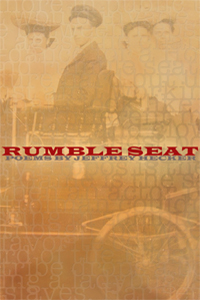 Rumble Seat
by Jeffrey Hecker
San Francisco Bay Press, 2011
78 pages / $14.99  Buy from Amazon or San Francisco Bay Press
"If I die during a crossword puzzle, I am allowed to finish." So nearly concludes Rumble Seat, a Cretan-cum-Cracker Jack maze of delights presided over by the shade (elms over David Lynchian suburbia, not ghost) of Frank O'Hara. What happens when boy-next-door niceness merges with a rapier wit? You can't ask David Foster Wallace anymore, but Jeffrey Hecker's debut volume is a thoroughly selcouth exploration into the question.  It's a world where down-to-the-last-dime travelers can choose between "Basilica donation or acetaminophen, but largesse and simony lose by a Samson pubic strand"; where toothless soothsayers skulk around local churches, warning children that "dying during worship causes souls to suck through aperture."  We may be any number of places with Hecker: at a beef recall (as opposed to a southern-style pig pickin); with a transmogrified Sally Field with her "hair departed in buffalo tufts/intentions and glands in the wrong places/pituitaries topped off by kidneys", bloodshot eyes leading the children of lost Roanoke colonists astray…but mostly at home, where strangeness, like charity, begins.
Consider (as in Passional) the unlikely candidates for sainthood any ordinary Joe American might glimpse tending their neighbor's or elected official's lawn:
My governor's gardener Fun-Fu voted against his employer
and wasn't fired.
I was amazed, but he was amazed.
My amazement was like finding my sister's missing slipper.
His amazement was like finding his sister missing.
He reads right to left.  In China,
he lost plantar reflex, a pierhead, a prizewinning paulownia tree in the same pattern bomb.
That accounts for his lumped throat, stump,
pontoon flotsam, the balls of his feet nearly
spherical.  He had alluded Chinese rule
often made him feel like microwaving
a chirping cricket.
He was punished by having his face
held above the middle of a tennis net —
during service.  The next day, his summer cottage exploded.
"It was the ball that was green, not me, nor my tree, now ash."
He's Fun-Fu.  He's had a silver service
revolver held up his ass.
I wave as he waters
my governor's grass
One hears the linguistic sputterings of Porky Pig in that "plantar reflex, a pierhead, a prizewinning paulownia tree in the same pppattern bomb…" and, of course, that casual wave belies a veritable Russian roulette (never mind crapshoot) of unlikely survival.  Rarely does one see such an ode rendered so whimsically.  Yet, at the bottom of the rabbit hole, the landing is hard and profound.
The strategically categorized "Great Real Town Names," (Clay Center, Cut Off, Climax, Sleepy Eye) an aside of a list poem, records the kinds of territory Lolita and Humbert could have traversed. They might well have also found themselves (reverse the "he" and "she") in the final stanza of Rue:
A Flagger arrived, became his middle of her road
Light blinked constant cherry, two lights lime
He called it Misanthropy
She called it Mistletoe
Neighborhood perverts and Todd Solondz-like domestic characters peer through the book's windows like so many muses who forgot to lower the curtain. When Tavon Learns His Wife Sleeps Around
He arranges a parabolic pathway of evenly spaced panties,
her entire tarnished underwear drawer,
leading to and fro the garden they planted together,
October 3rd,
2008, smiling nearly the entire afternoon.
He tells his insomniactive daughter
finger-sandwich bread on Mars is a little longer
to account for the extended phalanges' bones.
Some of these pieces have yet to realize their own potential as one-act plays out of a reincarnated Beckett, as in the marvelous EVP Sessions from a Haunted Whorehouse, which is something like a series of monologues by a sewing circle of jaded prostitutes through time cynically rehashing the perversities of their clients. Snatches of it (pun intended…why not?) go:
"The day Augustus outlawed adultery, Ovid turned to his whore, said, 'whore I was going to buy you a whore and a puppy-now I cannot.' She said, 'not even a puppy.' He said, 'Not even a whore.'"
…."Nobody warns you of the 5% of clientele who arrive in costume:
Porky Pig, slit split four inches across his cherry abdomen for access
To his three-inch privates…
I hump the Easter Bunny so frequently when my egg drops I paint it."
What happens when you open a giant singing Christmas card and it turns out to be Hieronymus Bosch's "The Garden of Earthly Delights" superimposed onto a sitcom set in a middle-class living room in the North Pole starring (among others) Dadalus, penis wielding Cajuns, Max Roach, Saint Paul, and the cast of the Black Adder Christmas Carol somehow morphed into a Dr Seuss storyboard whilst flying out of each other's mouths or nethers like turtledoves and French hens successively? You know you're in the realm of Krampus Navidad…a six page double sestina and fusillade of verbal dominoes:
Now is the hour to say what needs to be said. The heart is more than nine pipers piping
blood to organs you'll never see unless you're a surgeon or a maniac.
Partridge in a pear tree
sounds like an Uncle Tupelo song, but it isn't.
What does six geese a laying
prove? They aren't proving reproductivity. You can't imagine a heaven: two turtle doves
feeding you stir-fried rice from beak to mouth.
What is marriage? A polygamist requires eight maids a milking,
a multiple-furrow plow.
We might be in the aforementioned David Foster Wallace's seminal essay on the Illinois State Fair in How to Help the Economy (Frost on funnel cakes and all):
"I wanna foil balloon too," toothless
Mouths are likely to demand, making
Parents
non compos mentis.
Outside the annual event's single exit,
As if by lunar design
Some daddy of the littlest is selling out
Hundreds of foil balloons lassoed
Round his used car's oil-cap,
Idling in an unknown number
Of no-parking,
Providing, providing.
Hecker's world is witty, relentlessly inventive, complicated, dense as Ezra Pound; accessible as the Joneses' yard sale. It's also somehow warmly engaging….at the bottom of the piquant wordplay, there's a palpable and profound sympathy for the human condition. Rumble Seat is a debut from a born poet whose work should be watched like a hawk at leisure. Half the pleasure of its coming-out is anticipating what high-born suitors…in the form of subsequent books by the same author….are going to be vying for its hand in ingenuity.
***
Lisa A. Flowers is a poet, vocalist, and essayist, and the founding editor of Vulgar Marsala Press. Her poetry has appeared in The Cortland Review, elimae, and other magazines and online journals. She is the author of diatomhero: religious poems, due out December 2011.
Tags: Jeffrey Hecker, Lisa A. Flowers, Rumble Seat