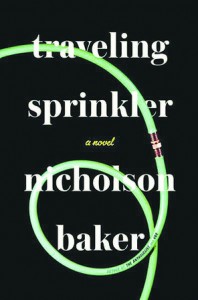 The Traveling Sprinkler
by Nicholson Baker
Blue Rider Press, Sept 2013
304 pages / $24.85  Buy from Amazon
Before we begin the review proper, an interesting parallel.
Nicholson Baker, in his 2011 Paris Review interview, on the writing of The Mezzanine: "It was totally absorbing, the feeling of being sunk in the midst of a big, warm, almost unmanageable pond. I could sense all these notes I had, all these observations I'd saved up to use, finally arranging themselves in relation to one other."
Paul Chowder, Baker's protagonist in The Traveling Sprinkler, quoting Claude Debussy answering a question about his compositional process: "Gradually after these thoughts have simmered for a certain length of time music begins to centre around them, and I feel that I must give expression to the harmonies which haunt me."
Chowder, again, quoting Freud, "There are no coincidences."
We first met the middle-aged poet Paul Chowder in 2010's The Anthologist, as he attempted to write an introduction to a poetry anthology while navigating myriad distractions, from his lost lady love to the wealth of poetic knowledge residing within his own head. He was Baker by proxy, the writer of dirty books laid bare as an astute intellectual who has money and love problems, copious idiosyncrasies, and who just happens to have a masterful knack for nicknaming male genitalia ("Shropshire lad" being a particularly outstanding one this time around).
For The Anthologist, Baker recorded himself in various locations talking into a camera, attempting to be honest and naked in a way that writers often refuse to be behind the carefully composed written word. Honesty in writing, after all, is always edited, and has the benefit of a first draft.
Similarly, The Traveling Sprinkler, made heavy use of audio recordings, self-interviews, that were later transcribed and tinkered with and embellished into the continued adventures of Paul Chowder, who now finds himself owing a new book of poetry to his faithful publisher, who has now quit drinking Yukon Jack in the meantime, who wants to learn the guitar, who can only seem to write when parked in the shade in his Kia, who has once again lost Roz.
While The Anthologist was very much a book about poetry (well, among other things), this book chronicles our narrator's love affair with music, from his early years as a promising bassoonist (a career path that was derailed by a basketball accident), to his new obsession with both singer-songwriters and modern dance music. Underworld is namedropped, Debussy's "The Sunken Cathedral" is dissected in an out, and YouTube URLs to college students singing protest songs awkwardly conclude paragraphs left wanting for proper final punctuation. The only thing missing is an official Traveling Sprinkler Spotify playlist. Excuse me while I make one.
Are there any critics of serious literature remaining that vehemently oppose the appearance of modernisms in novels? If so, poor things, keep them away from The Traveling Sprinkler.
The line between Baker and Chowder is once again thin, if not opaque, but, like the book's namesake Sears product, winds along in anything but a straight line. It can, admittedly, be distracting, as someone who obsesses over the biographical details of authors, to have to pause and wonder if what you're reading is really how Nicholson Baker really feels about dance music or drones or climate change or even peanut butter crackers. When we read an obviously fictitious novel, we're free to get swept away, but with Baker so close under the surface, we want him to be the one talking to us. This may, admittedly, be a hang-up limited to serious enthusiasts, and that particular longing shouldn't be mistaken for critique.
What Baker has accomplished here is to give us, along with late-period David Markson, the best look into the writer's brain, one that no Paris Review interview could even begin to reveal. More specifically, the aging writer, the one who no longer voraciously reads, and whose head is full of facts and knowledge, but who faces the very real possibility that the well might be dry and all that is left to do is a sort of self-inventory for posterity. The secret is, of course, that writers of all ages are doing just that, perhaps dressed up in a grand narrative or imaginative forms, but that nonetheless. Just ask the 31-year-old that wrote The Mezzanine.
The parallel with Markson is an interesting one, as Paul Chowder admits to never having been able to read novels, while Markson admitted (both in interviews and later by way of his own thinly guised fictional protagonist) to having run out of drive to read them, and that with five of his own still to come. Both writers eventually stumbled upon a groove in which they became literal anthologists of the contents of their minds, Markson right up until he died.
In an all-to-brief and somewhat stilted interview on The Colbert Report, Baker likened the traveling sprinkler to us, navigating the garden of our minds. I'm not sure there exists a more perfect, if idiosyncratic, metaphor for writing, although what force it is that pulls us along is still up for debate. Regardless of your answer, it's worth celebrating that Nicholson Baker still has plenty of hose left.
***
James J. Fitze is a writer and editor living in New York City. A music journalist "in a past life," James currently contributes to a living novel at thedownmachine.com.
Tags: James J. Fitze, Nicholson Baker, The Traveling Sprinkler