NOON Annual 2012
Ed. Diane Williams
$12  /  Purchase directly from NOON
After reading NOON Annual 2012, I again dwelled on the nature and the value of the short-short story. I despair that short-short works are sometimes disparaged as underdeveloped and unworthy, and this issue of NOON proves the perfect response to such cynicism and dismissals.
First, the design and aesthetics of this literary magazine are first-rate. The book is smooth to the touch, bears weight, and courts the eye. There's a smell from these pages that, while not pleasant per se, is definite. Definite is not to be underrated. This book is elegant and glamorous. Even the spine is a standout. I pored so long over Bill Hayward's black and white photograph on page 107, the work bears my countless greasy prints. I love how the subjects here seem afloat, as if there is no ground, as if the whole point is to throw out our assumptions and re-see. Animal portrait photographer Valerie Schaff's cover is memorable and her self-portrait on the inside cover is stunning and affecting. She writes, "When I am present, I am beyond the notion of predictability." This quote proved my guide for the reading and the appreciation of the entire issue.
Augusta Gross contributes three pencil drawings to this issue, variations on a sitting duck atop a footstool atop a plush stool. I was reminded of that song from Sesame Street, "One of These Things is not like the Other." What has a sitting duck to do with a footstool to do with a plush stool in this unlikeliest of towers? Yet isn't everything connected? Which brings me to this excellent quote from James Yeh's story "I Did Not Want to be Wrong and I Did Not Want to be Embarrassed:" "I think I was trying to forge some commonality, small as it was." Every work of art, from the tiny to the enormous, has value as long as it makes us feel our commonality.
Another line in this issue that reached out and shook me is from A.L. Snijders' story "The Note" which is translated here from the Dutch by Lydia Davis: "It's odd that almost everything you may communicate about someone is more interesting than his face." Which segues nicely to the contents of this remarkable issue. In A.L. Snijders' foreword to the eight stories contained here (again, all translated by Lydia Davis), he writes, "Blunt reality is my source." The blunt reality as source unifies the work in this issue and speaks to its relevance and its power.
This issue (refreshingly) introduced me to many writers I didn't yet know or appreciate. I'm grateful to have read here the striking short-short work of Elan Lafontaine, Anya Yurchyshyn, Lauren Spohrer, Ted Kritikos, Vi Khi Nao, Joanna Ruocco, Greg Mulcahy and Glynis Clews. The theme of mothers is also threaded through this issue and for their handling of the maternal trope in particular, and the general excellence of the work, I read rapt the trio and duo of short-short stories from Brandon Hobson and Dylan Nice respectively. From Dylan Nice's "The Mountain Town:" "I liked the reminder that worth could be made visible." NOON reminds us that worth can be made visible.
The issue also includes a series of extraordinary embroideries from Karen Reimer titled "Revisions" that I returned to again and again, mindful of the astonishing amount of time, labor, and love that went into each work. There's also the sense of the painstaking, in the best possible way, in Robert Tindall's story "Mick Brenlan." This story is the longest, the last, and the only punctuation-free work in the issue. The closing line of "Mick Brenlan" eloquently expresses my experience of NOON: "my own feelings were privileges it was sort of a religion" Certainly there's truth to the criticism that the short-short story can be misused and underdone. There's also truth to the championing of the short-short story as brilliance in brevity. NOON testifies to the latter.
Contributors to this issue also include Deb Olin Unferth, Kim Chinquee, Clancy Martin, Roxane Gay, Lincoln Michel, and Ann DeWitt. Here's a found short-short I gleaned from their respective stories. The title is taken from Diane Williams' "audacious" and "unruly" story collection Vicky Swanky is a Beauty, (McSweeney's, December, 2011). Diane Williams is NOON's founding editor.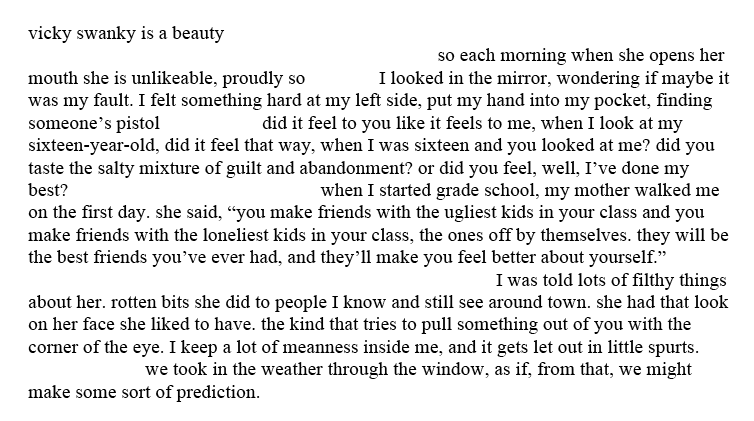 ***
Ethel Rohan is Irish and she's got the freckles, blue-white skin, and tattoo to prove it. Check her out at ethelrohan.com.
Tags: Diane Williams, Ethel Rohan, Noon annual