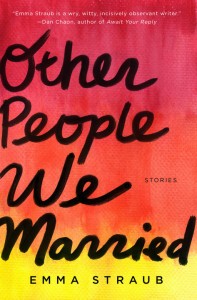 I loved Other People We Married by Emma Straub. I'll put that out there immediately. Don't worry, I will get more nuanced than that but first I need to talk about French flaps on books. There Is No Year has French flaps too and that thrilled me. I love paperback books with those flaps on them. It feels sophisticated. The French flap is, by far, the best book innovation I've seen in a long time. I want to put French flaps on everything. Other People We Married has French flaps so I was very optimistic when I began reading. I just had to get that off my chest.
There are a few things that really elevate Other People We Married above so many of the short story collections I've read this year—the visible level of craft in the writing, the intimate attention to detail, and the cleanness of the prose.
When we talk about clean writing and minimilast writing, our natural instinct is to discuss Raymond Carver who is so widely known for his stripped down writing, telling big stories with as little artifice as possible. The stories in Other People We Married did not necessarily evoke Carver for me but there was a really clean, minimal quality to the writing I really enjoyed. The writing in this collection demonstrated a new kind of minimalism, one where the stories are stripped of artifice but still retain some of the detail and texture that can really fill a story and that I sometimes miss when I'm reading the work of someone like Carver.
It is rare that I will love every story in a collection but I did love each of the twelve stories in this collection both individually and also as a whole collection with a distinctive shape. Each story was intimate and engaging and really, really clean. I never found a word or idea out of place, nothing that pulled me from the stories or the people and places borne of Straub's imagination.
Sometimes, I gain a better appreciation of a book because of what I'm reading alongside it. I also recently re-read Robin Black's excellent If I Loved You, I Would Tell You This, and the two collections were a really interesting set of contrasts. Most of the women in Straub's collection are younger, at the beginning of their adult lives, dealing with new marriages and new children and new places, trying to understand themselves as they adjust to the significant life experiences that shape our lives. There is no clichéd,  wide-eyed wonder as the characters in these stories stumble around. Instead the women Straub writes are witty and strange and steely but also vulnerable. It's a really compelling balance that makes this collection so readable. I never wanted the stories to end but when they did, the conclusions were always satisfying even if they were unsatisfying.  In Black's collection, most of the characters are in their middle ages, or later and it is rare to see fiction that focuses on people at the end of their lives. Black's stories have a really gorgeous, reflective quality to them and just as with Straub's characters, the people in Black's stories are trying to make sense of significant transitions, the loss of a spouse, reuniting with an estranged daughter, the death of a lover, human frailty. The characters in Black's stories felt like who the women in Straub's collection will someday become.
While I loved every story in Other People We Married, there are a couple stories that really standout. I was born in the Midwest and while I've lived all over, the Midwest is home and so reading "Fly-Over State," about a young couple who have recently relocated to Madison, Wisconsin from New York, was a real treat. It is always interesting to see how people see the Midwest when they are not from the Midwest. Many writers try but few get it right because they're so busy trying to show what the Midwest isn't (slick, urbane, etc.) instead of what the Midwest actually is. Fortunately, Straub deftly avoids this misstep in writing about place. In "Fly-Over State," Sophie is trying to find ways to fill her days in a house that's too big while her husband James works as a professor at a small college. There were so many laugh-out-loud lines that really speak to life in the Midwest and how people back East try to make sense of this place. My parents, who moved to Nebraska by way of Port au Prince and New York, still, to this day make some of the same observations about the people, the houses, the dog walking and stick throwing, even though they haven't lived in the Midwest for more than a decade. When Sophie tells her mother where they're moving, her mother gasps. When Sophie's mother-in-law learns that Sophie and James are moving to the Midwest, "She'd heard the word 'Wisconsin' and immediately sprung into action, sending boxes of down-filled winter apparel and frozen red meat." We can see how overwhelmed Sophie is in this story in her surroundings, her marriage, her career but these circumstances are handled with such control.
"Puttanesca" is another standout story about Laura and Stephen, a couple set up by their therapist. They have lost a husband and a lover respectively and aren't in love but they don't let that get in their way. The couple is on vacation in Rome where Laura once traveled with her deceased husband and the story is about grief and history and two people pretending they can make something out of what is between them. Once again, Straub does a lovely job of making place a character in the story, as we see Rome through the eyes of people who are strangers to Rome. As with every story in this collection, the level of detail is lovely. Straub makes it very easy to sensually experience the stories she writes. The best part of "Puttanesca" is the ending, where Laura and Stephen are studying a sculpture, "Apollo and Daphne," talking about what they see in the art. "Laura felt a hand around her waist, and for a moment imagined it was Apollo, reaching for her, begging her to stay, already knowing in his marble heart that she was gone." I read that line and, full disclosure, felt a sharp pang of jealousy before I was able to fully appreciate its excellence. The entire story is a marvel.
The people in Other People We Married are endlessly interesting because they are so very human but unapologetically so; they are intelligent and sarcastic and loving and odd and while they seem lost, really they're not. They are searching, they are reaching and there is a difference.
Tags: emma straub, Other People We Married, Robin Black