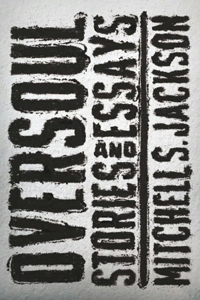 Oversoul: Stories and Essays
by Mitchell S. Jackson    
The Collections House, June 2012
92 pages / $4.99  Buy from Amazon
To Mitchell S. Jackson, being a voice writer means capturing the sound of a moment. As he ruffles you through Oversoul, his e-book collection of short fiction and essays, there are few street signs, few identifiable marks. Yet somehow, there is no confusion. You hear a growl: "G O T D A M N Y O U M E." And from the very first page of "Head Down, Palm Up," the opening story about a young man initiated into the drug game by his charismatic uncle, you know exactly where you are—the other America. The one you drive through with your windows up.
The book is sworn in with a quote by Ralph Waldo Emerson, whose 1841 essay, The Oversoul, gives title to the collection: "Our faith comes in moments. Our vice is habitual."  Jackson's own rough past—selling dope, his time in prison, and growing up fatherless in a world of emotional disfigurement—accounts for much of his writing. But there is something else, too. Delving further into "Head Down, Palm Up" and later "Oversoul," about an ex-con fraught by newfound freedom, it becomes clear that Jackson doesn't just recount the turmoil of those years. He listens, reaching past memory, to free the living voices of hope and hopelessness:
"Those first days, weeks, back in the free world, you see all of mankind's progress in the blink of an eye. When you left we'd just invented the wheel, but now, now we're flying spaceships… But sooner or later, after you inhale those early, emancipated breaths, inevitably sooner rather than later, you end up gaping into the maw of the real, live, wide, apathetic, show-me-what-you-gonna-do-this-time cosmos."
Across the stories, the sound of the street is true. But Jackson lays it down a bit thick, using lilts and metaphors which are, at times, jarring. [dk2] In "Head Down, Palm Up" an underweighted woman is described as "Holocaust-thin" while a close friend in "After Everything," a meditation on faith and worldliness, is the "long-lost loved brother of the muthafuckin Messiah" And then there is the drawl:
"Unc says I S W E A R F O G O D again for who knows why. And people, you can say or think what you will, but my Unc might not be, matterfact most likely isn't, one of those old heads you can pay no nevermind without it costing.
'Your rides," he says. "Hellified mouthpiece or not, just you try to knock one in a bucket.  Just you try to knock one worth a damn without a coupla rides from the year of and at least one American-made manufactured when times was good.'"
Of course, the clutter of sounds and inflections is intended.  Jackson's writing, like that of Junot Diaz and Edward P. Jones, suggests a kind of solipsism; the idea that leaving some things unintelligible summons the phantasm of story: the hidden spaces between razor-wire and flesh, bluntness and love, being guilty and feeling convicted.  And though it can be enough to lose some faint-of-heart readers—along with those for whom debasing language to Jackson's extend is a literary faux pas— those who stick around are rewarded with discoveries worthy of the rugged journey.
"Hard to touch her the nights I've seen her with others, so work nights, most nights, I don't. We sleep with a healthy space between us. Or maybe, just maybe, this space is sick. Either way, don't bust me down about it—please. This practice isn't to be indicted, only conceded as the way of things. And if she's accepted it, then why can't you?"
In "Head Down, Palm Up," "Oversoul," and "After Everything," Jackson's readers aren't just addressed. They are confronted. The author shadows you, pushes you into the darkest corner of his past, crowds you with sentences and, just as you flinch and brace for a strike, he halts and pleads for empathy.
"And you, you, you, fair-minded listeners, will you please, and I mean pleeeeeeaaaze, hold up the hasty judgments."
Still, it is "Presidents," a story-ette of only two pages, that packs the greatest punch. Modulating his pitch to second-person narration of a woman-addict, Jackson winds the emotional clock and releases it into controlled chaos. The woman's irrepressible life unfurls to the steady tempo of four recent Presidential inaugurations. Presidents come and go—Bush, Clinton, Bush, Obama—a blatant failure, a promise of new day, hope, another disappointment. The more things change the more they stay the same as the woman—and the country—navigate the strives and lapses of perpetual rehabilitation. Crafted to perfection, urgent, but never preachy, Presidents reads like the E.K.G pulse of America.
Jackson's autobiographical essays stand as a counterpoint to his stories—his fiction explained. Collectively, they serve as a kind of dark primer to Oversoul. And to his forthcoming novel, The Residue Years.  In this section you'll find "Portrait of a Lifeguard," an open letter to his literary hero, John Edgar Wideman. There is also "Matrimony: An Epic," an intimate account of his mother's strange wedding and Jackson's encounter with one of America's most notorious drug traffickers. "Serial Killers: There Are No Alibis" reflects on the male bravado, while "This is What it Means to be from Portland" tells the story of Jackson's birthplace, "The City of Roses" whose thorns still prickle his memory to this day.
Taken together, the stories and essays of Oversoul may seem narrow in appeal. But in the end, Jackson's readers are in fact listeners, tuned to the voices of lives and moments.
"My hope is not only to write something that means something but that it has some kind of acoustic value," Jackson said in a recent interview. "And if it doesn't, then to me it's false. I've got that ear always in my head."
Brazen, contemplative, and impossibly real, Mitchell S. Jackson is a voice that demands hearing.
***
Steven Volynets was born in Soviet Ukraine and raised in Central Brooklyn. After graduating from Brooklyn College, he spent several years as a news writer at the renowned PC Magazine, covering everything from gadgets to energy policy. His news gathering and reporting earned the network accolades like the Weblog award, MIN Best of the Web award, and the Annual Jesse H. Neal Award — the "Oscar" of business journalism. His writing also appeared in major news outlets like ABC News, U.S. News & World Report, The Houston Chronicle, New York Daily News and, most recently, Construction Literary Magazine. He has also served as speechwriter to New York City officials and political candidates. Steven is currently an MFA candidate in Creative Writing at the City College of New York.
Tags: Mitchell S. Jackson, Oversoul, Steven Volynets