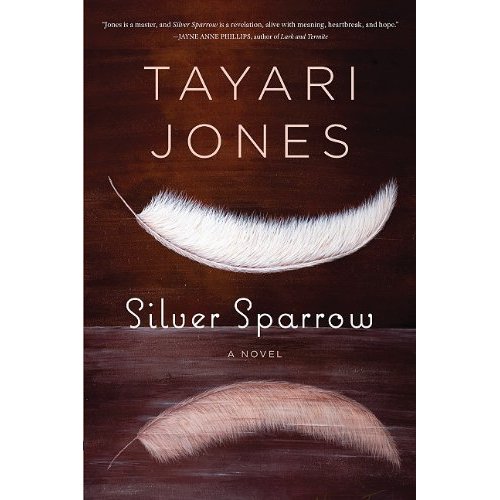 Silver Sparrow, by Tayari Jones, is a novel where you know, from the first page, what the major tensions of the narrative are. You also get a sense of how the story will end. This is not to suggest that this novel is without its surprises or complexities; you will find both in this book. Nonetheless, Silver Sparrow is a book where how the writer leads the reader to an inevitable ending matters most. Normally, this approach of revealing so much of what is at stake in the early going might seem like a prescription for failure but such is not the case in what is a remarkable novel. Silver Sparrow is thoroughly engaging and although there is so much intense emotion driving the story forward, that emotion is expertly controlled, never becoming indulgent or melodramatic. We all come to reading for different reasons. I mostly read to be moved and engaged; with this book I very much was. I haven't been able to stop reading this book since I got my hands on a copy.
The first chapter is entitled, "The Secret," and that early revelation sets the tone. If there's a secret, there's something worth hiding and someone who does not know what is being hidden and there's likely to be trouble. If there's a secret, the truth is, eventually, going to come to light. That's a lot of what this novel is about—the narrative slowly, carefuly bringing to light a truth many people are complicit in keeping hidden and what that deception ends up costing every one involved.
Silver Sparrow is the story of two daughters, Dana Lynn Yarboro and Chaurisse Witherspoon, the bigamist father they share, James Witherspoon, his might-as-well-be brother and shadow Raleigh, and the mothers of the two girls, Gwendolyn and Laverne. The backdrop is black, middle class Atlanta during the 1980s but there's also a lot of really interesting and difficult historical context brought into the novel to help explain how the adults, in particular, came to such a complicated pass. The writing is subtle, elegant and the exceptional attention to detail really elevates this book.
I was fascinated by how the characters provided so much of the structure in this novel. As a Libra, I am obsessed with balance so I noticed a lot of interesting contrasts. Most of the  characters who lived a legitimate, full life knew half the truth and had a counterpart living a half life while knowing the whole truth. These juxtapositions created a really interesting framework for the story to build itself around. James Witherspoon as the double patriarch is living in two different worlds and demonstrating a surprising lack of remorse for or self-awareness about the gravity of his choices. He is abetted by Raleigh, a boy abandoned by his own mother with no father to speak of and whom James's mother, Miss Bunny, took in. Raleigh spends his entire life in the shadows of James's life as a second father to both girls, in love with James's illegitimate wife, never having much of a life to call his own much in the same way that Dana and Gwendolyn, as the illegitimate family, live in the shadows of James's life. Dana also lives in shadows and knows full well who her sister is while Chaurisse lives in the light, lonely and oblivious to anything but her deliberately sheltered existence. Gwendolyn lives in shadows as the sometimes wife who is painfully aware she will never come first while Laverne, who married James when she was fourteen, lives in the light and assumes she is her husband's only wedded wife.
In the first part of the novel, Dana tells her side of the story as the secret daughter who has to sacrifice a great deal so James's legitimate wife and child might live happily and sheltered from the truth. For Dana there is no shelter and her character reflects strength tempered by fragility. Everything about Silver Sparrow ends up becoming a matter of contrasts in one way or another because Chaurisse is portrayed as a young woman who is fragile tempered with strength. Then there are the mothers who are both strong and fragile, who try to teach their daughters what it means to be a woman, who try to make it through while being subjected to the choices of men. The layer upon layer of contrasts really adds an unexpected dimension to the narrative. Through it all, Jones approaches her deeply flawed characters with real empathy. It would be easy, for example, to paint James Witherspoon as the villain and while he is one of the least likable characters in the novel, there is a good degree of measure in how he's written.
I also appreciated  how sensitively and honestly the writing detailed the intimate and complex inner lives of teenage girls—their hopes and insecurities and fears are detailed so nicely. As a recovering teenage girl, I found both Dana and Chaurisse eminently relatable. Chaurisse, for example, has created her own taxonomy for girls and there's a real bittersweetness to how she describes "silver" or pretty, popular girls and where she stands in relation to those girls.
Silver girls liked to be friends with each other, keeping all their shine, which, in my opinion, was a little bit selfish. Silverness was catching, but it could only be shared girl to girl, and this could only happen if both parties tried really hard. Sharing a boyfriend with a silver girl wouldn't make you silver; that would just make you a slut. But let's say in the past you'd never had much truck with girls your own age because you had been cooped up in either a limousine or a beauty shop all your life. If that person was you, and you could make friends with a silver girl, she could teach you how to shine.
The pacing is another strong element of Silver Sparrow. Given that the novel is told in two parts, first from Dana's point of view then from Chaurisse's point of view, I wondered how the story could possibly be resolved effectively and how all the tension built in the first part could be capitalized on in the second part. In fact, when I first realized the novel had a two-part structure I was actually kind of irritated because I thought we were going back to the beginning just when I was completely invested but I have to tell you, this novel is smartly written and controlled and there are many craft lessons to be learned in reading Silver Sparrow. The second part of the novel complements the first part really nicely and in its own way, Chaurisse's story picks up right where we have diverged from Dana's while also giving us a clear sense of how she got to where and who she is. By the end of the novel, I literally could not turn the pages fast enough. More than once I found myself holding my breath. I know a book is damn good when I stop breathing.
I only had one issue with the novel that in no way detracts from the power and beauty of Silver Sparrow. In recent years, I have developed an aversion to chapter titles. If the narrative can function without chapter titles or similar narrative elements, do they serve a real purpose? The chapter titles throughout the novel seemed unnecessary and more distracting and overly leading than anything. I prefer writing that trusts the reader enough to dispense with chapter titles. I stopped reading them during the second half of the novel because I found I was placing too much significance on the chapter titles and thinking they were going to somehow shape the writing that followed when often, for me, they did not.
It is a difficult choice, this novel presents–happiness or truth. Given the decisions many of the characters make, they cannot have both and the impossibility of these circumstances is one of the many things that makes Silver Sparrow so damn compelling. Toward the end of the novel, in the moment that is the beginning of the end, Raleigh is in a car with Chaurisse while Dana is locked in a bathroom and her mother has driven from Atlanta to get her. The truth hasn't come out yet but you can just tell that that the two worlds James and Raleigh have so carefully constructed over the years are about to come tumbling down. Raleigh accidentally calls Chaurisse by the wrong name, then apologizes explaining, "I have a lot to keep an eye on here." The reader has the same responsibility. There are so many histories and truths and lies woven together that there is a lot (but not too much) for the reader to keep an eye on.
Silver Sparrow is out on May 31 from Algonquin Books and I can't wait to hear what you all think of the book. Do not miss out. The book is powerful and unforgettable and full of soul. This is another one of those books I want to just drive down the street throwing at people because it feels so necessary. If I fling a copy in your direction, do not panic.
Tags: Algonquin, Atlanta, Silver Sparrow, Tayari Jones