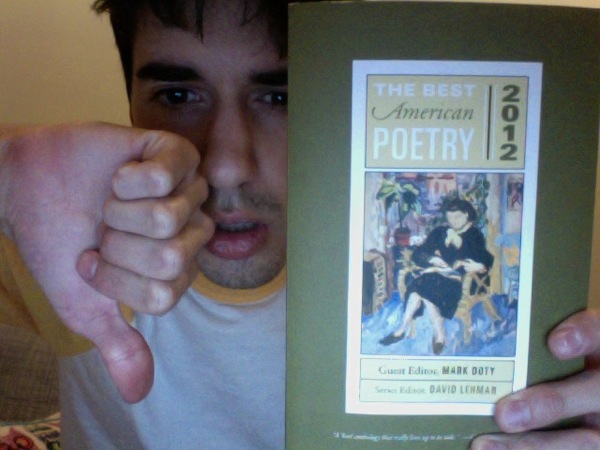 I flipped to five poems in the anthology at random and wrote five sentences about each one.
1. "Hate Mail" by Carol Muske-Dukes
I can't tell if this poem is supposed to be ironic or reflective or pissy. It doesn't matter though because the poem doesn't matter. It explores some really wack-a-doodle subjects such as blimps, the ozone layer, pigs flying, uses the words "whore," "God"  and "honkers," and even references the completely relevant world of l33t culture, inserting "btw" in the middle of a line. I don't care about either side of the phrase "Queen Tut"—I just don't care. This poem is trying so hard to be funny, controversial and current that it feels used up and desperate.
2. "The Imagined" by Stephen Dunn
This poem is from The New Yorker. The New Yorker is an important magazine published in New York City for self-proclaimed intellectuals to write about how human interaction is complex and deserves lots of insightful debate and deliberation. This poem studies the boring obvious fact that people objectify their love interests by holding them up to impossible standards and maintaining a severed false sense of how people "should" be about as resolutely as the guy looking at a butterfly with his monocle. It seems appropriate that poem titles are put in quotations rather than italicized. This poem was thrown together in half an hour by the toilet, one hand on a greasy MacBook keyboard, the other tugging away at a purple blistery member.
3. "Healianthus annuus (Sunflower)" by Amy Glynn Greacen
This poem combines the wonders of natural beauty with the strict and tireless logic of math. How could the two ever coexist!?!?! I just feel lucky that Greacen gave me the translation of that pesky Latin in the title, for truly I would've been lost amongst the deeply archaic references to… plants growing. I really can't believe I have to write another sentence after this one. Okay it's over.
4. "Pill" by Bruce Bond
IN THIS POEM BRUCE BOND TALKS ABOUT DRUGS AND NATURE. DID YOU KNOW THERE IS A THING IN AMERICA IN WHICH PEOPLE TAKE DRUGS AND ARE AMBIVALENT? NOW YOU KNOW BECAUSE THIS POEM SO NICELY CAPTURES THAT REALITY IN SENTIMENTAL LANGUAGE. ADDICTION IS A PROBLEM AND SOME PEOPLE TAKE DRUGS AND BECOME ADDICTED TO THEM AND THAT BECOMES THEIR SENSORY OUTLET. ALSO DID YOU KNOW THAT NATURE IS A COMMON SUBJECT MATTER IN POETRY?
5. I kept cheating on this one and kept looking at different poems and reading some of them so I just decided to make this one about the only other poem titled "Sunflower" in this anthology (by Larissa Szporluk)
This poem is short, simple and comforting. Things like "hooligan owl" and "dusk in your scalp," which appeared in the first stanza, gave me a good deal of anxiety, I'll admit, but it redeemed itself. The speaker basically tells you to shut up about thinking too deeply about nature, time and death—the only things most other poems I've seen tonight seem to value—"better not listen / to a thing with a stem." Also I realized that it explicitly points out a major problem that occurs so much throughout the anthology: "Love without pride / is a love with no end." That's the ideal form, I guess, in my opinion, though I am happy, at least, that the other poems did.
Tags: best american poetry 2012, whatever