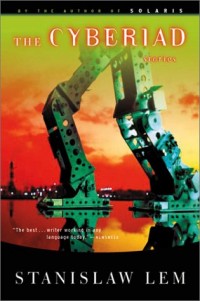 The Cyberiad
by Stanislaw Lem
Mariner Books, 2002
312 pages / $13.00 buy from Powell's
Rating: 8.5
The Cyberiad is labeled as science fiction, but it exists in a world where science is no longer distinguishable from magic. The stories in the book take place in a kind of robot Middle Ages, with mad mechanical kings on tiny planet kingdoms, electronic knights and maidens, and two brilliant constructors named Trurl and Klapaucius who travel from world to world, fabricating wonderfully implausible machines to perform various tasks, from writing brilliant poetry (yes, the robot succeeds in doing this) to distracting a lovelorn king with a "femfatalatron."
The loosely linked tales in The Cyberiad are closer to the picaresque and tall-tale tradition of Cervantes, Rabelais, and Boccaccio than anything in modern science fiction. Trurl, for example, accidentally builds the stupidest thinking machine in the world; people wave at each other from the surfaces of planets (and are easily spotted); dragons appear through the use of improbability generators; and personalities are switched by ramming a hornlike device against another person or object. A few of the stories refer to actual advanced physics and mathematics, but these concepts are used as toys to play with rather than firm facts. The translator, Michael Kandel, has done a heroic job of translating Lem's wordplay from Polish into English, and he renders much of it not just comprehensible but actually funny, cf. "femfatalatron."
Lem is a writer with extraordinary range, from the sober and serious narrator of His Master's Voice (the most plausible book I have ever read on encountering an alien intelligence) to the wild playfulness of this book. The inventiveness makes The Cyberiad delightful but also sometimes exhausting. Reading it is like taking a ride on a little trick airplane; after each flight, I needed some time on the ground, so the book took me several weeks to finish, even though I enjoyed every story.
One criticism: it must be said that this world, like too many others in the genre, seems to be entirely populated with men and the desires of men. There are only a few female characters (yes, even the robots have clear genders) but they do little more than sigh from the castle parapets. In the end, though, this is not a book about character at all, male or female. Lem could have switched the names of Trurl and Klapaucius in every other chapter and I wouldn't have noticed.
Instead, The Cyberiad is a book about the act of storytelling itself, about imagining the impossible, the fantastical, and the silly to pass the time and delight an audience. It is probably Lem's most fun book – and one of the funniest, I think, I have ever read – and a good place to spend some time with one of the last century's great imaginations.
Tags: Mariner Books, Stanislaw Lem, The Cyberiad