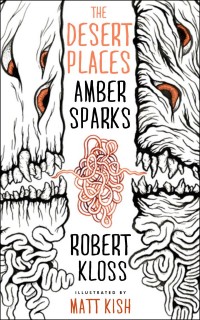 The Desert Places
by Amber Sparks and Robert Kloss, illustrated by Matt Kish
Curbside Splendor Publishing,  2013
84 pages / $10.60 buy from Amazon
Rating: 8.5
Evil is ubiquitous. It's in the best literature and (as I present it to my students) it is the reason why humanity needs literature: as relief from evil and as elucidation for evil. The Desert Places, the new hybrid text by Amber Sparks and Robert Kloss, with illustrations by Matt Kish, depicts the history of malevolence from primordial Earth all the way into a nightmarish technological future. Plenty of other narratives have depicted the fall and subsequent struggle of Lucifer, Chamcha, Grendel, et al., but what sets Sparks's and Kloss's narrative apart is its broad scope within such a slim package.
There's a belief that brevity does not afford a text enough emotional weight. This book challenges that notion. The Desert Places clocks in at just over eighty pages, yet the gravity of the subject matter is not lost. Sparks and Kloss depict their nameless protagonist (call it Evil, Belial, Death, Time, Satan, The Void, whatever) by choosing ten points in history as well as interspersed interruptions such as entries in "an incomplete history of what passes for evil" and a touching  existential discussion between The Alpha and The Omega. This in addition to the unsettling drawings of Matt Kish, rendered in shades of pink and black, accentuate the disquieting subject matter.
Evil entities and antiheroes are fairly commonplace now, but Kloss and Sparks exceed expectations and expertly tap into the gravitas of their subject by using "you" to address The Beast, as when the personified curse of King Tut dances with a female archaeologist in Cairo:
You could murder her now, but sometimes it is hard to be alone with so many dead things. Sometimes you grow weary of death. And so you let your face slightly shift shape, grow longer and more human, while she purrs, just a little. And still you dance, a monster in fancy dress, foxtrotting thirty-five centuries out of time.
By using "you" throughout the text, the reader is placed in the position of timeless evil, and, briefly, feels the pain and weariness that comes alongside the position of Grim Reaper.
In The Desert Places, Amber Sparks and Robert Kloss commiserate with darkness, and through this they dissect a core element of us all. People are drawn to narratives that feature the downtrodden because at some point everyone has felt cast aside, overlooked, and misunderstood. There is a dark, malformed core in us all. Kloss, Sparks, and Kish are just casting light upon it.
Tags: amber sparks, Curbside Splendor, matt kish, Robert Kloss, The Desert Places