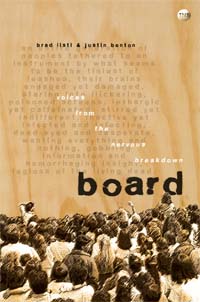 board: voices from the nervous breakdown
by brad listi & justin benton
TNB Books / November 2012
246 pages / $15.95  Buy from Amazon or Powells
I recently purchased that massive Paris Review Book of Absolutely Everything Under the Sun (that's not really what it's called, guys) because of a handful of entries I'd rather read on a printed page than on The Paris Review's website, and it was delivered to me at just about the same time I received a review copy of Brad Listi and Justin Benton's board, a work of literary collage "derived entirely from comment boards at The Nervous Breakdown website," and for a split second there I really relished the thought of reviewing the two in congruence: reading an entry from The Paris Review and then, say, five or ten pages from the TNB book. While the thought still strikes me as appealing, I can tell in the first thirty or so words of board that I'm not going to want to pick it up and put it down so repeatedly because the words carry every freshness of good personalized poetry, and the Paris Review Book of High Hopes n' Dick Jokes Ad Infinitum strikes me as desperately boring in comparison.
Anyway, moving on. To my mind this is an unprecedented literary endeavor. A published collection devoted entirely to the commenters and loyal fans of a literary website in the form of their comments. The book begins with what one can assume is the result of a prompt like, "What was your earliest memory?" and as the results pile up and "nest" (the indentation as comments amass on sites like this, I learned in the Author's Note) I realized I was witnessing a sort of new literature and art created in a way I'd never think possible. It's as if Studs Terkel's Working were condensed and piled up with—loosely—guided prompts and topics of discussion and yet for all this book's digital initiation and contemporariness these entries are beautifully, often poetically written with an honesty you aren't going to find on socialized pyramids schemes like Youtube or your overtly—and miserably—political best friend's Facebook feed. Each moment, be it a combined dissertation on the collective childhood memories related to the Incredible Hulk or a seemingly random aside like "I murder every single bug that crosses my path," is absolutely the stuff of literature.
I find it interesting/compelling that one of the quotes on the back of the book is given by Jeff Ragsdale, author of Jeff, One Lonely Guy who posted flyers with his number all over New York City and compiled a similarly-minded book that was the result. He lets people vent profusely in the phone calls and emails and messages that lead up to the finished book, and that same honesty—that same abandonment of concern and worry—is like a nervous system running between Jeff and board that causes both to permeate with energy and humanity in a mode I haven't felt in good novels or poetry for quite some time.
An unfortunate result—unfortunate for the serious authors of good books—of reading-as-an-aspiring-writer-blah-blah-blah is that while reading said good books you're often tempted to think of ways in which this could influence your work and it pulls you away from the narrative just a hair. With this book, however—considering the quick, punchy paragraphs and constantly changing narration—you're able to stay directly in the narrative without anything lost; and yet, as I'm reading all these varying perspectives on life told in naked honesty, I can't help but think this may be the greatest compilation of story prompts ever written.
Listen:
"I returned to my long-abandoned hometown this year. I'll never do that again. It had changed so much, and so much for the worse. All the trees I remember were gone. No kids around anywhere. Whatever my hometown was had simply disappeared.
It's impossible to return home if you've been away for too long. Not only will it change. So will you.
I always thought home was wherever they buried your umbilical cord."
Here we have three absolutely captivating introductions to the next small town masterpiece; and though this is a particularly selfish avenue to take away from the merits of this book, it's also a compilation made from/for comments/commenters on a literary blog—people thinking of things like this on a daily basis—and hence I doubt if I'm hurting anyone's sense of pride in allocating this book's usage beyond mere entertainment and sociological curiosity.
And yet to not mention this book's hilarity is an oversight I simply cannot abide, Listen!
"Understanding the world around you is an inconvenience. But, hey, sometimes you just have to turn away from the television and take a look at things.
My only familiarity with the Japanese culture can be traced to the afternoon I defeated Piston Honda in Mike Tyson's Punch Out.
Who is Piston Honda? And what is Mike Tyson's Punch Out? I apparently have a brontosaurus-sized gap in my pop culture knowledge."
And:
"I once worked in Fergus Falls, Minnesota, as a reporter. Fergus Falls had a pet-grooming place called Curl Up and Dye. My first story involved a deer that jumped through the window of the Curl Up and Dye and curled up and died. Just like that."
It's as if the cultural curiosity of a David Markson were being siphoned through the real life followers of his work in an art-imitating-life-imitating-art-imitating-Markson kerfuffle that's quite easy to become both engrossed by, and obsessed with. Followers of The Nervous Breakdown have likely already purchased their copies for the sheer excitement of seeing their masterworks astride so many others in this tome of humanity, and yet the content itself in no way limits readability to those interested in lit blogs, books, or all those things the public tends to look on with a wary eye at best. These are the words of people curious about literature and life and culture an a massive tell-all (literally, for the first time, it would seem) so that if your interest isn't piqued by actually visiting TNB to read about poetry or arts & culture because that doesn't do it for you there is always Piston Honda—and there are many more episodes just like this one within the pages of this book that are even more hilarious.
But back to the culture-junkies. I just flipped for fun over the past fifty or so pages I just read and saw "DMX," and "Patrick Swayze" mentioned, as well as the phrase "fucked up Chia Pet," and this sentence sitting alone, "I write under the overpass." If Piston Honda didn't play a pivotal role in your adolescence as he did mine—fuck, fuck, fuck he's unbeatable—these sprinklings of Howard Zinnian ™ criticism ought already to be doing their work for me.
Since opening board I've read pieces in the Paris Review Novel of Smatterings and Entropy by Mailer, McInerney, and several others, each just as stimulating as the last; and yet as I'm reading the thing, seeing such emphasis on the author's names and these very formal treatments of culture and fictions by the masters I'm also struck by the idea of these very same authors filling a book anonymously as a sort of last pantheon of critical treatise on our times. Would it be better? Worse? Is there some place between board and the…alright, I'll stop renaming the Paris Review of Misanthropy and Reified Chicken Scraps now, but is there someplace between the two that will prove to be the new world's encyclopedia of interesting shit? I'm not sure, but I can tell you that when I close the PR book it'll stay that way for awhile; with perhaps a new author discovered along the way and a few concepts I hadn't previously considered held close for a couple months. When I close board (again, already having read/perused the thing twice) I can see myself picking it up time and again without the slightest clue as to where I'll be taken, or which quotes will prove most hilarious, compelling, touching, or unique. This is one to buy, study, enjoy, and keep your eye on as an extension of TNB for a very long time.
***
Grant Maierhofer is the author of The Persistence of Crows and the weekly column A Cabana of the Mind for Delphian Inc., his unrelated work can be found at GrantMaierhofer.Org. He lives in Wisconsin and is currently at work revising a second novel for publication next fall.
Tags: board, brad listi, Grant Maierhofer, justin benton, the nervous breakdown