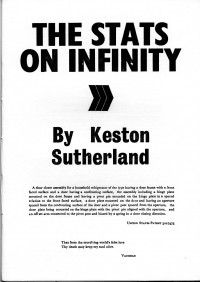 The Stats on Infinity
by Keston Sutherland
Crater Press, 2010
15 pages / Out of Print
Rating: 8.0
I don't know how familiar readers of this site will be with the work of Keston Sutherland, the British experimental poet sometimes associated with the Cambridge and New York "LANGUAGE" schools of poetry (though Sutherland's work squirms uneasily under any attempt at definition in terms of school/genre/whatever). Sutherland's poetry is difficult. A video of Sutherland reading his long poem Hot White Andy is a good introduction to his work: intense, surging and bewildering. He looks manic as he reads; the text is plosive and works through him, as though it is spilling out of his body rather than his mind, like Lucky's monologue in Waiting for Godot, or the frenetic mutterings of Not I.
The Stats on Infinity is a hand bound and letterpressed A4 chapbook. It contains eight poems: an ode, six sonnets and a lyric. There are two epigrams on the front: an extract from United States Patent 5027473 — "a door closer assembly for a household refrigerator," and a quotation of Henry Vaughan, "That from the murd'ring world's false love / Thy death may keep my soul alive." These epigrams, alongside the title of the opening poem — "The Proxy Humanity of Forklifts" — highlight a regular concern of Sutherland's poetry: the presence and potential of love in a post-industrial society.
acting the pallet minus sex lags of autocorrelations included,
the unincreasable isoareal pallet plunged in loss,
to break on all the unanswerable love I have endured,
to answer for alien genitals I have entered
The sonnets share this concern to an extent, as in Sonnet 4, "the volatile relations of production of hairspray, / the erotic arteries dying in my arms," or Sonnet 2, "Zoophilia is best described as a love of animals / so mystic that neither objects to the physical, / employment law bound in a maché of dental / bills" and in a number of ways feel more successful than Sutherland's longer, more intense and aggressive poems. His adaption and adherence to a traditional form, despite seeming to be the least traditional of poets, is less jarring than might be expected. The lyric "Reindeer" opens fairly unobtrusively, reminiscent of Wordsworth (who is evoked by name) or even Frost, until Sutherland détourns the atmosphere in a characteristically strange way:
It's late Spring, and the spiraling
sun leaves a glow across the thriving earth,
and eight million reindeer head north
loose through dark snow
to mate with eight million zombies on ecstasy
It is this strangeness, this juxtaposition of fleeting beauty with violent sex and cold industrial phrases that make Sutherland's writing so interesting. In the words of Peter Manson, "it is possible to find this work incredibly compelling and still not have a clue what to say about it." Keston Sutherland is a difficult and confusing poet. The experience of reading him is frustrating, long and occasionally maddening. I have owned this chapbook for nearly a year and still don't know what to think about it. It is energetic and bizarre, in the best possible way.
Tags: Crater Press, Keston Sutherland, The Stats on Infinity