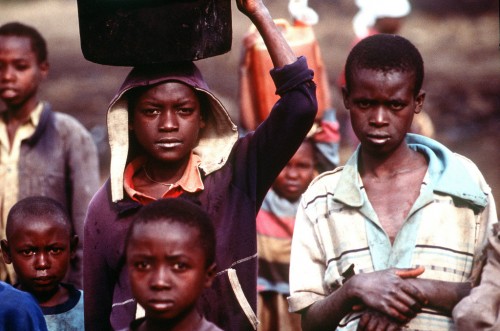 Roughly defined, the ancient Greek concept of métis, or cunning intelligence, is how we use subversive strategies to succeed in the face of seemingly insurmountable odds. Métis is about using our perceived weaknesses to our advantage and turning our opponent's strength(s) against them.
As I read Say You're One of Them by Uwem Akpan I thought of métis and the way many writers of color use it to succeed in publishing.  I understand why we do it. It's an occupational hazard.
From time to time, I write about Haiti, where my family is from. The reality is that things over there are that bad. The best way to tell those difficult stories is just to write them plainly and hope for the best. Certainly, there are more pleasant stories but no one wants to read about me sitting on the white sand beaches eating delicious cubes of grilled pork and fresh fruit, listening to the most amazing music in the world.  People want to read about persecution and death squads dragging fathers out in the middle of the night and kidnappings and mothers who feed their hungry children mud pies. I write those stories and try in some small way to do it well and in ways that are more authentic than exploitative. I also write those stories knowing they are what people want and expect to read about Haiti. It's pretty untenable but as I mature as a writer I am also trying to write Haiti differently and to challenge what people expect in fiction about the third world. Time will tell how well I succeed at that.
While it's great that Oprah chose a short story collection for her current book club selection, I find the choice of Say You're One of Them very problematic. As an aside, I wonder what Binyavanga Wainaina, who wrote the great essay How to Write About Africa in Granta 92, would say about the book.
Are the five stories in Akpan's collection well-written? I suppose.
But.
When I consider these stories critically, I am left with the uncomfortable feeling that the book is doing so well for two reasons that have nothing to do with great writing: (1) people are more interested in the writer's story than his writing what with him being a priest and all, and  (2) we are naturally inclined to elevate to greatness those stories borne of great tragedy, those stories grounded in such horrifying circumstances that we focus more on the pain and sorrow of those circumstances than the manner in which they are conveyed.
I think Akpan was very cunning and intelligent in the writing of this collection. I think he knew how to play on American sensitivities to the plight and blight of Africa and so he wrote this book about death and child soldiers and girl prostitutes and other inconceivable sufferings. In reading this book, we're not focusing on the words. All we can see is the tragedy. All we want are the pornographic descriptions of poverty and impossible choices and war torn lands.  The stories Akpan tells are true but they are not the only stories that could be told about Africa. We don't want to read the other stories–no, we want Africa laid bare and wet, her legs spread, open for us to see the most grotesque parts of her. Akpan is smart enough to give us exactly what we want.
At the front of the book are countless blurbs from all manner of literary luminaria. As I read the blurbs, I wondered if the admirers actually read the book or if they found a random compliment generator and threw the words "war" and "Africa" in at appropriate junctures. I was also struck by the ecstatic, almost frantic tone of the blurbs, as if this book offers some kind of transcendental experience. Then, I started reading the book and I had a really hard time getting into it. I felt that perhaps I was somehow broken.
Great writers have long shown that you can write about horrific experiences and troubled places and create literature that moves beyond the pornographic. (Jose Saramago's Blindness comes to mind.) There is so much brilliant writing about Africa that does not essentialize that very complex continent. (We could start with Chinua Achebe.) Unfortunately, Say You're One of Them is a book that does not rise above itself. It is a manipulative kind of book that puts readers in a really uncomfortable position. If you say you don't like this sort of book, you're often branded as ignorant or culturally myopic or even racist. Another very untenable situation.
I hated this book and everything it represents. The stories are mediocre and in desperate need of an editor and to my mind, Akpan is more concerned with the tragic pornographic than telling truly great stories.  It drives me a little crazy that I seem to be the only person who feels this way but that's okay too.
If reading my diatribe hasn't discouraged you, I have a copy to give away. If you're interested, say so in the comments and I'll pick a winner, at random, at the end of the day.
Has anyone else read the book yet?
Tags: Africa, Oprah, uwem akpan