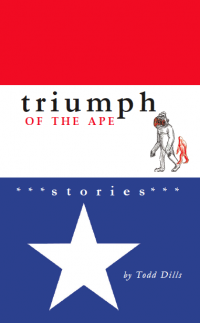 Triumph of the Ape
by Todd Dills
THE2NDHAND, 2013
150 pages / $12 Buy from Amazon or Kickstarter
Rating: 7.5
The Kickstarter campaign for Todd Dills's new book asks participants to "fund the printing of this book of 14 collected short stories, from literary New South yarn to end-of-days dirge." This got me thinking about the New South.
My hometown is frequently called "the Gateway to the New South," but what does that mean? Is it an effort to banish stereotypes of the decidedly racist and agrarian past? The term "New South" brings to my mind a group of self-indulgent, cultured men and women—the type that have subscribed to Oxford American for 15+ years, who have serious opinions about barbecue and shrimp and grits, and who have read every William Gay and Cormac McCarthy novel twice through, but have never given Joy Williams more than a lingering glance. Could this stereotype form the criterion for Southern citizenship as well? If so, even I, a second generation Tennesseean, fail the test.
The characters in Todd Dills's story collection, Triumph of the Ape, go through similar bouts of ennui and alienation with their Southern heritage. By and large, the narrators in these stories are post-graduate men who don't fit the Southern tropes of Nascar fans or Southern gentlemen (even the characters in Dills's stories who are Nascar fans have an ambivalence about them), but don't fit into the urbanized streets of the North, either. These are stories filled with the existential yearnings of youth, the ire of smart, but directionless, manchildren. One such character states "It's lonely for an intellectual in Alabama, you see. Hell, it's lonely here for most anyone, I guess, unless you get off on hunting wild pigs." Another says "Despite my Chicago residence, I would never get out of the mental grip of my hometown."
Like a sestina Triumph of the Ape repeats elements like apes, aimless youth, the displaced intelligentsia, and the album …And justice for All by Metallica to form a collection of stories that all work towards a centralized theme: the young man's place in the South and the world. "You could never outgrow the sanctimonious elders of the South," one character states. These (mostly) male narrators turn to booze, literary manifestoes, and dead-end jobs to assign drive to otherwise directionless lives. One character confesses "I thought all the while of mystery, of the quality of mystery we can expect from our piddling lives."
Todd Dills is from South Carolina, spent some time in Chicago, and now lives in Nashville, TN. His voice is like Beckett by way of Barry Hannah or "Flannery O'Connor after a six pack" (to borrow a phrase from a former professor).  He is as Southern as Cheerwine and obesity. You can't become Southern. You're born into it. But both growing up Southern and by scrutinizing Southern hometowns, questions of existence and purpose arise that are not felt in the same insular way by people of other American regions. Perhaps it's the mosquitoes and the humidity, or maybe the slower pace of the South gives people more time to think.
Tags: THE2NDHAND, Todd Dills, Triumph of the Ape