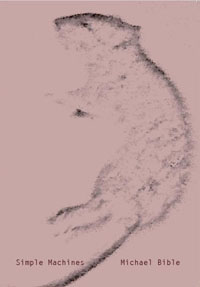 Simple Machines
by Michael Bible
Awesome Machine Press, 2011
64 pages /  $8   Buy from Awesome Machine
What is Michael Bible up to?
Michael Bible has fixed the toilet with a shotgun!
Michael Bible has hand-picked the sentence without kid gloves, without hubbub, without shilly-shallying!
Michael Bible has exploded the sentence by reforming the sentence into what it was once and dreams of being again.
Michael Bible is the new South, writing from Oxford, Mississippi.
Take a simple look at that Michael Bible! You see a dashing Michael Bible, well dressed, with the three of hearts pressed to his forehead. Or rather, he isn't well dressed, but Bible is dressed as he is, in a white windbreaker, something with a label that must read "Member's Only;" he's wearing also a beer, a woman in a polka-dot dress who has fainted, a plaid checkered shirt under a pulled-at-the-sides white coat; he's grinning, with a cigarette, a discarded hat, a large ring on the fainted woman's first finger, several day old scruff, a charm, and clearly he has no interest in the photo taker—Bible looks like a drinking doctor.
And look at that Michael Bible! A doctor. Of the sentence!
Take a look at Michael Bible. You see a remaking, no, a re-taking… taking back… of the lineage of great American writers… of the fun of American literature! Look at KITTY SNACKS. Look at him on drums with Dent May. Look at his stories. Look at what Bible is doing in his Simple Machines by Publishing Genius imprint! Michael Bible is re-making the event of the sentence, and making it explosive and fun:
That scientist picked a peach.
I surfed carefully.
I have a belt at home.
I have a cup.
The carpenter has a dish below the bridge.
They steal things.
I am dangerous.
She is a spy.
The cashier has a beautiful dress.
A doctor shot an old gun.
That flight attendant flies a kite.
The car mechanics kicked a ball.
The pilots drive a sports car.
A garbage man bought some soap.
Martha hates brunch.
The mayor lost the cookbook.
Did the ringmaster return the waitress' call?
Today no new girl came to work.
A new tire replaced an old one.
Did the plumbers weep?
Edgar burned Mr. Cook to death this week.
I lost a hat at the bank.
The student bombs a test.
I paint a picture.
Abraham kicked a ball.
The dentist picks a tomato.
That flight attendant serves tea.
Sandy is a carpenter.
Frank is sad.
Hank is on fire.
Kate's granddaughter hasn't killed before…
(from Simple Machines)
What Michael Bible has done in Simple Machines is remarkable if not fully executed. Bible has brought the sentence back to what it was in the glorious age of American writing of the nineteen fifties, the nineteen sixties, the nineteen seventies. Then, there was a time when the Lishian Fifth-Avenue Americana sentence was alive with object and brevity… it would stand up on its hind legs and walk around for you! Would look sexy for you. Would bend over and adjust its stockings for you. Short active sentences gave us the world… the better world. The world full of concrete wonder found in the telephone, the shotgun, the furniture, the receptionist, her legs, the knives, our ashtrays, the Scotch, the glass, the rug! Oh, that holy American office place! Automobile, copy machine, and scissors! The world of then lives again in Simple Machines in each alert sentence of surprise and danger and subject and action!
And what do these subjects and objects and actions offer… what do these sentences give us?
Michael Bible offers us a world free of pain!
Michael Bible offers us a world of imagined action, concrete with objects and brevity.
Bible offers us a world striped of its deficiencies.
Bible offers us a world of action and sentences which delight!
Yes, here you will not have to invest; you will not have to die. You may have to bleed! Here is the world of fun!
Here is the world of other people!
Just as Percy Bysshe Shelley wrote about in A Defence of Poetry, arguing for a shift in poetry brought about by the Romantics which would be composed of more simple prose-like speech written in simpler lines:
Poetry turns all things to loveliness; it exalts the beauty of that which is most beautiful, and adds beauty to that which is most deformed: it marries exultation and horror, grief and pleasure, eternity and change; it subdues to union under its light yoke all irreconcilable things. It transmutes all that it touches, and every form moving within the radiance of its presence is changed by wondrous sympathy to an incarnation of the spirit which it breathes; its secret alchemy turns to potable gold the poisonous waters which flow from death throughout life; it strips the veil of familiarity from the world, and lays bare the naked and sleeping beauty which is the spirit in its forms. (Shelley)
Bible asks us for so little…gives us the world. Here are sentences that contain all the world fragmented, but drawn together by form and recursion, difference and return!
In these perfect sentences found in Simple Machines—sentences taken in form from any primer meant to instruct a beginning reader, a beginning speaker—a learner of the American lexicon—in these sentences we have delight and imagination!
Bible takes the primer form and gives it recursion… gives it difference and repetition. Can't you see that? Can't you see the recursions and the differences within each sentence? And from sentence to sentence? Don't you know a thing about sentences? About recursion? About difference? A dentist picks a tomato? Don't you see how a dentist picks teeth, not tomatoes, but how they are all linked? See how familiar this sentence is and yet how strange? Don't you see how tea in the next line comes from teeth? How tender it is for a dentist to pick a tomato? The gums and the tomato? And don't you see how a dentist is linked to a flight attendant? Don't you??? Hey, do you see why flight attendants fly kites? Do you know why a new tire replaced an old one? Do you see how Time works in that sentence about tires, and then comes the killing, the burning, the gruesome world made safe for us, made universal, made to live as we do but without us, and how this all comes into being, invoked in sentences composed after the sentence about tires! We are celebrating sentences! Time passes and people die! But we are saved by the delight of the short active sentence!
Within Simple Machines there is newness and uncanny excitement. Each and every sentence in this book is plum full of newness!
Difference comes in the brilliance of short animate clean ones… in how sentences jump in theme and action and character, all scattered like buckshot making up the sum and total of the world of actions, of stories, of possible objects and actions of which the greatest stories are composed. Yes, here is imagination shot from sentence to sentence!
Here is Salinger! Here is, might I say it, F. Scott Fitzgerald in The Great Gatsby, leaving behind and yet simultaneously bringing along with him the domestic novel, but breaking the novel open wide, and turning it into a mixture of Conradian sentence work and the short punching sentence of capital and advertising, yes indeed the sort of short American speech later used by J.D. Salinger to compose Catcher in the Rye.
Yes, here is a world of explosions!
Here is a world of sentences!
Here is a world of sentences that give!
Here is a world of sentences to please!
Here is a world of firsts!
Here is a world of sentences that reinvigorate the imagination.
This book is about imagination!
Here, laid before you, turned before you, animated before you, are gutsy punching sentences that accumulate and turn to do the very trick of literature Shelley promised! Bible's is the world of the imagination, ready to be lifted onto your shoulders.
Here is a world of Bible, of Bible's sentences, of sentences of the best kind.
Here is the world made in English! Made of fun! Made to be memorable and true and newly strange!
But here is Bible, having gotten there before you, and you, lucky you, oh lucky you…  lucky indeed to have Bible… already having gotten the sentence mastered, singing the strange surly song of his own manifesto of what a sentence must be made for and of and to do!
***
Luke B. Goebel is Co-editor of New York Tyrant. His latest stories are at Wigleaf and in October's Lifted Brow and forthcoming in Kitty Snacks and Unsaid 6. He is extremely pleased to be a part of Tyrant Book's forthcoming launch of Sam Michel's newest novel titled Lincoln Dahl Turns Five.
***
Read more on Michael Bible here at HTMLGIANT: Author Spotlight – A Kind of Weird Beauty: Michael Bible's Simple Machines (Michael Kimball)
Tags: awesome machine, Luke B. Goebel, michael bible, Publishing Genius, Simple Machines