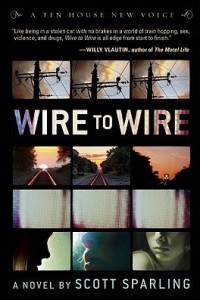 Wire to Wire
by Scott Sparling
Tin House Books, 2011
392 pages / $15.95 Buy from Tin House Books
Rating: 9.5
America is too diverse and American culture too fast evolving to produce A Great American Novel. I do believe, though, in an Essential American Shelf, as long as it needs to be to hold all the voices that speak artfully, truthfully and with compassion about their chosen hunk of psycho-social real estate. Scott Sparling's Wire to Wire claims a place on my personal instance of that shelf, snugged up somewhere between William Kennedy and Charles Bukowski, between Theodore Dreiser and Flannery O'Connor, rubbing elbows with the best of the noir detectives and assorted snotty 1980s boy nihilists.
I put Sparling in this company not because he's exactly like any of them but because Wire to Wire is a smart and beautiful book about losers—aimless, glue sniffing, speed freak, train hopping, mostly rural, accidentally homicidal losers. His prose is so good, his characters so vivid and the pace so gracefully relentless that we willingly jump on the train to nowhere as it slices through the chilly northern Michigan night, in the company of Slater, who perceives with gorgeous intensity and is virtually incapable of deciding anything, of Harp the adventurer, obsessively compulsive in his rail riding, of lovely, damaged, heroically addicted Lane, who sleeps with both of them. A gaggle of finely drawn secondary characters populates the alternating here and nows the story moves between, not a stereotype among them, while the narrative engine gains speed as implacably as a bullet train or a Greek tragedy. All this sounds terribly serious, but Sparling's spare prose comes with a glint of wit and a persistent quirky intelligence that does two singular things—it completely seduces the reader and convincingly asserts that even the most hapless among us lead rich and complicated lives.
It took so long for Sparling to find a publisher that this near perfect novel has become historical along the way, an elegy for the relatively innocent 1980s, before the American Midwest became the home of exploding meth labs and McDonald's-induced obesity, before ubiquitous digital technology made it impossible to truly be alone. So many of our best stories would never have happened if all their characters had iPhones in their pockets. Don't miss this trip into the recent and unreclaimable national past.
Tags: Scott Sparling, Tin House Books, Wire to Wire