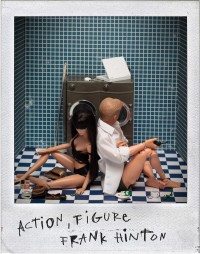 Action, Figure
by Frank Hinton
Tiny Hardcore Press, 2012
160 pages / $16.95 (paperback) $10.00 (ebook) buy from THP
Rating: 9.0
"I want my childhood back," Lili states. This may be the heart of the book. Aging is terrible. A curse is associated with accumulating years. One realizes youth wasn't wasted enough. With the sheer passage of time it becomes obvious life is not based on success. Characters in this book want to live. Success is a by-product of life, not the goal. Searches here involve the mundaneness of looking for work, of pleasing parents, and the surreal journey through bombed-out lonely streets to seek others to complete us.