Anthony Madrid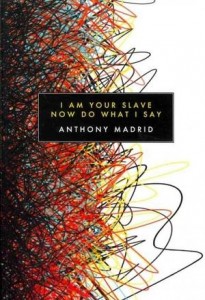 I Am Your Slave Now Do What I Say
by Anthony Madrid
Canarium Books, 2012
136 pages / $14  Buy from Amazon or SPD
I Am Your Slave Now Do What I Say is a masterful book. Subtitled or retitled 580 Strophes: Libri Sex, the book states its structure: hundreds of couplets in six books—which is exactly not to state its unity. Unity and identity are in fact the questions at stake both within and across poems; and as the title promises, turnabout is fair play. The language itself is both master and slave, and the book as a whole both begs our attention and commandeers our consciousness.
Perhaps the first thing one notices is that the poems don't make sense. Generally composed of six to ten couplets, they begin in the middle of things, stay in the middle of things, and exit with a parting shot, generally a mocking commentary from an invisible bystander. What is one to make of a poem that leaps from the cost of subway trains to the release of "that eerie torchlit blackbird" to an "eleven leggéd SUN" which is told to cease "threading needles with camels?" And this just halfway through the first poem! One makes, through patient attention, a play-space and a space in play. It is not just that anything can happen in these strophes, but that lyric enclosure no longer applies. And endings are not meanings; they may "sum up" in off-sides banter, but they do not provide coherence.
List-poems are a good analogue, such as Whitman's, and certain songs in the Bible; so are analocuthons like Christopher Smart's paeon "To My Cat Geoffry." The book's speaker calls its pieces ghazals and is clearly admiring of and invested in Arabic poetry, but the ghazal's rhymes and repeated words have been excised. The couplets are all disjunction, all the time. The poems leap from long-limbed declarative sentences to asides, statements of fact and opinion, invitations, exclamations, questions, and apostrophes: So that the effect of all these leaps is not only constantly to create and destroy universes, but to give the shimmer, across the Bedouin desert, of metaphor (the identity of disparate elements) by way of constant juxtapositions.
Sometimes the poems explicitly weave metaphoric or harmonious unities that depend upon the subterranean connections of ambiguities (leaves, poems, books), even while disavowing them: "See how the stubborne damzell doth deprave my simple meaning"(8)! And sometimes a relatively clear pseudo-biographical narrative teases itself out; more often, one strophe picks up the subject of the previous, and proceeds as it were by error. The non-Western music of the single note, multiplied to a kind of infinity, creates its own space, and the ear that can hear. The poems give and do not give themselves up, mounting a "voluptuous resistance"(44) to our mastery and understanding, all the while dispensing accessible "Golden Advice"(3).
Comments Off

on I Am Your Slave Now Do What I Say by Anthony Madrid
July 29th, 2013 / 11:00 am