Becca Jensen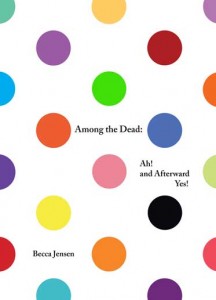 Among the Dead:  Ah! and Afterward Yes!
by Becca Jensen
Les Figues Press, March 2013
75 pages / $15  Buy from Les Figues Press or SPD
Winner of the inaugural Les Figues Press NOS Book Prize as selected by guest judge Sarah Shun-lien Bynum
In Sarah Shun-lien Bynum's forward for Among the Dead: Ah! and Afterward Yes!, she identifies the "atmosphere of allusion" that Jensen creates in the collection: "the feeling of reading great books: of being inside an enormous bell, a bell cast from the world's wide store of epics and elegies and tales and novels, unable to tell where one's own voice ends and the reverberations begin." The ambition of such a project is belied by the small, and thus manageable and relatable, lens of an absurdist nuclear family: an unnamed daughter, a Collector, and the parents Mr. and Mrs. G. The family speaks and acts through fragments of English literary canon; they fish, sail, swim, and drown in the heartbreaking lines of Tennyson, Eliot (both T.S. and George), Keats, and others, but the ties of family make Jensen's work more than collage poems. Because the characters are real within the world of Jensen's collection, they have mysterious histories, present foibles, and future prospects.
The sophistication in Jensen's assembly of Among the Dead: Ah! and Afterward Yes! can be seen as an advocacy for the acknowledgement of poetry as a product of linguistic innovation that cannot shed its ancestors. But what is important about the way Jensen looks back on everything that has created her work? The family in Among the Dead, though abstracted through a lack of traditional narrative, does not take place solely in a nostalgic chamber of fragments. There is a lived experience, an authenticity that can be vouched for despite its "fiction-ness."
Mr. Grumble Grumbles
Like many heroes who find themselves haphazardly at the center of the plot,
Mr. G concluded that
a) this was a very stupid story
&
b) he didn't care to hear it again.
"Mr. Grumble Grumbles" is a poem that appears very early in Jensen's book, a piece that is un-prefaced by any of the Collector's fragments until much later. Instead, readers are presented with an exhibit from George Eliot's The Mill on the Floss.